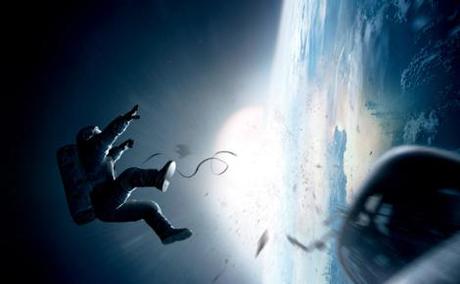 Gravity
My husband and I actually watched a movie together last night.  A grown up one.  This is an extremely rare occurrence since having kids.  After watching the Academy Awards last month though, we are inspired to see at least some of the nominated films.  We rented "Gravity."  Afterall, it was the picture of the year, so it had to be good, right?
Funny though…I'm not really sure how I feel about this movie.  It had my heart racing at several moments, and I was glued to the story the entire time.  Sandra Bullock gave an incredible performance, too, and I always love George Clooney.  That said though, it was also a completely boring film all at the same time.  How could something be so thrilling yet so completely dull?
Though I think I liked "Gravity," I am surprised this won the coveted Best Picture award.  I did not see most of the other films nominated, but nothing was better than that?  That is hard to believe!
The one film I did see this year, "Saving Mr. Banks," was snubbed by the Oscars, and I walked away absolutely loving that movie.  I definitely loved it more than "Gravity."
Anyhow…I know I'm a little behind the times in my movie going, but I'm just curious in what others thought about this film.  Chime in folks!  Do y'all agree with me?
Enjoy my song of the day….David Bowie singing "Space Oddity" is always a classic and is much more exciting than any movie could possibly be today.  He did the "lost in space" concept long before Bullock and Clooney.  Spot on Bowie!  You gotta love him!