Hi Ladies,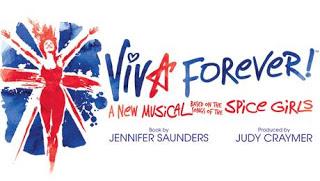 I don't particularly like to give bad reviews if I can help it...but I feel I need to voice this one so you know what to expect if you're thinking of going to see the new Viva Forever Musical at the Picadilly Theatre, London.
Having grown up a huge fan of the Spice Girls, I was intrigued when I heard they were making a musical version based on them. When they got back together for a reunion tour last year, the tickets sold out in about a minute and my friends and I were gutted we never went as we saw it as a rare chance to relive our childhood and have a good old sing-along. So when this muscial came out we were determined to go.
I read up on the storyline and was a bit surprised to see that it was nothing to do with the Spice Girls, I thought it would be the story of how they got together or at least something with them in the story, but not at all.
We went last night and I won't spoil the whole plot if you decide you want to see it, but It's mainly about a 4 piece girlband that have made it through the first auditions of an X Factor type show. But then the judges decide to pick one girl out of the band to go through alone so it follows her journey from then on. The only thing related to the Spice Girls, was that they sing one of their songs in every scene. Some of the song choices were very random as well I thought. They played the main spice girls songs like wannabe, 2 become 1, Say you'll be there, and Stop! but the rest of them were not the songs they were most known for. They played some B side tracks that weren't released and a few songs that weren't released from their first album.
The singing/acting wasn't great to be honest, and I hate to say there were parts of it I found boring. All in all, the best bit of the whole two hour show was the end scene when the whole cast and dancers came out and did amazing routines to some of their biggest hits.
It wasn't all bad, on the plus side it is a feel good show and it has some good humor in it, but if you're going expecting it to be very involved in the Spice Girls story, then prepare to be disappointed!