Hi everyone!  My name is Ashley and I blog over at flats to flip flops!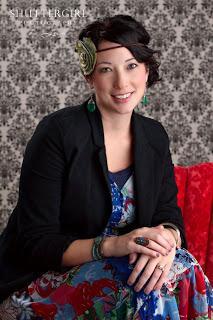 I blog about fashion, faith, and philanthropy.  Modest fashion, mommy moments and giving back are the theme over at my place!
Today we are talking about one of my favorite topics!
Shoes!
Every woman's favorite subject, right?
And more specifically my must-have, go-to, summer shoes!
Here we go!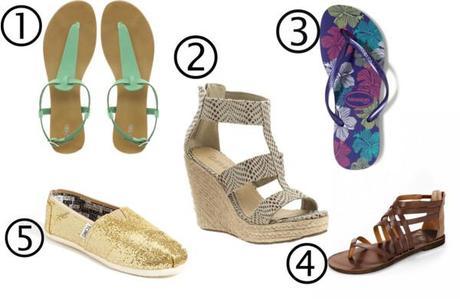 1.  Mint Sandals
First thing, mint is so totally in this summer.  You need it in your wardrobe(tell your hubby that).  And what better way then with this awesome leather sandal.  It's a great way to add a pop of color to any outfit!
   (
Oasis leather sandals, $30)
2.  A Patterned Wedge
The truth is I rock the wedge instead of heels.  Seriously, I am a creature of comfort and the heels just do not do it for me(thus the name, flats to flip flops)!  Jazz up your wedge by trying one with a pattern, like this cute animal print one!
(Platform sandals, $30)
3.  Havaianas Flip Flops
I love these flip flops.  In fact they are the only kind I own.  They come in so many different patterns and colors that you can't go wrong.  Oh and if you don't believe me, maybe you will take Oprah's word for it.  They made her "Favorite Things" show one year!
(Havaianas strap sandals, $26)
4.  Roman Sandals
Love me some Roman Sandals and I prefer mine in a neutral color.  Mostly because there is enough going on with all the straps that they don't need much else. And they go with anything! 
(Lucky Brand roman sandals, $42)
5.  Sparkly Toms
Blessed is the day I slipped by feet into TOMS.  Why did I not get on the band wagon earlier?  Why?  TOMS are seriously some of the most comfortable shoes I have ever worn.  No lie.  Plus they make them with sparkle AND they give a pair of shoes to someone in need when you purchase a pair!  Win-Win-Win!
TOMS 'Classic Youth - Glitter' Slip-On (Toddler, Little Kid & Big Kid), $42
There you go!  Step out in style this summer with some slammin shoes!
Hope to see you at my corner of the internet sometime!  Feel free to stop by and say hi! 
---
I don't know about you guys, but now I'd love to go shoe shopping! Thanks so much Ashley for hanging out at Three Years Down today and sponsoring for the month of June!