I am so excited for the Super Bowl. I love football, it's been a big part of my life since I was a little girl. My dad is a diehard sports fan and has been a football coach for years. My family loves to watch the Patriots games together and talk about our favorite plays and players. This season, Vinnie and I have been going to my grandparents house, whenever we are around, to watch the games and that is where we will be camped out for the big game on Sunday. [I am so nervous…. go Pats… I love you Tom Brady!]
Did you know that the Super Bowl is the second biggest food holiday of the year behind Thanksgiving? Crazy right! At Super Bowl parties you get all sorts of different foods and appetizers and snacks and drinks. It can be a challenge if you're trying to eat well and stick to healthy diet, but there are always ways to get the best of both worlds. My plan is to bring my own healthy appetizer, go for a long run in the morning and drink a glass of water for every alcoholic drink I consume.
I have been searching the World Wide Web for a recipe that I can bring to my grandparents for the game. I found so many good ones I thought I would share with all of you and maybe you can help me decide which one I should make on Sunday.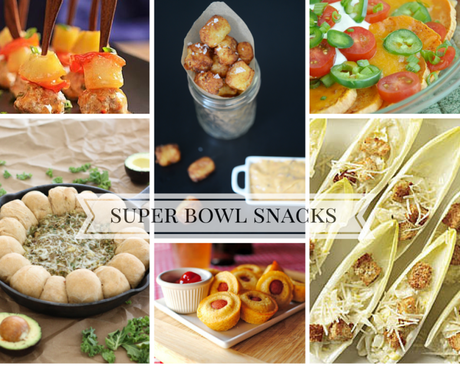 Clockwise from top left:
Sweet and Sour Meatballs via Eating Well
Tator Tots via Cupcakes & Cashmere
Sweet Potato Nachos via Peas & Crayons
Ceasar Salad Spears via Food & Wine
Mini Corn Dog Cakes via Iowa Girl Cooks
Healthy Avocado Artichoke and Kale Dip with Whole Wheat Garlic Rolls via The Yooper Girl
Don't they all sound so good! Which one should I make?
Where are you watching the big game? Are you a football fan or will you watch more for the commercials?
---
6 Super Bowl Snacks to make this Sunday for the big game!
Click To Tweet
---