My half marathon training schedule is pretty mellow in the first couple weeks. The weekends are the longer runs; weekdays are reasonable. This past week I didn't have required mileage of more than 3.5 miles.
Speed work is new to me; typically I just run, I don't do anything to improve my pace, but I decided to follow the Hal Higdon Intermediate Training Program for the Rock N Roll Half Marathon in September. Once a week I do some speed work so I can hopefully increase my pace.  This week, I did a 35 min. tempo run.
I have heard of tempo runs, but I really don't know much about them, so I did a little research:
A tempo run starts out slow (warm up), gradually builds up to a challenging pace and the challenging pace is sustained for some amount of time (tempo phase), then gradually slows back down (cool down).
For my run:
10 minute warmup – 8:30  pace
15 minute tempo – 7:20 pace
10 minute cool down – 8:30 pace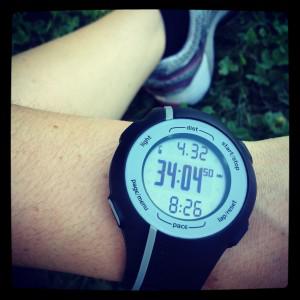 I have to admit, I really enjoyed this run. It was nice to start off slow and get in the grove. I felt ready when it came time to work hard and push the pace. It took about 2 minutes to get up to speed but I was able to sustain that pace for the full 15 minutes. It was actually harder to slow down for my cool down. I guess that is good though, because it means I was comfortable running at a faster pace.
If you are looking to increase your pace, the tempo run is great because the hard work is only for a short period of time, and it really allows you to warmup and recover. It made me work harder than I usually do on my runs which is always good!
Have you done any tempo runs?!