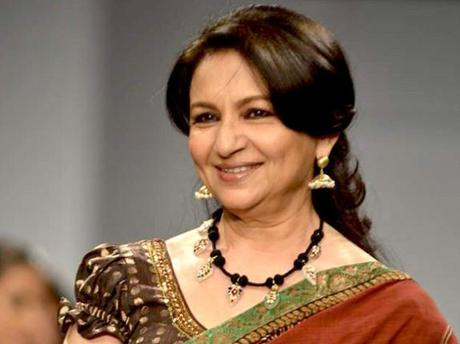 Image from Wikipedia
When she called a spade a spade:
I  am not sure how many of you have seen the public service ad by Delhi Police which has Mr. Farhan Akhtar telling us: 'Be a Man, Protect Women'. This, in my view, is a glaring example of what makes gender equity very difficult. After all, what is the subtext of this message? It simply reinforces the thought that women are in some way inferior and need a man's protection. Not only does it claim that women are weak but it also implies that all men are strong, which is a myth. After all, one of the victims of December 16 was also a man. What is needed is ensuring the safety of women as equal citizens and not because it is imagined that they are the weaker sex. 
When she talked bout the beginning of female stereotyping in Indian cinema:
 Bimal Roy had strong and realistic women characters in his films Sujata and Bandini. In Mother India, Nargis essayed what is probably the most iconic female role in the history of Indian cinema, while Mughal-e-Azam had another memorable woman, Madhubala, in the lead role. However, the success of films like Mother India and Mughal-e-Azam also resulted in the stereotyping—and freezing—of women characters in the mold of glorified mothers or large-hearted courtesans who found their fulfillment only in forfeiting their happiness for the men around whom their lives revolved.
When she nailed how Indian cinema portrays women: 
The films of Shyam Benegal,Ankur, Bhumika and many others, have well-written female characters. But these were in the nature of exceptions and were no match for the huge blockbusters of mainstream cinema which kept reinforcing stereotypes of women as young, beautiful, innocent yet sexy, pliable, obedient, always placing her family and others before herself.
When she told us an anecdote from her life that made the important point that women are human beings, but often treated like it only when they are attached to male human beings. 
..just after the huge success of Aradhana, I found myself stranded at a railway station late at night with my three-month-old son. A crowd gathered almost instantly. I had been mobbed before and I was terrified. But this time things were different because now I was a mother. I realized then that to my audience marriage and motherhood had given me substance; now I was worthy of respect. The same mob which would have whistled at me earlier was now eager to find a place for me to sit, ensure I was safe and that my son was comfortable. All because now I had a husband and was therefore a bona fide member of society, not just an actress.
And then, when she said this. This is amazing. Thank you for this.
 A modern woman is defined by her westernized attire. She looks modern but when it comes to making informed choices, she chooses the conventional. The moment she is to be presented to society for marriage, her sartorial style undergoes a complete traditional overhaul, because now she is expected to become part of the collective, her individuality discarded for the sake of the community. It is implied that the modern woman who asserts herself and her independence can never bring happiness to anyone, nor find happiness herself. Often, in the first half of a film a lot of new and dynamic ideas are introduced, only to be diluted and compromised in the second half.
And when she said this, which is just all truth. 
The leading ladies in films like Maine Pyar Kiya, Hum Aapke Hai Koun, and Dilwale Dulhania Le Jaayenge, are all quite content to wait for their Prince Charming to come and carry them off to the fairy land of marital bliss. The common thread—running through all these films—is that a woman's place is in her home, looking after her man, because it is the man who is traditionally expected to be the breadwinner. Women venturing out to earn are a threat to centuries of male dominance. And film after film reinforces this stereotype through the absence of working women or in projecting one as a cause of marital strife.
Wouldn't be India (or the world) if she did not mention this:
Few films as you can see have been able to break out of a traditional male view of a woman. And yet, the woman, whether on posters or on screen or in real life is always held responsible for inviting calamities to her doorstep. If it is not the provocatively dressed woman on the street who 'provokes' sexual assault, it is the item-girl on the screen who is to blame. The unrelenting gaze of society is always on women and very rarely on the behaviour, conduct and attitude of men. 
And then she asked this very important question:
Very recently we had the embarrassment of none other than the CBI director Ranjit Sinha saying, 'If you cannot prevent rape, enjoy it.' The statement has rightly drawn flak but one is surprised to see the media mentioning only the reaction of feminist groups. Why hasn't the media bothered to check with the general public, or indeed how men have reacted to the statement? Isn't this something that should draw condemnation from people cutting across gender lines?
Then, when she said it best with:
Today, in India 'women's empowerment' is a government slogan; it is a feature of every party manifesto. Yet, in the second decade of the twenty-first century, Indian women, seemingly protected by law, celebrated by the media and championed by activists, remain second-class citizens, most obviously in rural areas, but in some senses everywhere.
And when she just told us what we need to do:
The term 'working mothers' needs to be complemented with 'working dads'. And this requires sensitizing the population, more importantly the women themselves, to the needs of women and demands made on women. The rigid lines demarcating the perceived roles of a man and a woman in society need to be merged and muted. 
Read the entire lecture here. 
Disclaimer: I do not endorse the view that Bollywood represents all of Indian cinema. The generalization is for the sake of ease. I definitely endorse the view that this lecture compiles a daunting list of obstacles the Indian feminist movement faces in society, and not just in film. Please leave a comment and thanks for stopping by.