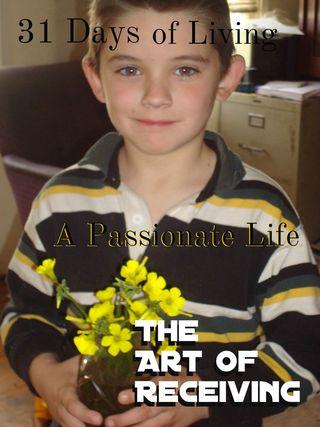 My son picked these "weeds" from the yard and presented them to me, I was so thrilled!
To Read this series from the start, please visit this #31 Days Link after you have read this essay.
 Receiving: it is one of the most important skills on your journey to living a passionate life.
Yes, I said "skill" because so few of us are as adept at it as we could be and if we mastered it, truly, both our abundance and passion would grow exponentially. I'm not alone in this thought, I learned it from other experts. Look at what Alexander McCall Smith says: "Gracious acceptance is an art - an art which most never bother to cultivate. We think that we have to learn how to give, but we forget about accepting things, which can be much harder than giving. Accepting another person's gift is allowing him to express his feelings for you."

An easy place to start practicing receiving is via compliments.
The next time someone compliments you for anything, your task is simply to say, "Thank you," rather than rebuff the compliment offering.
How many times have you belittled the compliment, said many reasons why you "didn't deserve" the compliment?
This hurts both you AND the receiver. The time to stop doing this is right now. As you do so, you may start practicing other steps in increasing your personal art of receiving and your personal expression of passion.
Tomorrow we will be discussing a significant helper in both receiving and living a passionate life and that is very simply… ASKING!
I wonder how many of you put your head down when you read that – and no worries – it will be a snap and oh, so easy! After tomorrow!
>> -- <<
Day 2/31 - A Passionate Attitude
Day 3/31 - Choice + Intentional Action
Day 4/31 - Passionate Detachment
Day 5/31 - Curiosity & Passion
Day 6 - Creating a Monthly Theme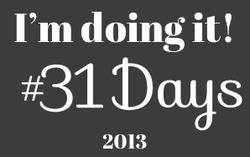 This post was inspired by the #31Days challenge on TheNester.com
So far it has been a wonderful experience of creativity and community. I hope you will continue to follow along on my adventure AND the adventures of others.
= = = = = =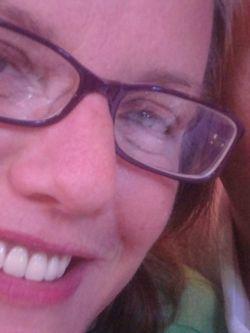 Julie Jordan Scott is a writer, performance poet, Mommy and mixed-media artist. Her word-love themed art will be for sale at First Friday each month in Downtown Bakersfield. Check out the links below to follow her on a bunch of different social media channels, especially if you find the idea of a Word-Love Party bus particularly enticing.
Please stay in touch: Follow me on Twitter: @JulieJordanScot    
  Be sure to "Like" WritingCampwithJJS on Facebook. (Thank you!)
Follow on Instagram
And naturally, on Pinterest, too!
© 2013