So I'm trying to figure out how I want to start transferring to the new blog.
It's a little more complicated than just posting the blog address for all to see because a few months ago my stepmom shared my blog link with hundreds of her Facebook friends. Now I've lost control of who I
know
reads my blog from family and friends, and even if I don't write bad things about anyone - I'd prefer to not have some of those family members following along.
Hmmm.
My best idea is that during the next Medical Mondays, and likely my last as an official fiancee of a med student, I will add all of my current Bloglovin/Blogger followers onto the new blog. Anyone who does not utilize these platforms can comment on that last post with their email address (I will make the comments secured so I have to approve them and they will not be posted publicly) and I can email my new blog address.
Otherwise, I guess we'll part ways into the abyss of the internet, my friends!
----
I'd like to put Mori in the running for best stay at home fiance. The man is amazing! He cleans, he cooks me dinner and packs my lunch, he keeps the kittens from tearing out one another's throats, and for the first time in years he is relaxing without the deadlines and stress of med school breathing down his back.
I am so happy to spend this time with him that I forget about that chunk of med school debt swelling in the corner. And I also forget about my own informal school loans with my company lying in wait for me to quit or be fired. And most of all I keep forgetting about a significant amount of wedding expense that need to be saved for in the next 11 months. Gah, time to pull my head from the sand!
All in all though, life is good. After tonight I will have a full month off from school to read non-tax related books, workout, breathe some fresh air - all the fun things I've given up to finish these horrid accounting classes. After a 12+ hour day of TAXES TAXES TAXES .... I want to quit life and rent out jet skis for a living in Jamaica. Screw these pencil skirts!
Okay back to the grind.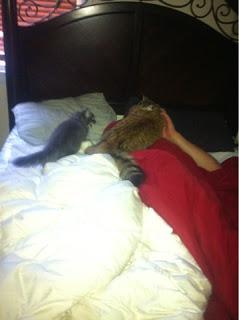 NO REM CYCLE FOR YOU IN THIS HOUSE!