It is hard to write something on Adam Johnson's The Orphan Master's Son without spoiling too much of the plot. I might start by saying that I bought the book because of two main reasons: 1) it was awarded the Pulitzer Prize for fiction in 2013, and 2) it is on a current topic, namely North Korea.
It is not a light read and it got my mind spinning in all kinds of directions. The book is written in two parts. The first part is called The biography of Jun Do (note the pronunciation of the name), the second part is called The Confessions of Commander Ga. Until almost halfway through the story, it remains totally unclear what the one has got to do with the other, but trust me, it will blow your mind!
The biography of Jun Do is written in third person limited and recounts the story of Jun Do; from his time at the orphanage to how he's enlisted to kidnap Japanese people, to becoming a sort of translator on board of a fishing vessel, to being imprisoned in a mine. It seems that Jun Do has no influence whatsoever on where he goes and what he does and that he just has to deal with the cards he is dealt (by whom?).
In the second part of the book there are two point of views: the (propagandistic) story of Commander Ga and Sun Moon as told through the loudspeakers that can be heard throughout North Korea and the account of a North Korean state interrogator who has to deal with questioning Commander Ga.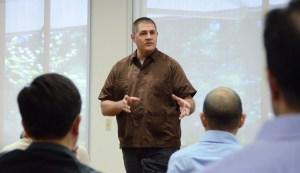 Adam Johnson
Adam Johnson actually visited North Korea, but found he still needed to use a lot of imagination while filling in the story since North Korean citizens are not allowed to talk to foreigners and the only North Korean people he was allowed to talk to were appointed by the state.
It is, of course, easy after reading this wonderful work of fiction to entirely condemn North Korea, but it remains a work of fiction. I think it does a great job at making its readers experience what it might be like living in an isolated dictatorship as is North Korea, though.
Read it. You won't be disappointed.