When the opportunity to be part of 1st for Women's new #weputyoufirst campaign came along and they asked me to write about a woman who had always inspired confidence in me, a woman who had always put me first; my Mom was the natural choice, probably my sister too. But then I thought of someone else, whose always been there too. Another important woman in my life, my Stephina, aka 'the bestie'. 
It is only the luckiest of women who can say they have a special friend who knows all of their warts and scars and still accepts them as they are. A friend who encourages greatness in them and who is also there to share laughter, prayers and even to play. I count myself blessed to have such a friend in business and in life. Never take it for granted when you have someone to share your fears and dreams with, because there are many others who don't.  I have known and loved this incredibly giving woman for over 16 years now and every year as we grow older and hopefully wiser together, I realize that she is literally the wind beneath my wings. She pushes me to go further than I think I can, to do and believe things about myself that she says she's known all along but mostly, she always reminds me to dream even bigger for myself. Thank you my friend, my partner in all things and my sister. You have often had to put me first, at times even before yourself. I value the role you play in my life, and I know you are a big part of the wiser woman I am to become. I don't remember a time when you were not around so thank you for always giving of yourself so selflessly, and for inspiring confidence in me. Ke go rata ka love.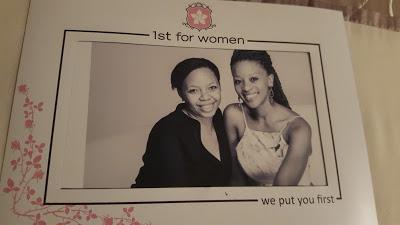 (Myself and Stephina @ the 1st for Women media event, April 2016)
I must be honest, I really like this new 1st for Women campaign- it's a beautiful reminder for us women to put ourselves first. Click here to check out the 1st for Women website and see for yourself why their promise '#weputyoufirst' rings so true. There are also really touching accounts from other women sharing on who inspires confidence in them.  You'll love them.