Glad you guys liked the wedding dress post. Keep tuned for another this weekend when we try boutique #2!
Mori's parents asked him yesterday who was paying for the wedding and he replied "Elle's got everything!" Haha, I love him. They offered to help with some of the alcohol costs and of course the rehearsal dinner. Luckily we have the tiniest bridal party I've seen so far (3 bridesmaids and 3 groomsmen) so the dinner will be pretty inexpensive. And as for the alcohol costs... it's kind of included in the reception price that I was taking care of. For four hours of premium open bar time it's $20 a person - so if we have 100 guests that would be $2,000! That seems like way too much to ask them to pay.
Instead I'm thinking of suggesting they pay for the limo. I started looking at the different types out there and clearly this is my favorite: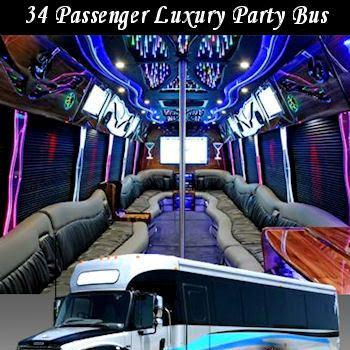 Obviously I need this awesome 34 passenger bus - slash - dance club - slash - stripper mobile for my 8 person bridal party. Oh, and lets not forget its for a morning brunch reception. Now how do I sell this idea to his parents?
But in all honesty I want to ride around in this bus reenacting cheesy VH1 dating shows.