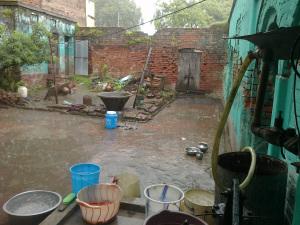 This is a picture of my old house,taken few months ago,it has been the same from the day i embraced this world until now. It was the same from the day my grandpa was a child.
It was the place where a big family lived for decades,but 2 months ago after my grandpa died, a feud erupted between my father and uncles,and they decided to separate.
Thus they divided the property into three parts and the big house where we lived together is now on the verge of been placed with three small houses,one for each family.
This was the one of the last pictures i took of my home,this picture holds many fond memories of my growing up… They say change is good,but not for all (i guess).