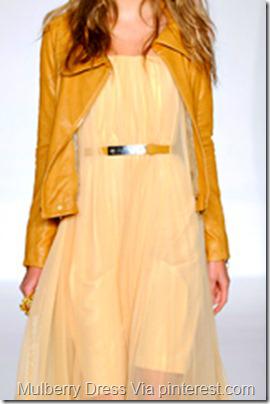 dress by Mulberry via pinterest.com
Onyx in color, opal irradiate is the color of my screen.
Squared and jeweled, like a umber colored ring
depending on what I've seen or what I would to like see.
As it radiates beams of it's HD screen and lights my room with it's a glow.
Because I refuse to let go, as I sit Indian style on the floor
Laptop desk resting on my knees as my elbows hold me.
I just refuse, To get some rest , and start again tomorrow
My head is hard like a coconut, I'll wait until I'am done
I don't care if my eyes, body and hands go numb.
it's important to me to make that last retweet  and tweet.
I want that peach frock on Pinterst  that I hadn't realized
I pinned it twice, along with a picture of a willow tree
with a feline cat in it. That's why I pinned it,
A cat in a tree eyes a glow , it look like an organic Thing 1
Don't care about Thing 2.
Cause now, my eyes keep closing shut, to only open
to what spawned, from my hand dropping on ivy and
 keys. I open one eye to see a jade blue imp
staring back at me with hair like thistle and a tulip between his teeth.
With shock and horror, I click away instantly like wind
dose tumbleweed in the desert , the thoughts blow away from
my mind. The odd thing about this is before I confirm to my self
to get into bed, Inspiration hits me like lava after it has heated up
in a lava lamp. To start a poem and begin it with a sienna hue setting.
perhaps in a quaint town in Italy, perhaps of course in Tuscany
where I 'am sure my future husband is at. Or perhaps he's in Australia
caring for koala bears, and chewing on eucalyptus leaves.
It don't matter to me I note, as I sip warm milk, save my post
log off and go to sleep amongst a storm as told in old folk lore.
Holla, I did two prompts in one.
One is : dVerse poets pub~  Machine Dreams which you can follow that link to them
Second prompt:  Midweek Melting (Bonus Word Prompt) at this link:
http://rosemarymint.wordpress.com/ The words below are the words we were to use in our poem. the ones are the ones I used. so please feel free to join us it's a lot of fun.
Blessings Live Life and join the fun ~Leah
©Leah.J.Lynn 05/09/12
ivy
jade
coconut
onyx
lava
feline
mulberry
willow
sinew
elbow
spawn
imp
alto
opal
umber
sienna
thistle
tumbleweed
eucalyptus
tulip
numb
peach
rye
lore
milk