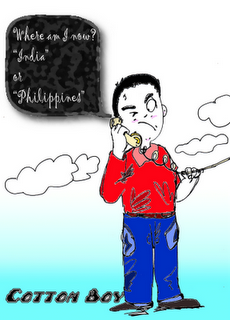 The sound "Dou, Dou, Dou" from the price scanner; the greeting "Hey, Hi and Ho" from the customers and the "Ring, Rang and Rung" sounds from the telephone drive me nuts! The noise, the scuffle and the skirmishes of price annoy me while I am performing my job as a cashier at the drugstore. Scanning the merchandises is fine; making sure I collect and discharge the correct amount of money are understandable; welcoming and assisting customers are bearable; however, I just can't answer phones and conduct all the aforementioned tasks at the same precise moment. I cry; I collapse and I have no shame to speak to the receiver, "I surrender! Cotton Boy is defeated. Please let me go. Be kind and merciful, Merry Christmas!" I clicked; I clunked and I hung up the call.
The below is part of the extract that I remember during the phone conversation.
Scene: It happened on a dark cloudy early evening yesterday. I was a cashier at the drugstore and was assisting customers to check out their products. There were three customers waiting in line; the paper in the cash register machine was jammed. While I was opening it to re-feed the paper, the phone rang. I was told to answer it within the first three rings. I picked it up and said professionally:
Cotton Boy

: Thank you for calling XXX drugstore. This is Cotton Boy. How can I help you?
Caller

: Yeah. Whatz up, bro? Do you still hafs the 12-inch Minkie Mouse doll on sale?
Cotton Boy

: Excuse me? Did you say Mickey Mouse?
Caller

: Nope, I said, "Minnie Mouse".
Cotton Boy

: Do you mind if I put you on-hold? Someone will assist your call, Sir.
Caller

: Wait, wait, wait … Where am I now?
Cotton Boy

: I am sorry, what you do mean?
Caller

: I'm saying you are in India or Philippines? Jesus Christ, this country even outsourcing this job to overseas. No wonder we don't have no job here.
Cotton Boy

: Sir, I am in Ohio, USA. Your call didn't route to India or the Philippines.
Caller

: You have accent!
Cotton Boy

: Sir, I have "AN" accent. It doesn't mean I am not in the U.S. Could you please hold?"
I, then, immediately page someone to help him find "Minnie Mouse". I frowned and was distraught. It is stressful and even dreadful to answer calls similar to this every day. I need some oxygen, "Let me breathe!"