No matter the age, Sundays bring joy to everyone. Be it young or old, home maker or a professional, everyone waits for Sunday with the same expectations. It is a day for picnic. A day where families are seen going to the swimming pool with kids wrapped in cute robes and mums chasing after giggling little girls. It's a day when the father's and the husband give the lady of the house the well deserved rest. No demands for breakfast or lunch, instead awaits a lavish brunch. Some bask in the corner with a book in their hand. For some it is the time to make the house shine. There are those like my neighbour, who get dressed every Sunday for a langar at the gurudwara and there are those like me for whom Sunday is the day where you put on your best and head to the Church. Oh! What joy Sunday's are. Meeting and greeting your church family, the melody of the choir, a surrendered heart and a humbled spirit. 
It has been quiet some time that Sunday's felt the same. There aren't any picnic baskets being opened or little girls giggling at the pool. The equally tired husband and wife, are glued to Zomato wondering what to eat. Sun falling on the books reveal only the boredom floating like particles of dust in its light. Whoever knew that Sunday's would see such a drastic change! Whoever imagined that 2020 will be a year defining the new normal! When Sunday's would merge into the mundanes of Monday; Where it would be difficult to distinguish between weekends and weekdays. We would sleep in our PJs and go to work in our PJs. Could we imagine education would be hundred percent digital? Who knew that in the new normal the churches would be shut? 
With every new thing becoming the new normal, churches around the world have undergone changes. Multiple churches went online and began broadcasting services online. One church in India, that always stands out is Bethel AG International Worship. Bethel AG realised, with work from home becoming a norm, it was an opportunity to help people spend their travel time seeking God. They began nurturing their  members via various social media channels. The church launched daily devotion services called,
Prayer in the time of Covid
. Not only do people have an option to join in their live service at 8 AM everyday but, they can even benefit from it all though out the day on YouTube. The church realised, that Sunday's deserves it normalcy. So they began broadcasting their Sunday service on Facebook, YouTube and their website. Their services receive more than a hundred thousand views within a couple of days. 
When the Government announced the opening of religious site, Bethel AG like every other place of worship, welcomed the release. However, with it came a new problem. How do they welcome a ten thousand plus member church and ensure they stick to all the Government protocols? They tackled this problem the way they tackle every problem. They called up on God. 
"For the God gives wisdom; From His mouth comes knowledge and understanding" - Proverbs 2:6
They used the resources, wisdom and people God provided them to come up with the first of its kind church services in India called
WOW - Worship On Wheels.
Maintaining government protocols, ensuring safety of its members, regular sanitisation and zero touch interaction, Sunday the 14th of June, 2020 witnessed worshipers worship in the church ground seated in the comfort of their cars and bikes.
View Bethel AG International Worship Centre's Worship On Wheels service    
Members participated in partaking the Holy Communion with warrantied hygiene and disposal. "It is an indescribable feeling to partake the communion especially when done with my church family, something I have missed for over 3 months" says a joyful Sherlyn - an old member of the Church. If you are in Bangalore, you should 
visit Bethel AG Church at Hebbal
 on Sunday to experience one of the best outdoor service.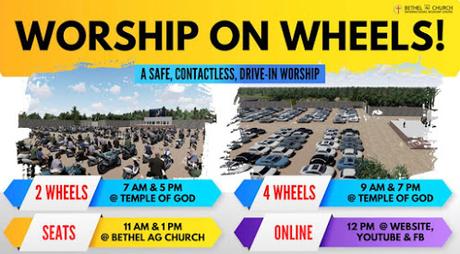 Train up a child in the way he must go, and when he is old he will not depart from it
. If you want the best for your child, Bethel AG Church, conducts special online Sunday services for Kids of various age groups. Visit the Church website at 
https://bethelag.in/
 to learn more about what they believe in and what they have to offer.