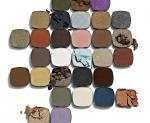 Ohhhhh I cannot tell you how jump up n down, doin the happy dance excited I am right now over the latest and greatest from Bare Minerals!!!  Come on, jump with me while I tell you that Bare Minerals is releasing PRESSED eye shadows!!!!
Yep, there ya go, dance it out with me!  Due at the Q on September 29th and in Boutiques shortly thereafter, Bare Minerals introduces BE Ready eye shadows!
Naturally good for eyes as we have come to expect from Bare Minerals, full of anti-aging benefits derived from their SeaNutritive Mineral Complex and loaded with powerful antioxidants, cold-pressed borage oil, caffeine and cucumber, delivering anti-aging benefits such as depuffing and antioxidant protection. But don't let these shadows fool you....they may resemble powder but feel like cream with a non-drying formula allowing for a  smooth application and skin-renewing benefits.
I am sooooo READY for this!!!
PS....Stay tuned for my review on Bare Minerals new Curl & Lengthen Mascara!