100 Pipers Whisky from Seagram is finest of the products. It is selected from the best of malts. As a matter of fact, these malts become eligible for selection after careful scrutiny and testing. That makes 100 Pipers #BeRememberedforGood. In fact, all those who trust in 100 Pipers are part of exclusive quality people. And that, in turn, makes them also #BeRememberedforGood. We all know that 100 Pipers Whisky is of Scotch origin. That itself says a lot about its quality. It is amazing to know that it took more than 20 years and almost 530 combinations to arrive at these dividual whiskies in a single bottle. That means each bottle from Seagram is a sign of commitment, quality, and taste.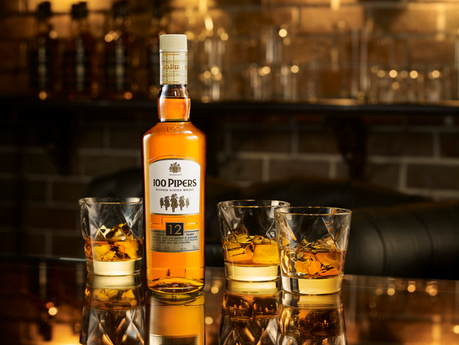 As we all know Scotland is the origin of Scotch. Hence, when a Scottish legend says something about scotch, it is a real knowledge. In fact, according to Scotish legend, when someone tastes a good scotch, he can hear a piper play. In addition, it goes like this. But only when someone tastes a truly exceptional Scotch whisky can make hïm hear 100 Pipers. Now that is something of a real class. Because this legend goes true with 100 Pipers. Here, every sip is pure music that touches your heart, mind, and soul in one go.
100 Pipers Whisky from Seagram
The whisky is mature as it comes after refinement and cultivation of 12 years. Though it in not an easy task, but when it comes to Seagram everything is possible. Because their commitment is always on the top. And that makes it the first choice for all whisky lovers. This, in fact, is a real example of craftsmanship and finesse. Not many would be knowing this. There is a lot of hard work in preparing it. The actual story starts at Speyside Distillery in Scotland. Here, the finest malts and grain whiskies are put into quality oak casks. And then it takes 12 years to mature and develop multi-layer flavours, an aroma beyond imagination, and creamy texture.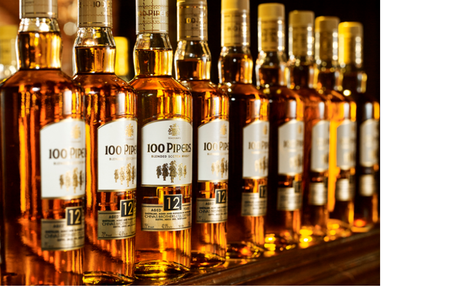 This excellent aroma is a result of a wonderful whiff of delicate honey, vanilla notes and a classic touch of peat. Similarly, the state of the art taste comes from a beautiful symphony of sweet mellow notes, soft smoky strokes and a superb balance of hints of fruitiness. Finally, its creamy texture comes from a balance of creamy sweet consistency that forms its structure. Overall, this great composition  makes it feel heavy, sweet and rounded, all at the same time. And the smooth finish is because of an elegant floral finish which is a framework of subtle oak and vanilla notes. All this results into 100 Pipers whisky.