First of all, a Happy Women's Day to all the bold and beautiful out there. 

4 more days and I would turn 21! (Yes, I'm not faking it! I fail to understand why women shy away from admitting their age. Aren't they proud enough of all the wrinkles each one wrapping a unique learning experience?)Whatever it may be, but the fact stays that one more year passed by leaving with me a draped box of experiences, emotions, success and failures nicely ribboned with love, care ,maturity and learning.
·

  
20
th
birthday started off with some wonderful surprises! A birthday similar to what a 2 year old female kid would expect. A princess like experience with a beautiful crown, HAPPY BIRTHDAY stickers on my wall and the yummy Dutch Truffle!
·

  
In May, I had my first teaching experience at LES, SXSSS.The super amazing and such lovely innocent kids. The way they used to address me as 'Pooja Teacher' and hang around me narrating their school stories. Only one word defines my experience there-'Unique'. I ended my teaching demanding a promise from my kids that no matter how the circumstances would shape in the near future, they'll continue studies.
·

  
Completed a year of traveling in public transport. Has made me a lot stronger and much more alert.(So much so that some from my class have nicknamed me "Jhasi Ki Rani" and I LOVE IT)
·

  
Getting selected for a group discussion in the ILEADINDIA contest as a semifinalist in regionals and being judged by none other than the TOI Editors! Awesome na?
·

  
Being judged by people! Proved that I'm strong enough to raise in front of the entire class and address the mass in general that "It doesn't make a difference. You are making me stronger! Thankyou!".Believe me, letting people know that they've hurt you somewhere deep down is one of the ways of feeling lighter rather than shutting off that window forever.
·

  
Lost my best friend's grandma. She was very close to my heart addressing me as her own grand-child. She holds a special place in my heart for her kindness, her struggle and the courage stories and her love and warmth. The last time, I went to meet her, she already had symptoms of amnesia but somehow recognized me..That meant a lot to me.
·

  
Won the first prize for the first time in an event held at my college. Web designing. Followed by three more. That ecstasy and joy! If you feel it's a li'l thing to be mentioned here, you're welcome to participate in my college's events.
·

  
Got addicted to the impressive Mahabharata-a television show dramatizing the longest Indian epic. So much that nobody is allowed to speak during 8:30 to 9:00 at my home. A period of complete silence.
·

  
Missed a staircase and slipped for the first time. Just a bloated foot.:)
·

  
Cook.Cook.Cook.They say, manage your home for a day before you turn 21.Manage everything from start to end. I can proudly say, I did that for more than a month during two separate periods.Definately,lead to growth and independence + a li'l expertise in bargaining with the vegetable vendors + dealing with all categories of people and being nice to them.
·

  
Some new friends and some older ones getting transformed to lifelong treasures.
·

  
Just yesterday-my name in the attendance review: O First time in 5 semesters .Wonder where did I make a mistake calculating the allowed bunks! But, No worries.
PS: My friends are demanding a party even for this lame reason. That's what friends are meant for? Eh?
My exams ended just today and having absolutely nothing to do,I ended up making this(Of course,on a lighter note 
`:-)) Blessings and Wishes are always welcome.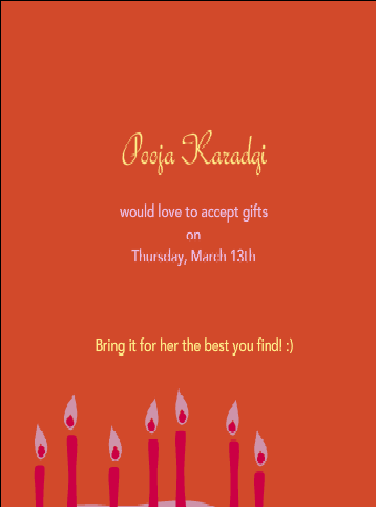 21" border="0" title="20 ---> 21" />
PSS: I started out writing on 8th->drafts->Resumed on 9th.