The Chef at A Grill Company, Logix City Centre, Noida has an expertise over Indian regional foods. He has a different kind of rotation plan in his mind. There are 11 regional foods on his list. And hence, every 12th day is the repetition of this list. But that doesn't mean that on the 12th day you will have the same recipes as on the 1st day. No, it is just the repeat of a region, but not the food exactly. Because India is a country of diversity and variation. Therefore, even the repeat of a region doesn't repeat the same food. Well, this rotation concept is for the main course. As far as starters go, you have already a big list to choose from. And in fact, since this is a buffet, you can try all.
A Grill Company Brings 11 Regional Foods
The concept is more or less same at A Grill Company as Jungle Jumboree and Pirates of the Grill. You have the grills on the table and the molecular recipes also come to your table on a trolley. The preparation takes place right on your table. This is a grand restaurant. So are the tables and seats. It is more than relaxing atmosphere. The wall decors, central lighting stream, and the lighting on tables seems to be perfectly a scientific approach. The interiors seem to be so professional in that aspect. So much so that you must visit to admire it. Since it is a new setup, don't ask the servers about the recipes and dishes. To get the real crux of a recipe, talk to the chef who is more than eager to transfer knowledge on the subject.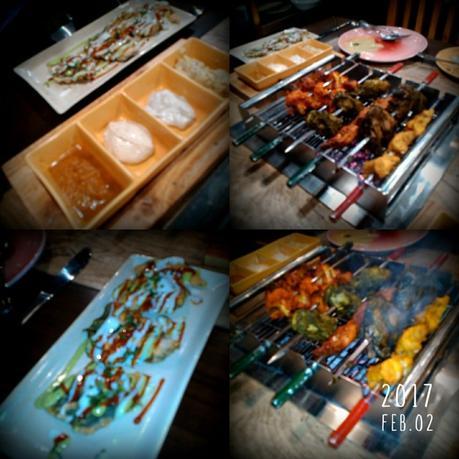 If you desire to have a particular regional food, then better call the restaurant to check which region is on the cards for that day. Like the day I was there at A Grill Company, it was the first day of launch and hence the theme of the day was 'Dishes from all regions of India'. The next day was for Rajasthan dishes. You must try Jelly Shots from Amuse Bouche Starters. Go for grill items of your choice. I would recommend Achar wala Paneer in Veg. And in non-veg go for Chicken Wings. Dips for Gastro Grills is an altogether different concept. Hence, you must give it a try. So is the Molecular Chaat Bar. Golgappa with Pani in Test Tube, Nachos Chaat, and Mini Raj Kachori are my favorites at A Grill Company.