Okay so in one of my other blogs I was ratting on about my whole shirt and skinnies look, right? Well now I want to tell you about my favorite accessories for this season.
So lets start off with my like new arm. I was never really a handbag girl until recently but I am totally glued to this one. 
Behold...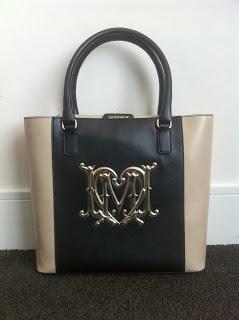 I saw it in House of Fraser and literally started salivating - it was kinda gross. Like I have been glued to it. I usually have an allergy like aversion to the Italian fashion house and its labels, idk I just found the old LOVE MOSCHINO that was usually strewn across everything they had in their collections irritating, especially the belts... ugh they annoy me so bad, but this emblem is so pretty and the overall look of the bag is just so elegant in an understated way and what girl doesn't like something that looks pretty, elegant and understated! Big handbags are just so handy and when you have OCD and you need to carry a hundred and one things it is just the thing! You don't have to spend £150 + to get a nice big elegant handbag: Newlook, River Island, H&M and such have lots of bags that will float your boat.
Okay next are something that I love and have my fingers crossed will take off like they should: Collar clips and brooches, yes I did write brooches. They aren't for the elderly and hipsters. So I fell for these when I was wonder around Swarovski and saw this...
http://www.swarovski.com/Web_US/en/5030456/product/Swarovski_By_Shourouk_Golden_Brooch.html and idk I just fell in love with it instantly, then I saw a set of wing collar clips and I was like omg they would look so nice on my black shirt but I didn't like the color. So yeah I'm still looking for some! But yeah, looking online there are some really cute ones that would just set off any outfit. Topshop have some really nice brooches, River Island have a few collar clips, Claires has a few pretty adoarble ones, I liked a couple in House of Fraser (btw who is Fraser?) but I have found that if you have like a statement necklace you can easily wear in under your collar and have the main bit hang quite neatly inbetween the gap, it looks just as cute :)

I have a collection of quite chunky very intricate bangles that I have accumulated over my little life and I'm finding they really go well with a simple outfit and also appear to be in atm. Everywhere does them and everything goes with them - Accessorize has a wonderful collection that I may have to go and raid at some point when I am better (oh wait I forgot to tell you! I burnt myself on my hip and thigh with boiling hot water! It was so bad! I had two massive blister and now it's just raw skin that is killing - I keep spraying them with that spray on plaster shit, but the one that I have has like antiseptic in it so it like kills like an utter bitch when I put in on! You can hear me screaming and making funny faces like fifteen minutes later... was anyone else taught to always write numbers out unless they were like a number over idk 100?), I also have a massive collection of custom bracelets from a little shop in Leeds called Yum Yum beads - it is a phenomenal place, I literally spend shed loads in there and they have so many beautiful beads, like Swarovski Crystals and really intricate charms so I tent to layer my wrists with them too. Cuffs are really in atm as well, also super versatile.

I am loving the whole Baroque earrings - they are so vintage (without wanting to sound like a douche). They just look so cute with a simple outfit and totally exude elegance. Also earcuffs are so cute I hoping they would take off. Both available pretty much anywhere and so easy to match up with clothes.

I'm bestotted with the whole chunky chain thing too. They featured heavily in the Chanel Fall/Winter '13 collection - Lagerfeld had them in hair, as necklaces, belts and even bag straps. I think its like a twist on the whole statement necklce thing.

Grunge seems to be peaking into a hell of a lot of collection but keeping it elegant, leather jacker, big boots but also really intricate, dark jewelry - love it!

So checking out the sites and I see a few really stupid trends like Dragonfly/Beetle look fabrics and prints urgh. Why would I want to look like I have insects on my nails, Miss Sporty do a nailvarnish like that. Matching is really in atm apparently T_T why? Like we spend so much time wanting to look idk nice and sort of put together but like the whole head to toe in one color as far as I am concerned is just as bad as double denim. Wtf is up with fluffy things recently as well? Like I want to look like a grown up not one of Gwen Stenfani's Harijuku girls. And OMG has anyone else noticed the Tartan everywhere? At the begining of the season I saw it in Topshop (I think) and said it would be big for a while atleast and it is. It's so stupid, the only women on the planet who can pull off tartan without looking like a scottish transvestite is Vivienne Westwood - that women makes it look Dayum! Animal print is everywhere at the moment and I really cannot see it, like leopard print and such was always relegated to mutton-dressed-as-lamb but now it is on everything. It's total vom-central. Someone please stop it. Crystal hats like the beanies and baseball caps what the actual mother fuck is up with that shit? Who the hell came up with that it is so stupid plus its like Autumn - it's not even wooly hate season yet. Stacking rings? Anyone get these? I just thing they look really tacky. 

Blues really seem to be right now as well. I'm personally loving powder pastels, beiges, black, dark mossy greens, cream and loving as always white!

Nail colours are a fun this season - nudes are really in but so are 3D accents, black is totally back (matte and glossy) as are funky black accents! They are super cute and twists on monochrome prints are so it, I'm loving metallic nails too - Barry M do some super ones, Oxblood is a new one to me but it is meant to be like a brownish red color and is all over cat walks recently! Now on to lipstick/eye makeup - the whole cat eyeliner thing has been all over the models for the likes of Fendi, Kenzo, Jason Wu and Micheal Kors - I personally don't like it because I cannot pull it off, but if you can go ahead! Orange eyeshadow - omg don't even ask me I don't like it. RED LIPS!! YAY!! Lol you can never go wrong with red lips. Oscar De La Renta, Emporio Armani and Marc Jacobs have been loving this look! But not just bright red, but that deep wine color too. Glitter is in! Sparkles around the eyes seems to be showing up! I love anything to do with glitter and as such am loving this trend but I definitely will not be trying this look out, but if you are brave Barry M do an amazing range! 

Hair seem to have changed much this season - cute, soft, messy ponytails, clear cut partings, Ombre hair is here to stay- which is kinda cute cuz it worked so well in the summer!, the grungey wet look is popping up here there and everywhere- everyone from Jason Wu and Prada to VB and Dior are doing it, classy/retro updoes, cute fringes, the whole messy, wavy cute look is in but also the slick, straight do has come into its own, intricate accessories, sweet braids and big voluminous hair work really well too.

So have fun with your look and play about!

Love,

Monica

         xxx