There are four varieties of Beers that they brew fresh for their guests visiting Agent Jacks Bidding Bar. It is a pub and microbrewery at Sector 29, Gurugram. Three main cuisines that you find here are North Indian, Chinese, and Italian. The first floor has a smoking zone and an outdoor seating area for guests wanting to smoke, drink, and have food together. The indoor tables have a variety of seating options thus providing you an option of selecting a table of your choice. Like you might opt to have sofa seats. Or otherwise can go for normal chairs. It all depends on your comfort and convenience. Above the first floor is terrace that opens in the evening around 7 pm. The restrooms, bar, and kitchen, all are on the first floor. There is no lift but you don't need even. Stairs are quite convenient.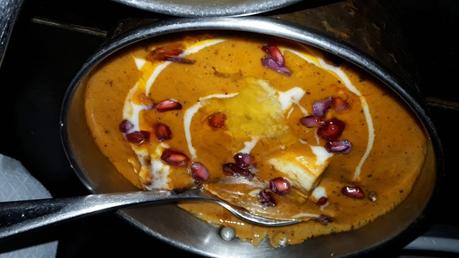 There are big screens and small screens at Agent Jacks Bidding Bar displaying trends and prices of different varieties of liquor. Also, there is a bidding corner or bidding table on one side where people go and bid for their choice of hard drink. The place is quite popular among youth. Though Hookah is out of the question in Delhi NCR after a ban from the court.  Food is tasty and presentation is good. The Chef is a Delhite but has a vast amount of international exposure. Sector 29 is probably the biggest food hub in Gurgaon and one of the biggest in Delhi NCR. This restaurant has good architecture. Especially the outdoor. Indoor wall decors and ambience are excellent. Most of the evenings you will find it full of people, especially youth, enjoying food and drinks. The staff is expert to cope up with such situations.
Agent Jacks Bidding Bar Is One Of The Busiest Outlet in Sector 29
Coming to food at Agent Jacks Bidding Bar, we had Virgin Passion Moeto and Strawberry Cocoa. Probably these are the best options. Among starters, we had Jack's Masala Crunch, Golden Mushroom, Ajwaini Fish Tikka, and Garlic All The Way (Chicken Tikka). Jack's Masala Crunch is a good option for accompanying your drinks and beers. Mushroom, Fish, and Chicken Tikka are worth trying. There is a regular innovation that is part of Chef's job to execute. Fusion and alteration is the key. On the same lines, you can try Fusion Caesar Bowl. We had Veg Fusion Caesar Bowl. You will find Paneer Tikka as a fusion component of Caesar Salad. Make Over Pizza is something that vegans would love to try. It has a good variety of veg toppings along with Mozzarella Cheese. We had Dal Makhni and Paneer Dum Anari from Indian main course section.
Both the above Indian curries are good and unique. In fact, Dal Makhni is so tasty that it will not let you look at any other dish. We also had Veg Fried Rice from Chinese main course department. Murg Dum Biryani is again a bonus here. It comes in tiffin having three sections. The first section is Mirchi ka Salan, Second section is Mix Raita, and the third one obviously contains Chicken Biryani. Biryani is exceptionally tasty and Chicken is quite juicy and well cooked. Overall, Agent Jacks Bidding Bar offers a nice food journey. In Desserts, Green Apple Jalebi is a must try relishing dish. Brownie with Ice Cream is obviously a good option.