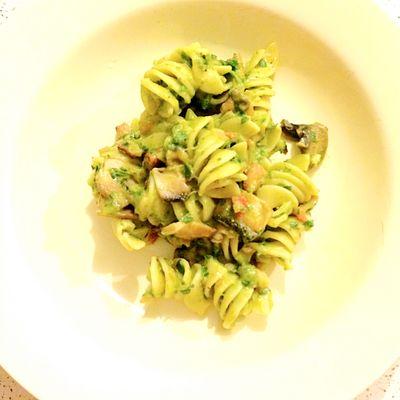 This dish is a favorite in my house hold. It is very easy to make AND quick. :) 
Ingredients
1 bag of your choice of pasta. 
2 ripe avocado (flesh only)
5 cloves of garlic
1 bunch of fresh basil
2 cups of baby spinach
1 ripe tomato (cut in half)
2 strips of bacon (cut into tiny pieces)
1 cup mushrooms of choice (sliced thinly)
Olive oil for cooking
How to
Cook pasta according to the instructions on the packet and save a mug of the boiling pasta water.
In a frying pan, add bacon and fry till it is crispy.  I usually do not add any oil as the bacon would have enough fat in it.
Add mushrooms. 
In a food processor or thermomix, add Avocado, garlic, basil, baby spinach  and tomato with a little bit of olive oil.  Blend till it becomes smooth and creamy. 
Once the pasta is cooked, transfer it into the pan with the bacon. 
Add the creamy avocado sauce and let it heat through. 
Serve while it's hot. YUM.