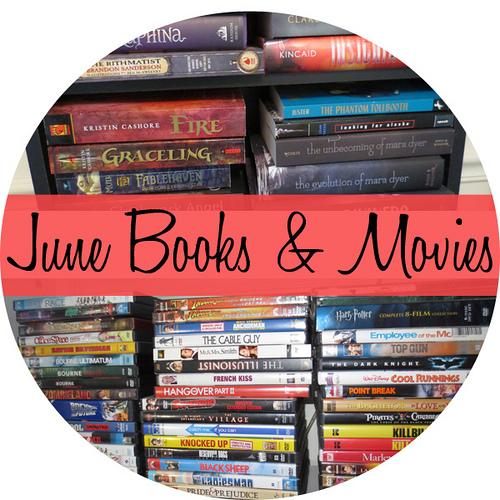 A Short History of Nearly Everything
by Bill Bryson (audio book-
favorite
!)
Shadow & Bone
by Leigh Bardugo (
favorite
!)
Ella Enchanted
by Gail Carson Levine
Maniac Magee
by Jerry Spinelli
Bridge to Terabithia
by Katherine Paterson
The Willoughbys
by Lois Lowry
Scarlet
by Marissa Meyer (audio book)
The First Part Last
by Angela Johnson
Make Lemonade
by Virginia Euwer Wolff
The Scorpio Races
by Maggie Stiefvater (audio book-
favorite
!)
The BFG
by Roald Dahl
The Miraculous Journey of Edward Tulane
by Kate DiCamillo (audio book)

(+ May's movies, because I didn't get a chance to post them)Lincoln
We both liked this movie but I'll admit I was bored in sections of it. Maybe I just wasn't in the right mood when we watched it.
Silver Linings Playbook
A little weird but funny. I like Jennifer Lawrence.

Game of Thrones Season 2 Disc 5
I can't decide whether I'm tired of this series yet or not. Don't get me wrong, the books are great- but....I'm a little sick of the back and forth between the characters.
The Great Muppet Caper 
A long time favorite- my favorite of the Muppet movies. I had to watch it again.
My Fair Lady
A great time! Can you believe I'd never seen it? Andy suggested it because he thought I would enjoy it and I did.
Extremely Loud and Incredibly Close
A decent movie but a little forgettable. I wanted the story to dig deeper and it just stayed a little shallow. The end was kind of disappointing to me. I expected a bigger discovery or revelation or something. See it once and that's enough.

Life of Pi
We liked this, although it is a crazy and almost unbelievable story. It's just kind of sad in parts.
MIB3
I'll admit that this was one of the better MIB movies. They're all ridiculous, of course, but this one digs a little deeper into Agent's J & K's past and has a decent ending. Plus, there's time travel in this one and that's always an adventure.
Django Unchained
If you can't sit through Kill Bill, you won't be able to sit through this one. It's really no secret that Quinten Tarantino likes his blood and gore. This was a good movie and we both enjoyed it, but it was long and didn't really need to be.
Warm Bodies
I haven't read the book yet, but we both enjoyed this unconventional take on zombies. There's nothing particularly special about this movie but there are some funny parts and we didn't regret renting it.
______________________________
I've been in crazy overdrive when it comes to reading this month. I blame (and thank) school for this. These are all Netflix rentals except for Warm Bodies which was a Redbox rental. We're also still keeping up with Grimm and I watched and loved Season 2 of The Killing. Not much time for TV these days and that's fine with me. What have you seen/read this month that you liked or didn't like?