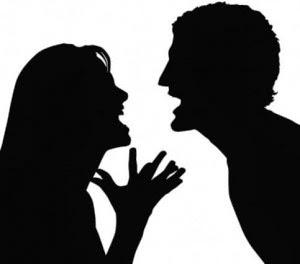 A blemished relationship is the most hazardous thing one can have in their life. It's better to have no relationship rather than having a spoilt one. But then no relation means, no loved ones. No matter how much we curse, no matter how much we fight but if it's a true love than there is no way we can stay apart. Practicality and logics, you can go to hell.Call it amateurish, bond or whatever you want to but then even a contemplation of break-up is tormenting. After all, true love is all about being vulnerable and surrendering yourself.Love is a bond which ties two heart or may be, just may be it's a disorder which makes us weak, as we are not strong enough to part away or to live alone.So, here are some ground rules that I've laid down for myself when fighting with my loved ones:     v

 

Silence kills, it is the most annoying thing according to me. Whatever it is, just talk it out rather than suppressing it. Someday, it will burst like a volcano, destroy everything and will leave no scope of reunion. Remember, whenever you speak your mind, there will be a clash, one more fight but that would be the last one and after that there will be love and only love.Talk about your problems and issues and give your partner a fair chance to understand you in a better way. So, just talk it out. Unless, you are drunk, of course.
   v

 

Before saying anything ruthless, just remember that you are confronting the person you admire and love the most, you can't afford to lose them.
   v

 

Don't divert from the objective. Focus on the present topics rather than pulling out topics from the past between the fight, it will do nothing good except to complicate the whole thing. Try not to give references from the past. So, just let bygones be bygones.
   v

 

Don't take your partner for granted. Never ever in your wildest dream try to think that you can say anything or do anything with your partner and he/she will take it. Never forget your partner may walk away if you are crossing your limits. Love is not about being a punching bag or a full time slave.
   v

 

You may never know but your gesture and posture, may be intimidating. Don't push your partner or point finger or stomp towards him/her.  That's rude and scary. So, always check your body language.
   v

 

Listen. Listen what your partner is trying to say. Atleast, give him/her a chance to explain. Don't do all the talking by yourself. May be your understanding is partially or may be completely wrong. Just because you think it's wrong, it doesn't mean that it's actually wrong.So, listen to your partner for once atleast without being judgmental.