Last weekend along with hundreds of other bloggers I attended BritMums Live! which was held in The Brewery near Moorgate in London. As it was my first bloggers conference I wasn't entirely sure what to expect. I was excited about going and meeting all the people I interact with regularly on Twitter, Facebook and various forums and networks. I was full of anticipation about what I would learn and I was looking forward to telling people about Magic Town, my sponsors but if I'm honest I was also rather nervous and dreading leaving my son for so long for the very first time.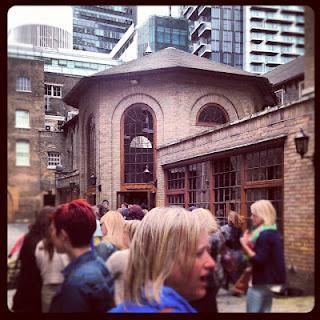 Waiting to go in to BritMums Live!
Not long after I arrived at the venue I met some familiar faces including Sophie from Super Amazing Mum, Jenny from Mummy Mishaps, Sarah from Ramblings of a Sussex Mummy and Lucinda from Bakes, Books and My Boys to name but a few, which really helped to dispel my nerves. Once inside I finally got a chance to say hello in person to the lovely Karin from Cafe Bebe, her blog is one of the very first I ever read and inspired me to start my own way back in 2009. After coffee and some mingling in the hub it was time for BritMums Live! to officially kick off with an introduction from BritMums founders Jennifer Howze and Susanna Scott and then the first speaker Ruby Wax took the stage. Ruby was such a great choice of speakers she had everyone in fits of laughter within seconds, she was inspiring and passionate about Black Dog Tribe, the mental illness charity she helped to set up but most of all endearing and real.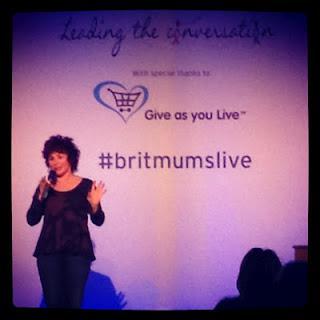 The fabulous Ruby Wax
Over the course of the rest of the conference I listened to other amazing speakers such as Sarah Brown, founder of Piggy Bank Kids whose words, "How ever the world treats you, don't let it change how you treat the world" has really stuck in my mind and television personality, Cherry Healey who gave some great advice on things from "when dying your armpit hair choose blue or green.. NOT red" to how best to use social media by picking the platform that works for you and not simply trying to do them all.
During the sessions some great tips were shared on SEO and legal essentials which I now just need to start applying, starting with adding Google Adwords and using keywords more effectively. I finally know what I need to do to sort out my tax and accounting thanks to Dawn Brown who was informative and did a great job making a boring subject interesting. Antonia Chitty gave us the lowdown on creating and marketing an eBook, her session has given me food for thought on creating an eBook at some stage, I just need to figure out a niche I want to concentrate on. Erica Douglas shared her experiences of blogging and how to start earning an income from blogging which was very interesting and has definitely highlighted some potential opportunities worth investigating. Finally Claire Burdett of The Media Marketing Co shed light on how to build a social media plan that works, one very intersting fact she shared with us was that a post on Twitter only has a lifespan of three hours whereas a post stays on StumbleUpon for nine months hence I have started looking into using StumbleUpon. The day wrapped up with a series of keynote speeches from bloggers who read their posts, some of which made us laugh thanks Ministry of Mum and The Secret Diary... of a Secret Diary and others which had us in tears and in awe such as All for Aleyna, Down Side Up and Cafe Bebe - all such talented bloggers, strong and inspiring, I want to thank thank them for being so brave and sharing.
In the hub I was blown away by the number of sponsors and the amount of goody bags being given to us. I finally got to meet the delightful Kerry Jean Lister from DOCO who I have been working with on the LEGO DUPLO panel. Other sponsors included Disney, Bananagrams, Visit Orlando and Radcliffe's Wines (who always seemed at have a willing group hovering nearby, more than happy to sample their delicious wines and bubbly). At the Crocs stand I was amazed by the vast amount of different styles available and in particular how light the wellies are. Lunch was sponsored by Skylanders Spyro Adventure which is one brand I am particularly interested in learning more about, their video game certainly sounds interesting and as soon as Ben and his Daddy saw the figures there was much excitement over them.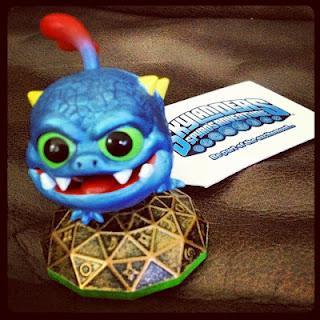 Skylander Spyro's - a massive hit with my boys!
The two lounge areas, one which was showcasing Warner Bros latest  and the other run by TK Maxx were definitely welcome chill out zones with comfy sofas and interesting information to be gleaned while doing soon whether it be on UltraViolet in the Warner Bros room or great fashion advice on what kind of clothes you should wear depending on your figure from the style consultants in TK Maxx where I also learned I am a "rhubarb" which my husband found hilarious when I told him.
So there you have it, a busy couple of days was had, my brain is still on overload with so many ideas buzzing about inside. I want to do so many things now to improve my blog based on what I learned at BritMums Live that I am feeling slightly impatient, frustrated yet inspired. I can tell you a blog re-design is on the way as a result so watch this space. Ben has told me many times since I got back on Saturday that I "am not going away again" but I know that he coped fine while I was not there, and both Ben and his Daddy had lots of fun inventing new games and eating ice cream which has given me the confidence to go and do more things like this, for me, on my own.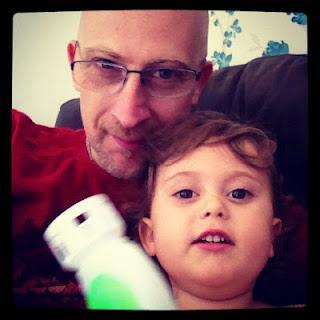 One of the many pictures my boys sent me while I was at BritMums Live!

Finally I want to say a massive thank you to Jennifer Howze, Susanna Scott and all those involved in bringing us BritMums Live, it was awesome!