Once one blog project comes to me, they all flood to me! I saw this on instagram this morning, posted by the official pinterest on instagram. I took a look at it because it had mason jars of course, and the project sounded super easy and it was super easy, except for the delay with ice cream... but that was no biggie. This idea came from this blog: 
http://abeautifulmess.typepad.com/my_weblog/2012/02/3-cake-batter-milkshake-recipes-.html
And this pinterest pin: 
http://pinterest.com/pin/27092035228741996/
 .
So, Brittney, her friend Kenna (McKennah) walked to Fred Meyer down the street and got cake mixes for the project. I was so excited to try this out! It sounded soooo good and I had the mason jars. Of course you don't need mason jars, but I like to go above and beyond and use mason jars because they are so flippin cute! I don't know why! 
This is what they look like: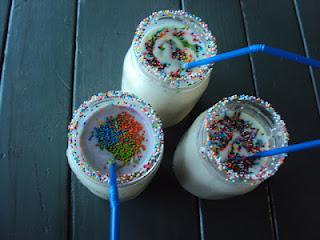 Before we get started, here is what you need: A cake mix... I used funfetti. 
Actually... this is what you need for the funfetti cake mix milkshake:
~Funfetti cake mix
~Mixing bowl
~1 cup of water
~1/3 cup of veggie oil
~4 cups of milk (1%, 2% will work...)
~About 4 to 5 scoops of VANILLA ice cream.
First, you make the funfetti cake mix like it says on the box, DO NOT USE EGGS, YOU WILL BE DRINKING THIS! No eggs!!!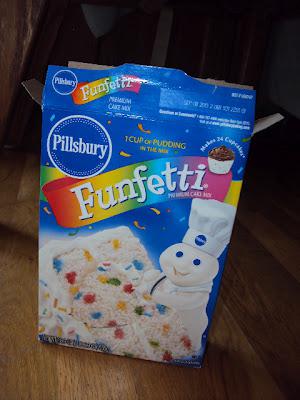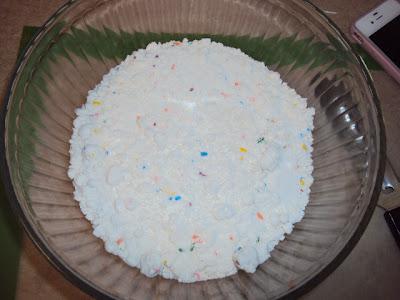 So... while I was making my cake mix, I re read the recipe on the blog on my phone, and it said "Vanilla ice cream"... I was like, "SHOOT!" We didn't have vanilla ice cream. We had sugar cone or something and fudge and brownie and ol' fudge road something or other, but not vanilla! Since I don't have my license and I didn't want to walk all the way back to Fred Meyer again, I texted my mom and told her to please grab up some vanilla ice cream. And she did. So, once I got the vanilla ice cream, I continued making the milkshakes.
I second guessed after the fact... the bowl was a tiny bit too small for all the ingredients... I didn't switch bowls though because all of it did fit in the bowl, and I was going to put it in the mason jars anyway. Problem solved! 
It looks like a bowl of milk... but it's not! The funfetti cake mix is underneath it all.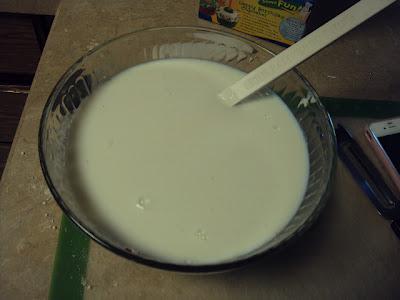 Now for the ice cream...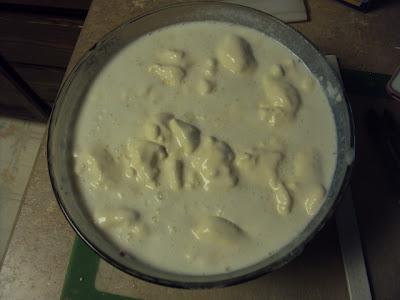 I mixed it all up, ladeled some of it in the mason jars and mixed it up in there. This would be hard with a blender...the blender would just mutilate the cake batter into nothing... better to just mix with a fork. 
It keeps the cake batter right where you want it! Yummy!!!
Also at Fred Meyer, we got some colorful sprinkles to decorate the mason jars with. I, at first forgot to rim the mason jars with the Karo syrup and sprinkles... I added those later.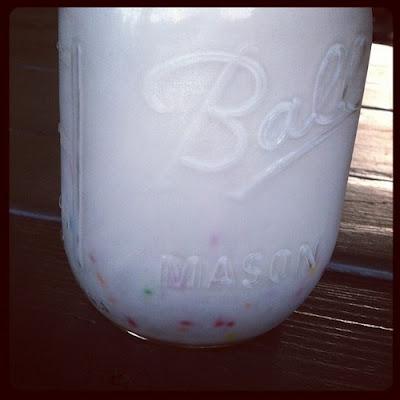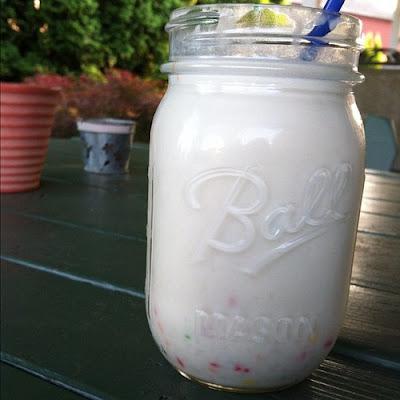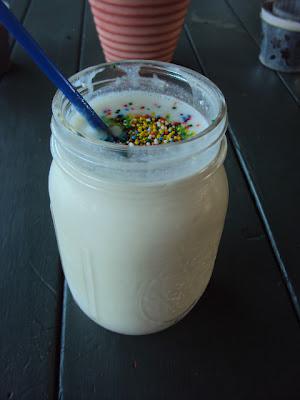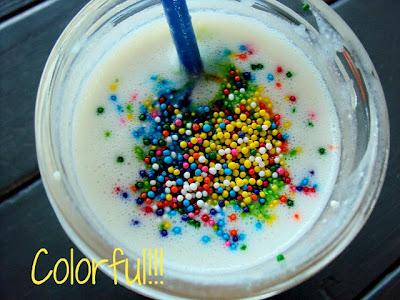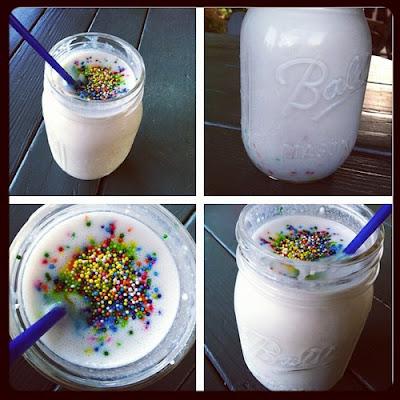 Yeah... I took a lot of pictures! haha. 
Then, I rimmed it with sprinkles!! It took a little while to do that... but I got it done and it looked soo cute!!
My instagram picture! Wow! My instagram wouldn't work for the longest time, and then it finally did! I wanted to instagram about my milkshakes. I knew they would be popular!!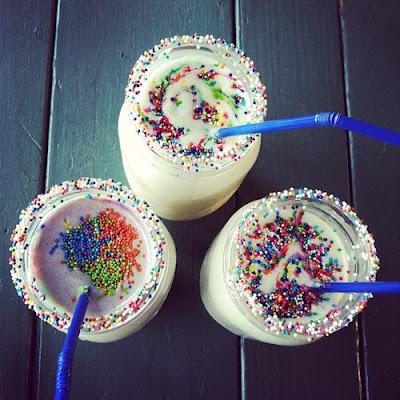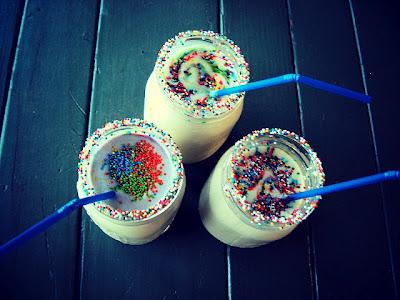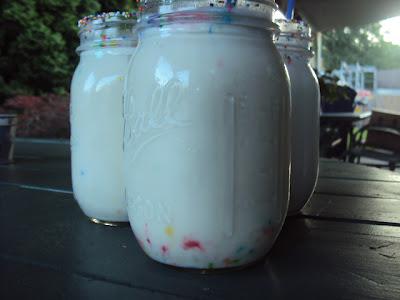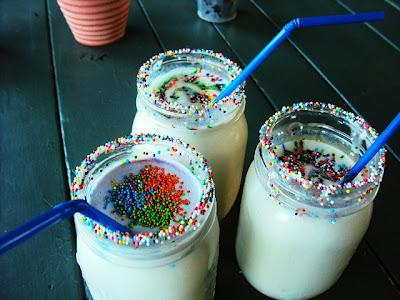 I took way too many pictures! I couldn't help it! I love photographing my projects. 
I wanted a picture of Brittney, McKennah and I all with our milkshakes in our mason jars. 
So, I took some!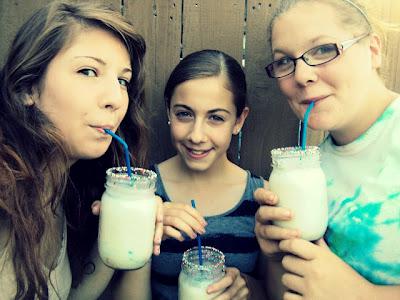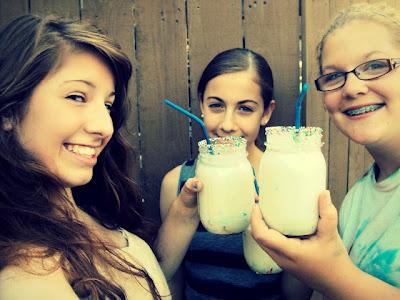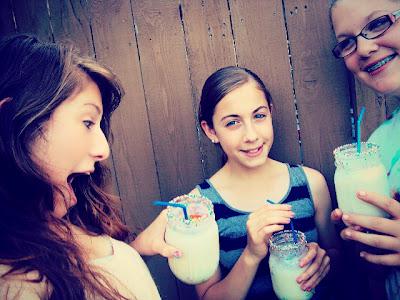 CUTE!!
Pinterest really does give great, tasty ideas! Who knew??? Oh.. a lot of people.
Today was fun! I got a lot done and I got to finally blog! I hope I don't have to go that long to blog ever again... well I know I will wait that long, I didn't blog for two weeks once... It was so sad :( 
I really do love my blog. Blogging makes me smile. 
And so do milkshakes!!