Toxic free, natural perfume awaits you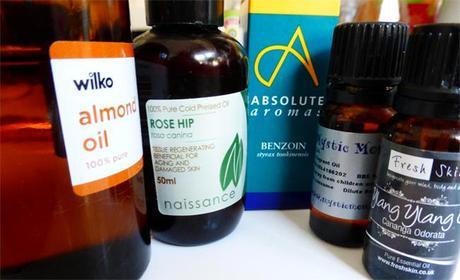 .T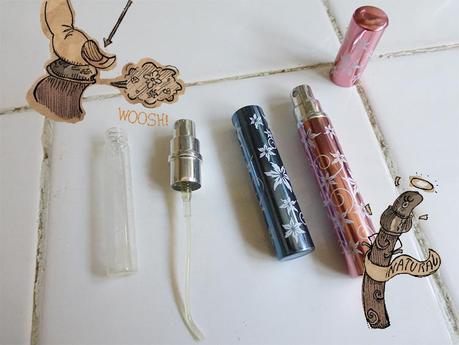 .T
Natural perfume – it can be really cheap or fairly inexpensive, depending on your budget.
It shouldn't come as a surprise that perfumes and general sprays usually contain some unsavoury chemicals which are really bad for us. Chances are, your perfume (and tons of other products) contain the term 'fragrance' in the ingredients. Well, no-one really knows what this actually is. Many toxic chemicals can be hidden under this word so avoid avoid avoid!
 This post is a quick and cheap tutoiral for those of you who are interested in creating a natural perfume which is safe for all of the family to inhale.
What you need
You will need a spray bottle, the price can vary on these. I got mine off Ebay and even though the lids now slip off, touch wood, they haven't leaked in my bag so I'm going to chance them in my check-in luggage. I also like these because of the inner glass container which won't leech bad chemicals into the oil. It's important that essential oils are kept in tinted glass which helps to prevent deterioration, so the outer case is great for this.
The bulk ingredient to the home-made perfume is a carrier oil. Almond oil can be picked up for £1 in Wilkinsons and Savers respectively.
If you're looking for a carrier oil that is of a higher quality and is healthy for your skin then you can't go wrong with a cold pressed carrier oil. I chose '100% pure cold pressed rose hip oil'. Rose hip oil contains vitamins A, C, D and E – which means it will moisturise damaged skin, and in principle, vitamin E helps to fade scars from acne, eczema, etc.
I also find the combination of tea tree and vitamin E to be beneficial for keeping acne at bay – even though the application is really oily, the properties in tea tree help counteract this. But I'll save that for another post!
Anyway, once you've chosen your carrier oil – please don't skip this step because undiluted oil can really irritate skin. Essential oils are safe for us because they are usually extracted from plants, however, they should be handled with care.
Let's pick out our favorite essential oils!
There are many websites and even books that offer invaluable information on which oils work well together and how to blend them – depending on your tastes of course.
You can recreate your favorite floral/oriental blend, or likewise a strong citrus scent.
There are tutorials on how to select top note oils, middle note and base note oils – just like perfumes have different layers to them. These effect the scents staying power, and specifically the note denotes aha how it will smell in ten minutes time or in an hours time, etc.
To keep this post short, I'm just going to list what I use.
The glass container I use only holds 5 ml of liquid – but it will last me a month easy.
Fill the container up to 3/4 with the carrier oil.
Add one drop of Ylang Ylang. Seriously, don't use more than this or your perfume will make you smell like an older lady with a preference for 'strong' perfume*.. bleugh. But, one to two drops will give the perfume staying power. This scent's note is very florally.
Lavender oil – I haven't added this in recently because I ran out but about 3 drops of this will aid a calming effect, apparently. But it can disrupt younger boys hormone levels, so they should probably stick to their Channel and Impulse…
& my personal favourite, vanilla! I picked this up for a couple of pounds on Amazon. Seriously amazing stuff. You can go mad on this one (5 drops) because the scent is not that strong or as long lasting.
* After following this recipe, of you want a stronger scent. Feel free to up the quantities. However, only add up to one more drop of Ylang Ylang. Lavender and vanilla are more forgiving.
If you have a slightly larger budget, Benzoin oil smells just like vanilla but with the added addition of having staying power & it's actually good for dry skin which is the original reason I parted way with £5 for it. I usually add 1 – 2 drops of this. Its note is not quite as sweet as vanilla, so if you accidentally add too much, you can try to counteract it with more vanilla or the scent will eventually tone down to a woodsy scent.
& that's it! I've been using this for months and so far everybody I've shown this to has complimented the scent.
Disclaimer. Yes it's oily and greasy. However, one spray on your wrist is really all you need because it lasts for ages. I find that my skin does not remain oily for too long, so if you wait a little while, it won't stain your clothes. But I have accidentally stained my wall from spraying it the wrong way.. hm, dad if you're reading this. Hi lol.
Also, I am clearly no expert in this field. What works for me may not work for you. Please use this post as a guide and if you have any questions please do feel free to contact me.