My three children love being outdoors. At every available opportunity they want to be on their scooters and bikes, zooming about, getting faster and braver on them day by day. Zachary is my little climber and wants to scramble up every tree he sees. Zoey always likes the idea of joining him in his quest to the top but tends to get scared half way up there. Ben, my big boy at 7 years old is a typical "into everything" boy, he loves running off and playing hide and seek, pretending to be a superhero or ninja jumping from heights with his little brother and sister following him everywhere.
It can be quite scary watching the three of them take off from the top of a hill on their scooters, racing to see who will be first to get to me. I have to bite my tongue a lot and resist telling them to slow down or not climb so high as I know it is all part of childhood, they need freedom to test their limits but I would be lying if I didn't admit to wanting to wrap them up in bubble wrap sometimes.
Turning #TearsIntoSmiles
Since becoming a Mummy I have had to find ways to deal with the inevitable cuts and grazes that come hand in hand with outdoors play. Kisses and hugs are always my first port of call with distraction and fun proving to be the key to turn their tears into smiles. This is where the fantastic Frozen and Star Wars Elastoplast plasters have come in very handy and we recently put them to the test when Zoey fell and cut her knee while chasing her brothers. The Frozen Elastoplast plasters proved to be the perfect distraction and when Zoey saw Elsa, Anna and Olaf her tears vanished and excitement at picking what plaster to use made her forget all about the graze.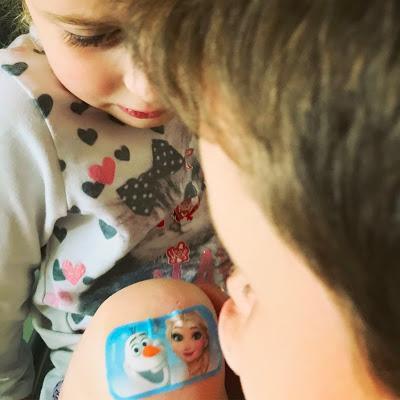 Big brother kisses and Elastoplast Frozen plasters turning #TearsIntoSmiles
As a result these plasters are now definitely an essential part of my Mummy kit. The kids (and I) love the designs, they are the perfect combination of a fun sticker and practical plaster to soothe away cuts and scrapes. I have always been a big fan of Elastoplast plasters and have even more reason to be so now.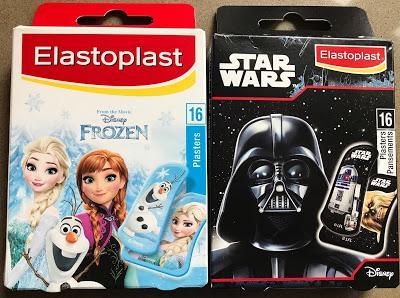 Below you will find a very sweet video which is about sharing plaster stories, parenting strategies and ways to help children feel better after a fall. It is very sweet and guaranteed to make you smile.
*
Disclaimer: This post is an entry for the BritMums #TearsintoSmiles Challenge, sponsored by Elastoplast.http://campaigns.elastoplast.net/plastermoments/uk