The moment you enter Ciclo Cafe Gurgaon that is in Sector 29, you start getting a different kind of vibes and energies. In fact, the time starts rolling back to your childhood days. And you get suspended for a while in those childhood years when your passion and love for cycling was at its peak. The concept is definitely altogether different. In fact, you should definitely visit Ciclo Cafe for some wonderful and magical moments. The place will soothe and relax you by rekindling older and forgotten memories whether about your first cycle or cycling experience otherwise. The decor and ambiance are different from any other restaurant. As a matter of fact, the whole space is almost 70:30. While 70% space is for dining, bar, kitchen etc. Rest is for your other passion, cycling.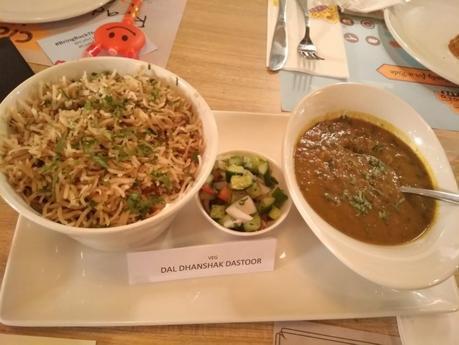 Maturity and fluency in service will come gradually as Ciclo Cafe is quite a new outlet in Gurgaon. Breakfast concept is as innovative as the concept of beautifying your cycles here. Cycling and Food are the two foremost things that most of us love during childhood. Here you will find both in right balance without any compromise with either. Overall, a nice concept. This is a place where Look & Feel overtakes Food. Opening at 8 am and breakfast is an advantageous factor. Since there are not any good breakfast restaurants around, professionals will find it a good option of having a breakfast here while going to the office. Coming to food, I think, portion size and preparation is in evolving phase. There are few specialties that become a must try.
Ciclo Cafe Brings Back Childhood Memories
In non-veg Butter Poached Wasabi Prawns, Zatar Spiced Calamari, and Kaffir Lime Chicken Tikka are good. Poached Wasabi Prawns come in a jar and taste too well. Calamari is not very commonly available in other restaurants. And even if it, it doesn't taste as good as here. In the veg section, some of the fabulous dishes are Ciclo Spicy Fried Idly, Lemon Cilantro Paneer Tikka, and Mushroom & Broccoli Onion Rings. Overall, Ciclo Cafe (Chi-clo Cafe) is a good to have unique kind of experience.