We recently received some
Faber-Castell
products to review and I am massively impressed. Faber Castell have taken what are staple items in every kids craft supplies and turned them into something so much more with their clever Connector range. This range marries two things kids love to do, creating and building. The result hours of entertainment for kids (and their parents) and I do not say this lightly, Ben has literally spent hours upon hours building spaceships, rockets, robots and planes today with the Connector Pens.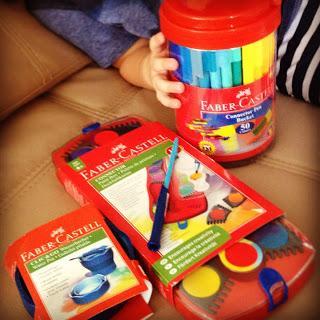 Faber

-

Castell

Connector Bucket of Pens 

This is such a clever idea and one that has most certainly been a big hit with Ben. The Connector Bucket pens (RRP £14.99) come in a storage container and there is a fantastic selection of fifty colours from bright yellow, green and pink, deep reds to dark grey, browns and black. They have little connector clips that allows you to connect two pens together and if you connect two to two more and so on you can build some pretty awesome stuff. Some of the clips have swivel connections which allow you to do more complex building and one thing I've noticed with Ben is that the more he plays the more impressive his creations get. The possibilities are endless and that is before you even take the lids off to start colouring, it really is creativity to the max.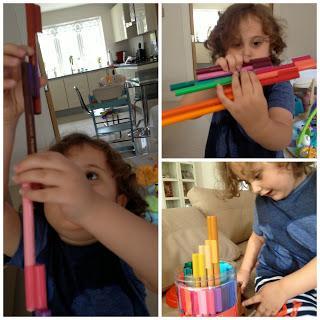 I should also mention the all important information for us parents, the pens are safe water-based colours which are washable from most fabrics so at least that is one less thing to worry about.
Connector Paint box and accessories
The Paintbox is another very clever idea and I love how the Paint box and accessories all work together so well to make painting time easier and less mess for us parents and even more fun for kids. 
The Connector Paint Box (RRP from £10) comes with twelve or twenty four vibrant water-soluble shades of color in paint pans that can be separated and connected together a bit like train tracks which Ben loves doing, fun even before you add water.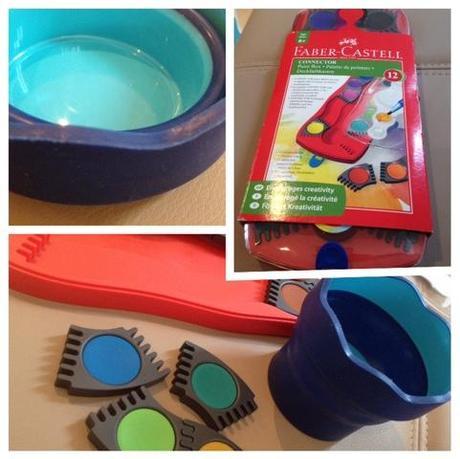 Also included in this range is the ergonomic sliding grip Clic&Go paint brush (RRP £2.75), this clever brush which comes in five sizes helps to keep mess to a minimum as the lid slides up and protects the brush hairs and prevent paint splatters on your table and everywhere. In addition to this there is also a Connector Clic&Go water pot (RRP £2.95)which includes a clever folding mechanism which allows it to pop into a full sized cup and fold back down when not in use. It even has a wavy rim which acts as a brush rest to help keep mess to a minimum. 
Scribolino
Faber-Castel also have ergonomically designed pens and pencils which are part of the Scribolino range. These are perfect for kids who are learning to write as due to the soft grip zone they are easy to hold and use and promote and improve handwriting skills. All are suitable for both left and right handed writers. They are a nice shape and size for kids to handle and as the grip zones are color coded it makes it easier for them to identify and understand the correct way to hold it. The ones we put to the test were as follows:
The Mechanical Pencil (RRP £3.95) which is ideal for children who are learning how to write, it comes with extra thick pencil lead (1.4mm) and has a precision propeller mechanism.
The Gel Ink Roller Pen with Ink Eraser which can be refilled with gel ink and you can use the ink eraser to delete mistakes, perfect for learning to write and the transition between pencil and pen. 
The Ink Rollerball Pen (RRP £3.95) which is excellent for learning the three finger grip. It uses refillable cartridges and erasable ink so again great for kids learning to write.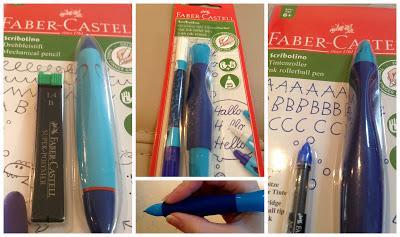 L: Mechanical Pencil; M: Gel Ink Roller pen with Ink Eraser; R:Ink Rollerball Pen
Putting them to the test
A already mentioned these products are a massive hit. Ben started playing with the connector pens as soon as they arrived and has not tired of them since. The marker pens and paint are of extremely high quality with strong bright colours.
The Scribolino range are extremely well designed and will without doubt make learning to write so much easier for kids. The pens and pencils all feel great when held, smooth, soft and cleverly designed using indicator zones. They are recommended for ages 6+ but I found that Ben, aged 4, was well able to use and handle them.
All the products are strong and will definitely stand up to lots of use and wear and tear which I can verify judging by the amount Ben has been putting them to the test. I can highly recommend all the Faber-Castell products we have reviewed, they are more than just paints and pens but learning tools and aids and the creative possibilities they offer are endless. All products are available to buy at
Stone
iPad App
In addition to all these fantastic new products from Faber-Castell they have brought us a free Creative Kids iPad app which includes step-by-step self explanatory drawing tutorials and brings colouring pencils and creating pictures to life. It is user friendly and well designed with bright colours and graphics kids will love.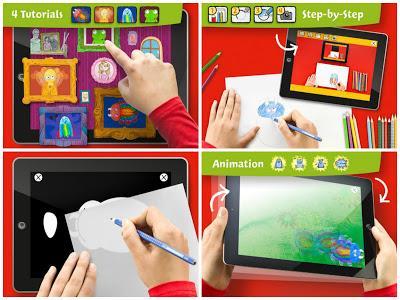 The iPad app can be downloaded for free from the App Store. It is packed full of creative fun and will keep kids engaged for hours on end as they learn and improving on their drawing skills.
*Disclaimer: I received some Faber-Castell products free of charge in exchange for a review but this has in no way biased my opinion. All views and opinions are my own.