Getting stuck in a place where no food is available creates ripples in the still waters. On top of it, you can't move out of that place for next couple of hours due to some official reasons. It makes things quite difficult for a while. Especially, when you have free time in between but you can't leave the place. Secondly, you are hungry to an extent that you need to grab a bite or two quickly. All these conditions leave with no other but one option to order food from a nearby food delivery joint and wish yourself luck to get good food. Curry Company South City 2 was the nearest possible point from where we could order from where we were. Ordering first time from a new outlet creates a bit of curiosity about the quality and taste of food. And of course, the quality of packing also matters a lot in that case.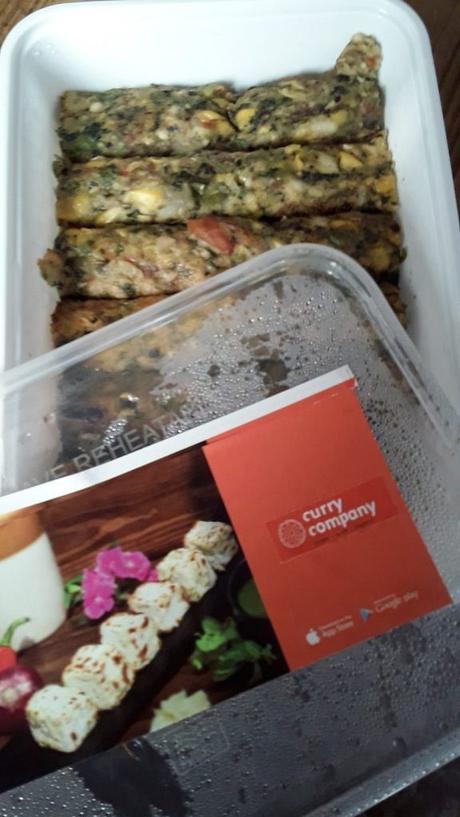 The same kind of curiosity was there in my mind while ordering food from Curry Company. I had few concerns in mind. Firstly, the food should come in time. Secondly, the packing should be non-spill. Thirdly, the quality and taste of food. All these concerns were genuine and would come to anybody's mind ordering food delivery from a new outlet. My order includes Palak Corn Seekh, Kandhari Murg Tikka, Anjeer Chena Kofta, Pudina Prantha, Lachha Prantha, and Missi Roti. Overall, it was satisfactory at the time of delivery in terms of time of delivery and the quality of packaging. Rather, the delivery was a little before the committed time. That was good to bring a sigh of relief. Overall packaging is good except the onion pack that had some scope of spilling liquid out. Otherwise, all other dishes including Prantha and Roti have neat packing.
Curry Company Debuts On A Good Note
Palak Corn Seekh from Curry Company is a treat for vegans. I will call it their signature veg dish because this is something you don't get at other places. The same is true for Kandhari Murg Tikka if you like chicken and want to try something good in non-veg starters. Anjeer Chena Kofta is another treat among main course dishes. There is a scope for improvement in the bread section. Overall, I would recommend Curry Company to my foodie friends on the basis of my good experience.