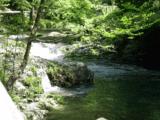 He gave me a reason
to believe
everything has a time and happens for a reason .
Your smiles are there for seasons ,
you have come in to my life for a reason .
I heard the ringing bells of shrine say ,
"its time for vivacity,don't waste your life
on invalid reasons ,
 such opportunities don't come every season .
Your life is a maze , one wrong step may lead you to an unknown world for no reason .
No one belongs to you ,you belong to no one
you come alone and go alone for a reason ;
life is a lonesome journey , if you find someone to walk by your side
its more than what one can ask for.
Now change your gloomy attire to a vivacious one,
welcome the sun rise
that rid you from the marooned life ,
that you lived for no reason.
The time is alive for you to fly
and make hay while the sun shines ,
so smile ,and look forward while life chose to be kind
to you for some reason ,
hold his hand ,don't let the fear of losing him grip
your mind for no reason;
pick up a smile from every corn that smiles
and forget about the pain you got from ... the thorns for no reason.
Give me a few years of your life
and  live ,  but do think of me who
 has to take all the difficult decisions.
copy right(c)alka narula
photo credit photo bucket