Now the weather has changed from the lovely sunny September we were enjoying, the onset of colds and snuffles in our babies is pretty much inescapable. Such colds, coupled with teething really do leave little ones grumpy and miserable and it is horrible seeing them suffer and in turn how it affects their sleeping and ability to breast or bottle feed. 
Luckily though, there are some fantastic products on the market to help ease the discomfort of these symptoms including the
Dentinox

 Medicine Dispenser

,

designed by a doctor 

as the easiest way to give a pre-measured dose of medicine to your baby; the Snufflebabe

 Nasal Aspirator, 

awarded the Queen's Award

for Outstanding Innovation

 which really 

is a simple and instant solution to 

clearing baby nasal 

congestion and is suitable from birth along with products such as 

Snufflebabe

 Nasal Drops

which are safe, 

sterile,

 saline drops great for clearing 

baby's nose

 naturally and providing 

gentle, effective 

relief

from birth and Snufflebabe Vapour Oil which provides s

oothing vapours to help your baby breathe clearly and can be used in baby's room as a room vapour or with the Snufflebabe Inhaler Dummy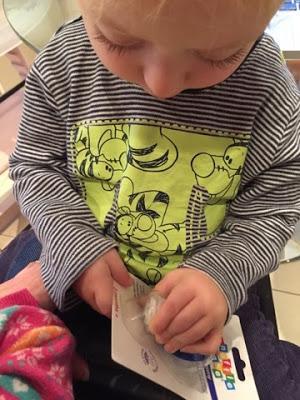 Zachary couldn't wait to put Snufflebaby to the test
Dentinox & Snufflebabe - Brands you can trust
I first used Dentinox five years ago when my then newborn Ben was suffering with colic and since then I have used so many of their products from Teething Gel, Cradle Cap Shampoo to Eye wipes that they are a brand I, like many other parents, have a lot of confidence in for a very good reason.  
I have to admit I hadn't heard of Snufflebabe before but after doing a little research online I was impressed by the six innovative products they have to offer and I was pleased to find positive reviews of them so was therefore interested to try them for myself.
Putting the Products to the test
Snuffly, blocked up noses seem to be a never ending battle with us especially in the colder weather. If it's not Zachary's, it's Zoey's nose that needs blowing not to mention how it disturbs them when they are sleeping which is evident by their loud snoring. I was therefore really interested to see whether the Snufflebabe Nasal Aspirator and Vapour Oil would make a difference. 
Snufflebabe

 Nasal Aspirator
The
Snufflebabe
 Nasal Aspirator is a fantastic little gadget (if that's the right term to use) and is very easy to use. You simply target the visible mucus and suck. I wasn't convinced the twins would let me use it, but they were really good when it came to trying it which I think is largely down to the design which enables a quiet, continuous suction and as a result limits the disturbance to your baby.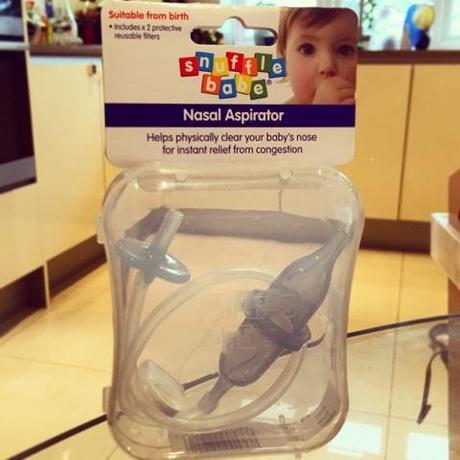 It was interesting to read that it was invented by a mother who was desperate to
find a way to clear the congestion that was hampering her premature triplets' efforts to feed. The device physically clears a baby's blocked 
nose which
 makes breathing easier and reduces the risk of complications such as ear-ache, coughs a
nd stomach upsets. I would not hesitate to recommend it to all parents, it's easy to use and effective.
Snufflebabe Vapour Oil & Inhaler Dummy
The Snufflebabe Vapour Oil is an effective, mild decongestant and is suitable for babies as young as three months. I find it reassuring that the ingredients are all natural, containing
a combination of soothing, natural eucalyptus and thyme oil with menthol to help clear even the smallest stuffy nose and allow your baby to breathe clearly. We were also sent the Snufflebabe Inhalor Dummy which has a special chamber that you can add the Vapour Oil to
release decongestant vapours beneath your baby's nose, such a clever idea and so easy to use.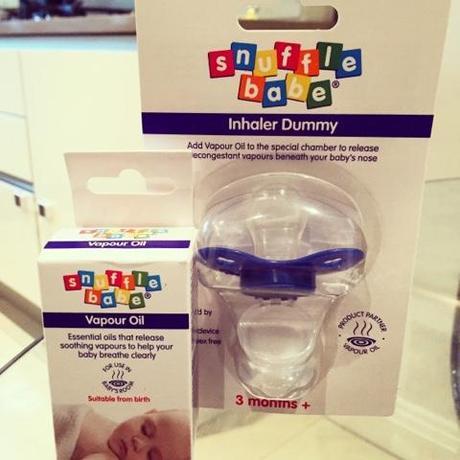 Zachary, in particular gets quite congested and snores a lot at night so I knew a good indicator of the Vapour Oil's effectiveness was whether it would make a difference to him and lessen his freight train like sleeping sounds. I thought it best to test, not only the Inhaler Dummy, but as a room vapour while the twins were sleeping. I can honestly say it did work a treat, Zachary's sleeping sounds became noticeably quieter and he seemed a lot less disturbed. 
Dentinox

 Medicine Dispenser
We were also sent the Dentinox Medicine Dispenser which is another very clever design that provides a
soothing simple way to give medicine. It works by simply enabling a baby to passively suck to draw medicine through the orthodontic silicone teat. It also has a unique plunger to ensure the accurate delivery of a pre-measured dose of medicine and can be used from the age of three months.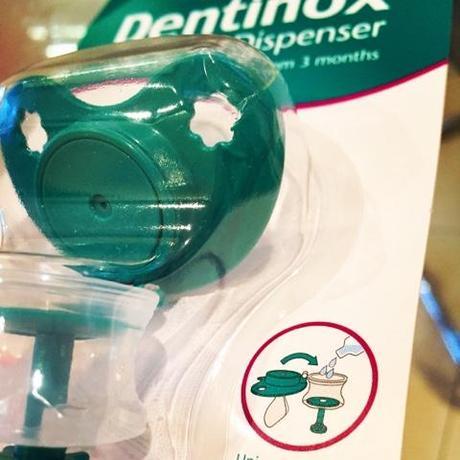 Luckily the twins haven't had the need for any medicine since I got this product to review but this has meant I haven't had an opportunity to put it to the test. I am pretty confident that it will work really well when required as it is well designed. 
My Verdict
The Dentinox and Snufflebabe products are a must have in my opinion to help fight colds and snuffles. They are well designed, effective and easy to use, I would definitely recommend them. I
 think the combination of using the 

Nasal Aspirator and the Vapour Oil is very effective to alleviate congestion and help clear stuffiness so these products definitely gets a thumbs up from me and ones I will always have in from now on. 
*Disclaimer: I'm working with BritMums on a project with

Dentinox

and Snufflebabe to test their products during cold season. All opinions are my own. To find out more about the products visit http://www.

dentinox

.co.uk and http://www.snufflebabe.co.uk.