By Erin
Earlier this month, my friend Jamie from Minnesota Girl In LA invited me out with her to go check out the Dole Floats that were in the making for the 2013 Pasadena Tournament of Roses Parade. The Rose Parade has always been something I have looked forward to watching every January 1st, so of course I had to jump at this amazing opportunity. The theme of this years parade is "Oh, the Places You'll Go!" Being a Dr. Seuss fan, I LOVE the theme they have going on for this year!! Here was the schedule of events for the day: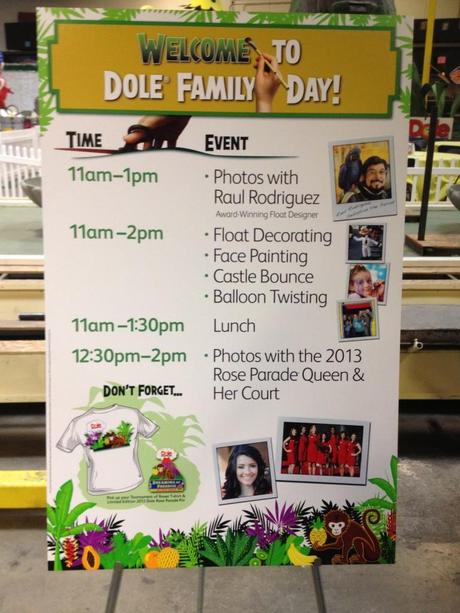 The floats are located at Fiesta Floats in Irwindale and while there we also were able to meet the designer Raul Rodriguez, have some delicious food, and just relax and enjoy the festive environment while trying out some Dole products. The theme of this years float is "Dreaming of Paradise."  That sure is a place I'd love to go!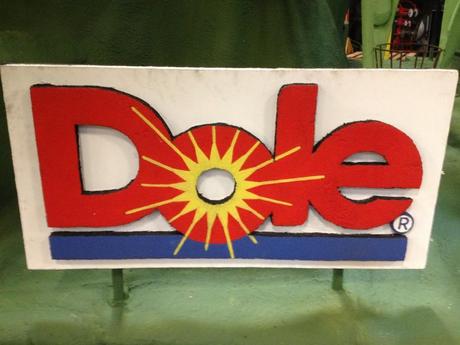 As the two-time reigning Sweepstakes award winner, DOLE is vying to become the only company to win the Sweepstakes award every year they have entered.  They are striving for a three-peat! I have every faith that they will be able to accomplish this. The float is breath-taking to say the least!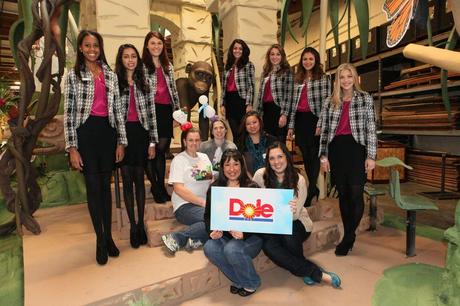 The Queen and her Royal court were also present, and of course, us SoCal Lady Bloggers had to get a picture together! (Jen from Toddler Trails, Jill from Sandy Toes and Popsicles, Myself, Jamie from Minnesota Girl In LA and Mary from Lets Play OC!)
We also just had to get a picture with the designer: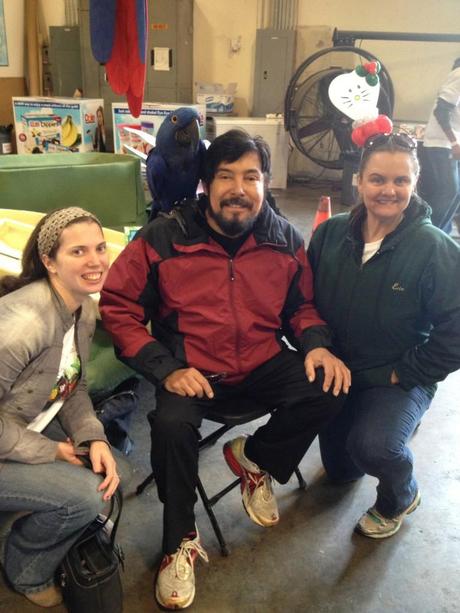 Jamie, Raul, and Myself
Here's a little more information about Dole's float for the parade! The float will feature a 26-foot massive volcano which will erupt with smoke, steam and fire shooting 20 feet into the sky over a vibrant and lush tropical rain forest of Latin America teaming with prowling tigers, fluttering butterflies, chimpanzees, parrots, and dragonflies. Incredible parrots are going to be fashioned in floral feathers of blue iris, red poinsettia, carnations and Pee Wee anthuriums accented with Kermit button mums. Lava of 8,000 vivid fluorescent orange roses majestically will flow over the volcano surface decorated in black lichen moss. Three waterfalls feature over 1,000 gallons of cascading recycled water as well as a misting system  to add to the tropical mood. Throughout the float are fresh and healthy fruits, including bananas, pineapples, mangoes, papayas, peaches, strawberries and blueberries that were grown by DOLE just for this use on the float. Traditional Costa Rican folk music will be played with performers dancing on the street on both sides of the float. I don't know about you, but this sounds like a marvelous tropical paradise!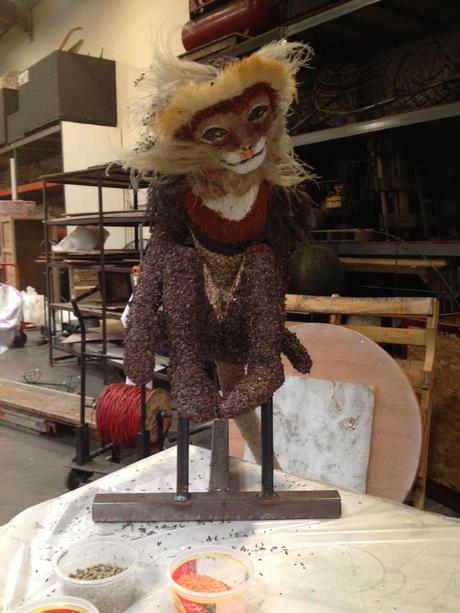 The playful chimpanzees have fur fashioned in dehydrated cranberry foliage with highlights of pampas and pharmitas grass.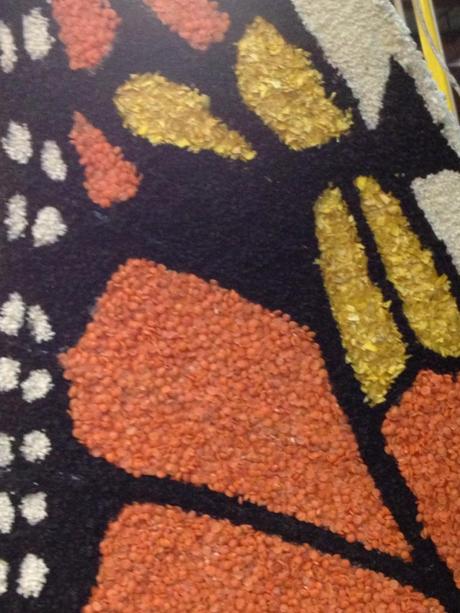 Just look at the amazing detail of the butterflies on this float! Orange marigold and yellow strawflower petals are detailed with black onion seed and white sweet rice.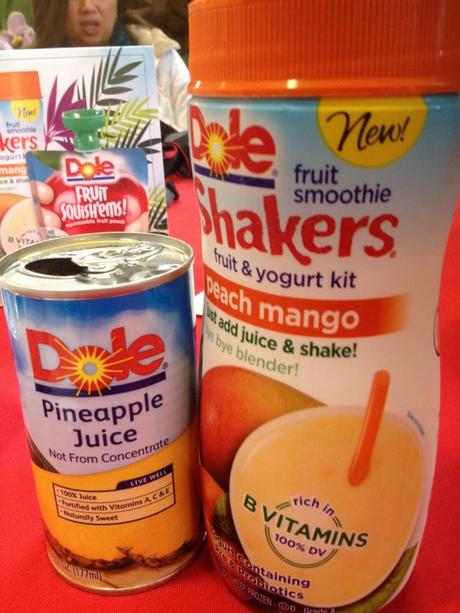 Let me show you some of the oh so delectable treats that DOLE has available now. We had a little taste of paradise with these yummy (and healthy) treats!  The new frozen DOLE Smoothie Shaker is a paradise for your taste buds (I tried the Peach-Mango flavor).  No blender required!!  You can create a perfect frozen smoothie with real yogurt and fruit just by shaking the DOLE Peach Mango Smoothie Shaker with juice for 30 seconds and enjoy! Made with all natural fruit and real yogurt, DOLE Shakers are a good source of calcium and are nutritionally fortified with an extra boost of protein, each 11 oz serving is under 200 calories.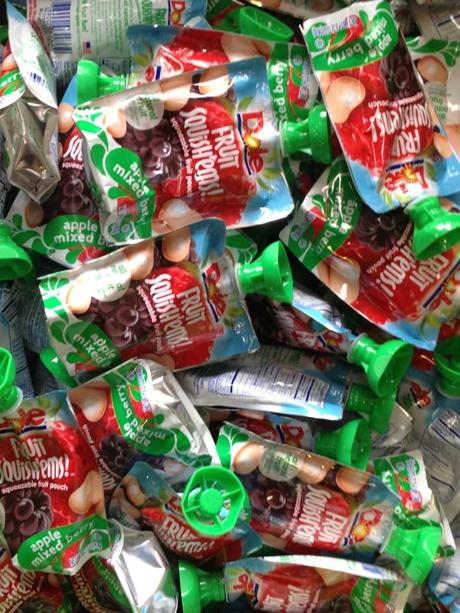 Another treat that you and especially those with kids will think is a little bit of snacking paradise is the new Squish'ems!  A squeezable fruit snack that kids will love to squish!  Squish'ems! is real fruit sauce in a great squeezable pouch with a fun resealable cap. No need for a spoon, just pop the cap, squeeze and enjoy!  Each Squish'ems! pouch contains 1 full serving of fruit that is made locally in the US with all natural fruit, has only 70 calories and contains 100% daily value of vitamin C.
We also sampled Trio Granola Bars filled with tasty and nutritious fruits and nuts.  My absolute favorite though, was the Dole Dippers!!  Small bites of frozen bananas covered in dark chocolate, a true taste of paradise for your senses. At only 100 calories a serving, that truly is paradise! I was enjoying these snacks so much, they were demolished before I was able to get a picture of them! Oppps!!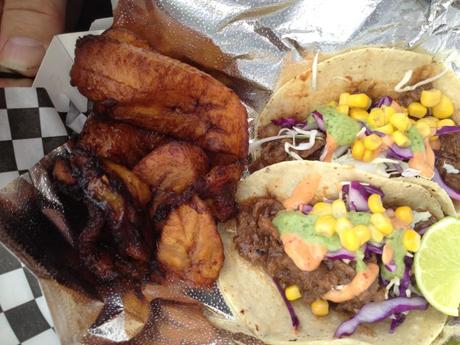 I just had to include  a couple of pictures of the yummy food that we graciously were able to indulge in for lunch! They had a food truck that featured Central American Inspired Tapas called VCHOS. It tasted just as good as it looks! I will definitely be coming back for more. The fried plantains and tacos were a piece of heaven, very fresh and flavorful.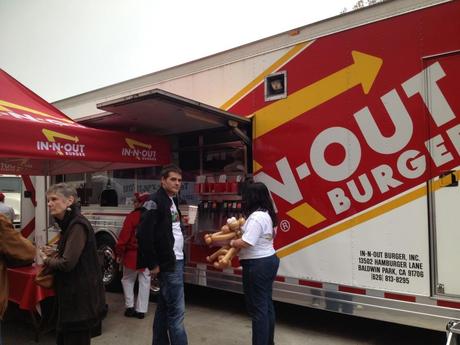 Of course you can never go wrong with In-N-Out!! I just had to have a burger as well, even though I was stuffed from the VCHOS truck and the DOLE samples!
Decorating of the Dole float has resumed this weekend and will be adorned with fresh roses for us to enjoy.  I cannot wait until Tuesday morning to see the finished product, and will be looking forward to heading up to Pasadena after the parade to view the floats (another New Year's tradition that I have enjoyed ever since I was a little girl). Enjoy and Happy New Year 2013!!!