By Erin
If you love a good Mediterranean/Greek meal, have I found the place for you! Nestled off of Bolsa Chica Street in Huntington Beach (they also have a location in Brea, CA as well) there is a true hidden gem,  the Olive Pit Grill .  This place is a tasty delight for your taste buds. The best part is how fresh the food is and that it is all homemade in-house, which shows in the quality and flavor of every bite. The prices can't be beat either! We were invited out to try many of their delectable items that they have to offer. I must say, I have been back a handful of times already as I can't get enough of the stuff!

Their slogan is Eat. Live. Love. It is very evident as when you are here, you are like family, everyone is so warm and friendly. You definitely eat well here. The love and passion for the food can be seen in  everything as well, as everything is homemade daily and made from scratch! You will find many items here that are NOT on their regular menu. They offer many specialty items you will want to check out and try out for yourself! So make sure to ask about them the next time you go!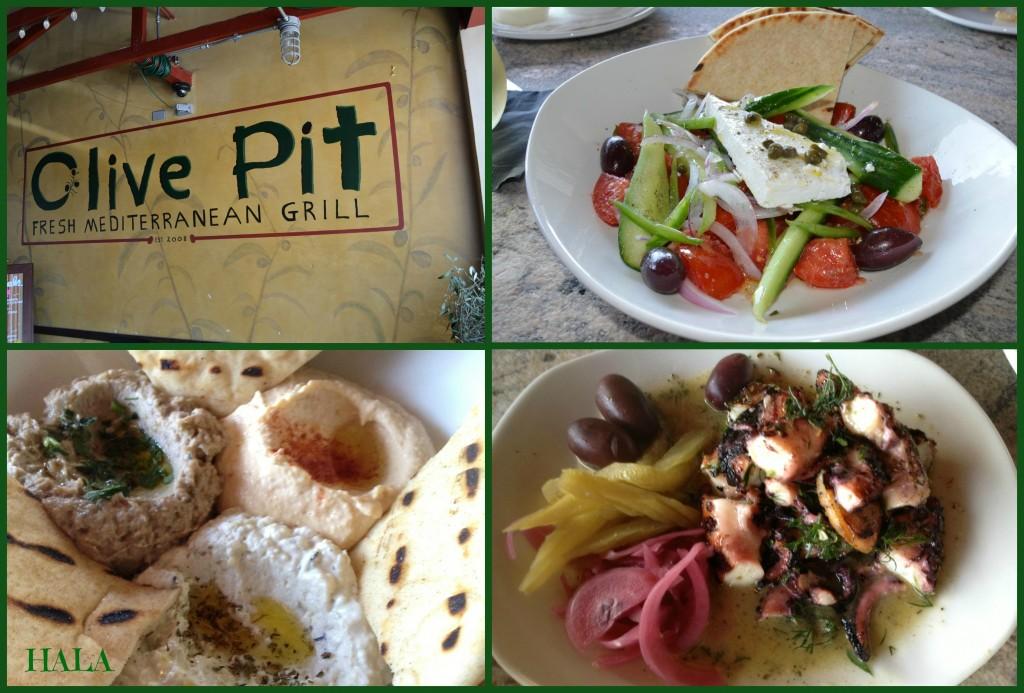 The first thing we tried was the Frappe "Greek Style" Ice Coffee ($2.25) and the Three Dip Combo ($8.85) which comes with three homemade dips and pita bread. For ours we had the Spicy Cheese, Hummus, & Melitzanosalata (eggplant) dips.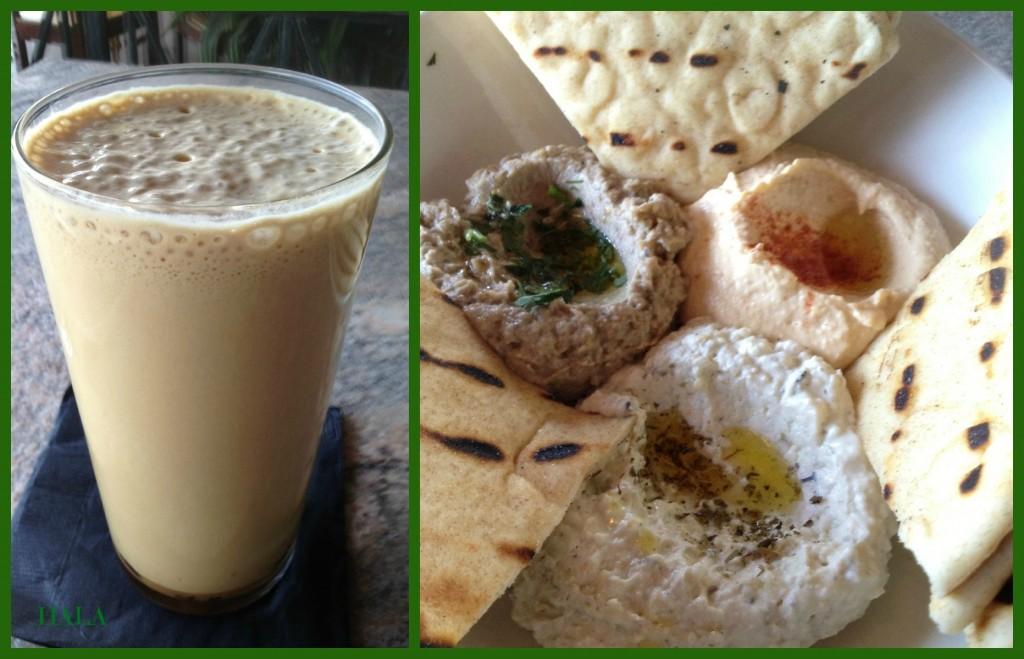 The Ice Coffee was amazing, mine didn't last long. It was just sweet, smooth, and Frappe enough for my liking. The pita bread was extremely warm, soft and fresh out of the oven! It was tempting to just fill up on the pita bread alone the dips were all so flavorful and tasty!
Next up were three of my many favorites here, the Crispy Asparagus Spears ($6.85), the Grilled Octopus ($9.85), and Calamari ($6.85).

I could seriously eat the Crispy Asparagus Spears all day if I could. Served with a lemon and garlic sauce it's perfect on a nice summer day (or any day for that matter). The Asparagus was perfectly cooked with a nice crispy, crunch on the outside. The Octopus was also grilled to perfection. If you have not yet tried Octopus before, you are in for a real treat here! You should give it a try. Then the Calamari, which was also a delight to the senses.  Nice and crispy on the outside, but tender and tasty on the inside as well.
Our next set of delectable delights on our Mediterranean tour included some entre items. We ordered the Village Salad "Horiatiki," the  original Greek salad ($7); which includes tomato, cucumber, feta, kalamata olive,  red onion, sweet pepper, caper, extra virgin olive oil & oregano. The Lamb Chops with Dandelion Greens "Horta" and the Steamed Basmati Rice ($18). We also had an extra side of Roasted Artichoke Hearts ($3.85) and some Mythos- A Greek Lager Beer. ($3.85)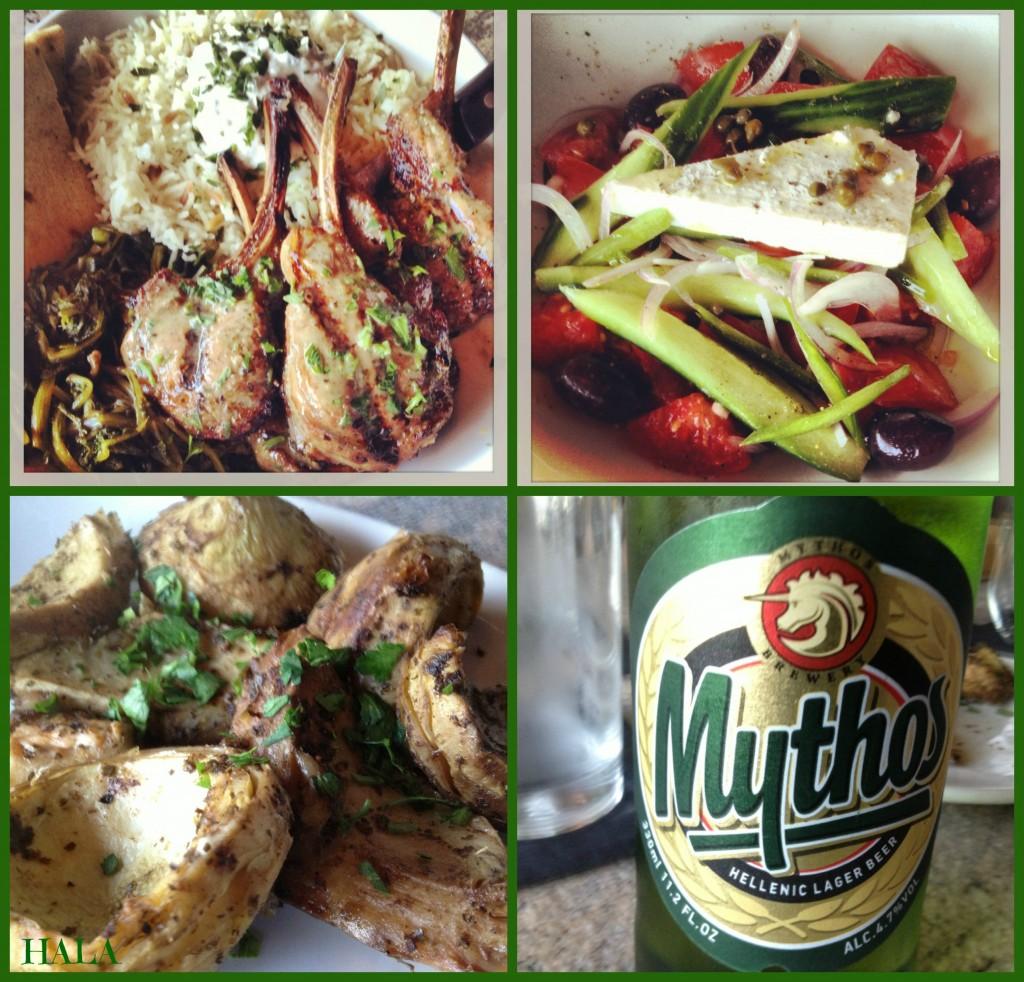 The Lamb Chops were mouth-watering, the best I've ever had. Flavorful, tender, finger-licking goodness and it didn't last long. It didn't take the Basmati Rice long to disappear either, being very fresh and orgasmic. The Roasted Artichoke Hearts and Dandelion Greens were both firsts for me and were also enjoyable. If you are looking for a nice, light, crisp,  salad without all the lettuce filler in it, then the Village Salad will be a must for you on your visit! I loved how healthy and tasty this salad was, you could taste each ingredient in it and it all blended well together. Mythos was the perfect beverage to wash it all down with as it was very light, smooth, and refreshing.
Then of course, you can't forget about dessert! Hot Greek Coffee ($1.85), Baklava Ice Cream ($4.85), & Homemade Yogurt with wildflower honey, sour cherries, and toasted walnuts ($4.85).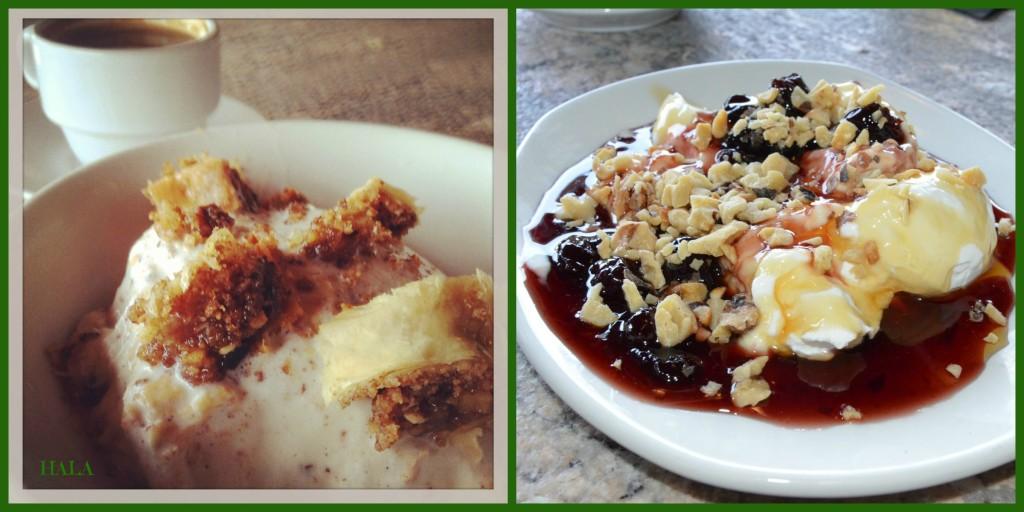 I am a total sucker for pretty much all things sweet, so I was in heaven with these two choices. I love Baklava, but had never had it with ice cream before. After trying it this way, it left me wondering why I hadn't thought of having it that way before. A sweet, crispy, crunchy, creamy, treat? Ummm, yes please! Both of these sweet treats provided this sensation. The yogurt is homemade, and the consistency of it was heavenly as it was smooth and left you wanting to lick the plate afterwards. Paired with the wildflower honey, sour cherries, and walnuts this would make a lovely breakfast or afternoon snack too. The portions were all so marvelously large, a true value.
The next time you are in either Huntington Beach or Brea, in Southern California you will definitely want to check this place out. I know I will be back for sure!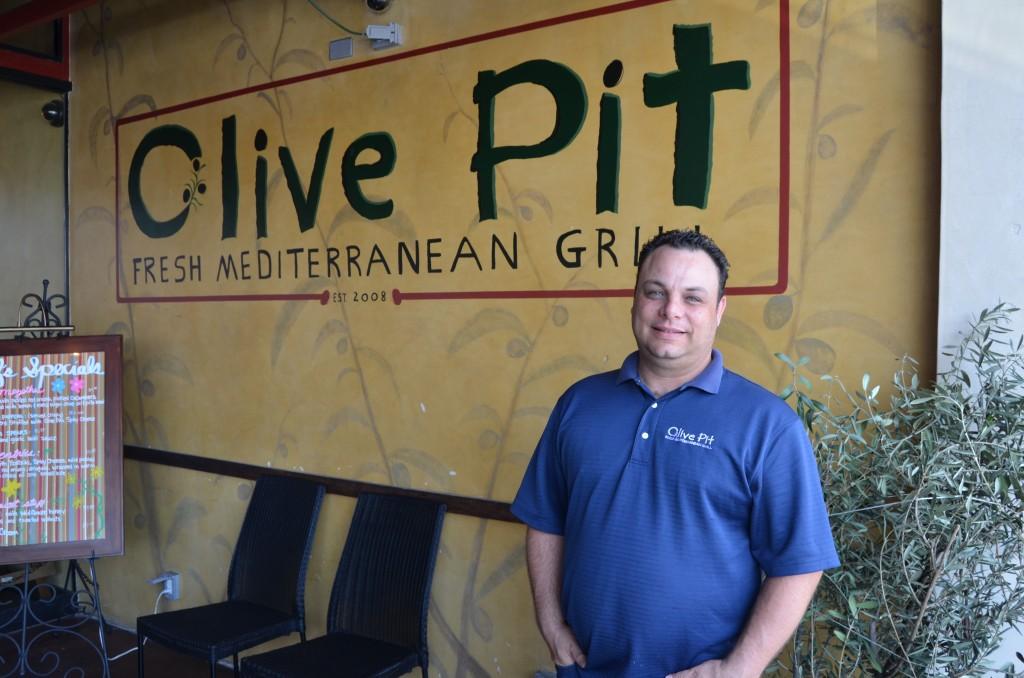 Chef Yianni, the mastermind of the Olive Pit Grill. A Southern California native; born in Long Beach, CA and raised in Yorba Linda, CA he has worked with other great award-winning chefs such as Wolfgang Puck, before venturing on his own to create the beloved Olive Pit Grill.
Disclosure: I was given a complimentary meal for purposes of this review. All thoughts and opinions remain my own. I highly recommend this place if you are in the Southern California area and I have been here quite a few times on my own since this because I love this place so much!