The Embassy Restaurant in Connaught Place, Delhi is standing tall since 1948 with unparallel service, food, and quality. The restaurant is on two floors. Though it falls in casual dining spectrum it gives you one of the best experiences. The prices are a bit on the higher side but against the excellent experience you gain here, it doesn't pinch at all. The place is usually at a full occupancy. Especially during lunch and dinner time, it is difficult to find a table. So it is better to book a table in advance if you want to avoid any such disappointment. Main bar and kitchen are on ground floor. The number of tables on the ground floor is higher than on the first floor. But on the first floor, there is a private dining area on the second floor for 8-10 persons. Besides this, there are 8 tables on this floor.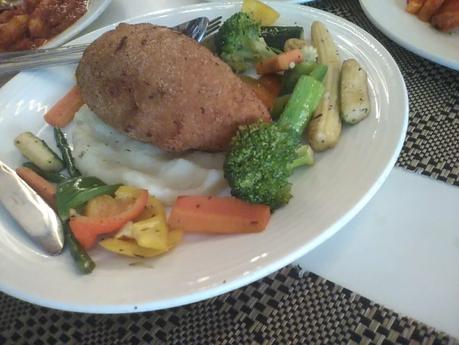 Chicken A La Kiev at Embassy Restaurant takes a little more time because of its preparation on slow fire. But then it is worth to wait. It is a single big piece having chicken inside and coating of various flours outside. Even though it is a fried dish, you won't find even the slightest of excessive oil. Not even any taste of oil so that you get the real taste of the dish. The outside coating is as crispier as you would need and the inside chicken is as soft as it should be. That is their expertise, confidence, and experience of around 70 years which speaks in every preparation. Every preparation is so unique and majestic to fall in love with it. This is a place that is popular among the families and the older generation of Delhi. Especially among the richer and creamier generation of Delhi.
Embassy Restaurant CP has its own unmatched warmth
The place has its own grace and prestige in the city. You find a different kind of warmth and vigor at Embassy Restaurant. It is an impressive place where families come to enjoy together. The atmosphere has a joy factor around. Even people come and discuss business while enjoying the food here. Sea Food Chowder is thick creamy soup that is quite delicious. Paneer Achari and Dal Embassy from the Indian main course are extraordinary and have out of the world taste. Quality of Mix Veg Pulao is excellent. So it its taste. I love Khasta Roti and here you find one of the best preparations. Mix Veg Raita is also good. Plain Papad provide a good company to the food. In the dessert you should not miss Creme A La Embassy which is a signature dish. Kulfi Faluda is another option to relish upon. Overall a fantastic experience.