A circle lens by any other name would look as sweet. Such is the case with the  EOS Candy/Sakura Green Circle Lens. This pair of green lenses also go by these names:
EOS G-208 GreenEOS Candy GreenEOS Sugar Candy Green EOS Sakura Green EOS Jewel Green  
Also I think the packaging varies depending on the name. I honestly wonder why circle lenses brands do that. But anyhoo, here's my review for this pair.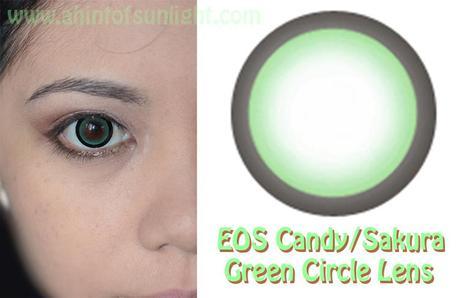 EOS Candy/Sakura Green Circle LensSince I live in a country where the chances of meeting somebody with naturally green eyes is probably 1 to a thousand, people hardly consider getting green circle lenses. I think they are even more likely to get blue ones because it's the more popular non-asian eye color. It's such a pity because I really like these lenses - even if with the wrong make-up, they could potentially make you look like a frog.
They were sent by Loveshoppingholics to be reviewed and I just adored the way they packaged it. It came with an elegant box and a card containing a sweet reminder to let the lenses soak in fresh lens solution first before using it. They also included a really cute piggy lens case and it's in green too!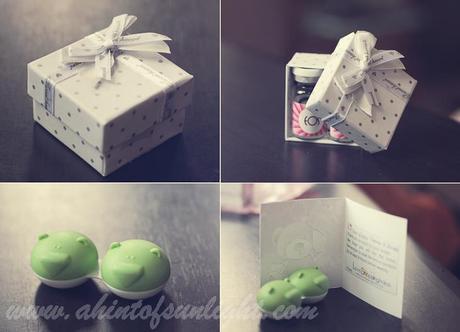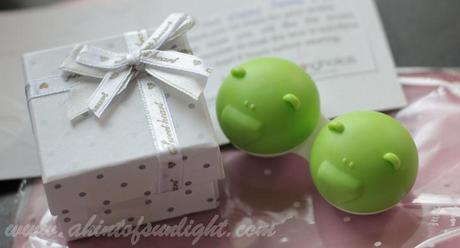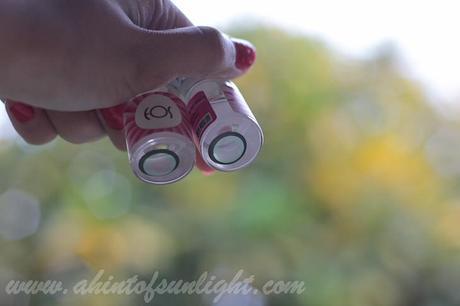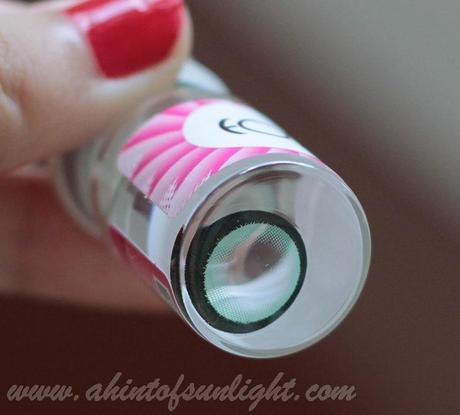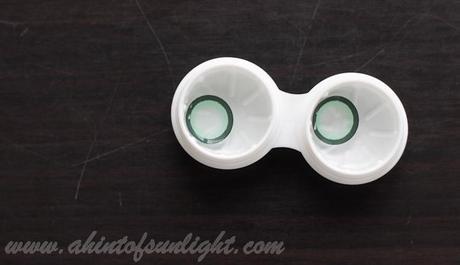 EOS Candy/Sakura Green Circle Lens Specifications: Origin: Korea Diameter : 14.5mm Water Content : 38% Base Curve : 8.8mm  Life Span : 1 year disposal
Color and DesignThe design is actually quite flat with a solid black circle around it and no fancy pattern whatsoever. First time I wore them, I actually thought they look robotic and anime-ish, though not quite as big as some circle lenses used in cosplays. These lenses are definitely not for everyday wear. There's no way around it. The design plus the green color is so easily noticeable and were clearly made to pop out on dark eyes. That said, they are great for parties and special events.
 EOS Candy/Sakura also comes in brown, blue, purple and gray.  
EnlargementAt 14.5mm, these lenses offers a decent enlargement effect enough to enhance your eyes. But I think because they have a really stark and thick limbal, they also look larger than other lenses with the same diameter. I think these lenses are great for guys who cosplay too.
ComfortThey are not as comfortable as some of the GEO lenses I tried in the past. They feel heavier but they aren't a pain to wear either. I can probably wear them for 4-5 hours after that, they tend to feel dry.


left: no lens | right: with lens


natural light facing a window


with flash


Conclusion:Like I mentioned above, the EOS Candy/Sakura Green Circle Lens aren't the lenses that can be worn everyday if you have dark eyes and you don't want a lot of attention. They look really beautiful if worn during appropriate events though. I find them festive. They're perfect for special occasions. I'm definitely wearing them this Christmas.
And have you noticed? A lot of famous protagonists are green-eyed.  Harry Potter has green eyes. So does Percy Jackson(in the books). And then there's this new anime I'm watching right now, Shingeki no Kyojin and the main character, Eren also has green eyes.
One female protagonists that the EOS Candy/Sakura Green Circle Lens really reminded me of is Rapunzel from the Disney movie Tangled. She has such big googly green eyes which inspired me to do this make-up look that I'm going to show you next. Well actually all I managed is a pathetic attempt in recreating her look because I didn't had the right face shape, lacked the skills needed for it, and I'm as fickle minded as a gold fish. I kept on changing my mind! So anyway, here it is....
Make-up for Green Eyes
(failed Rapunzel Look attempt)
Foundation first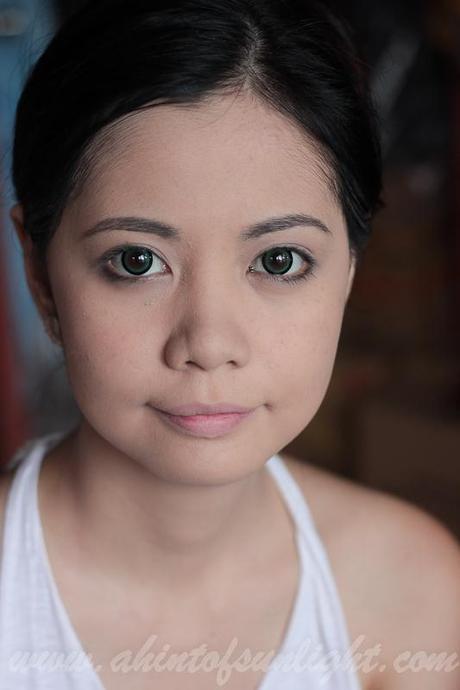 tanga frog-like face
As I was supposed to go for an almost unnaturally flawless skin that 3D characters have, I used my Kokuryo Summer Cake Foundation in Orange Blush for full coverage.Even this early my attempt to recreate the look started failing already as obviously my foundation isn't able to cover everything.
EyeshadowRapunzel wasn't wearing any eyeshadow but I suddenly felt I wanted to be creative so here's when I threw away the Rapunzel idea out the window.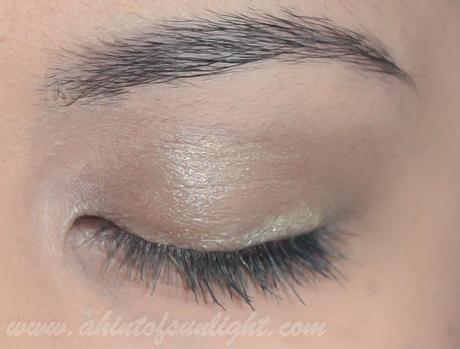 Here I used my ELF Duo Eye Shadow Cream in Olive as base. I used the Green in the lid and the brown on the crease and blended them out. This cream eye shadow has to be applied sheer or else it'll cake and smudge all over.
The purpose for this is I want a bit of green color to show through after I top this with a powder eye shadow.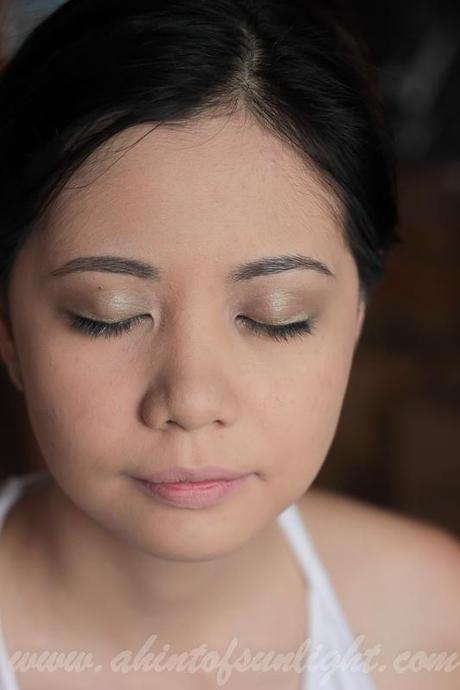 Purple EyeshadowI think purple really makes the green pop out.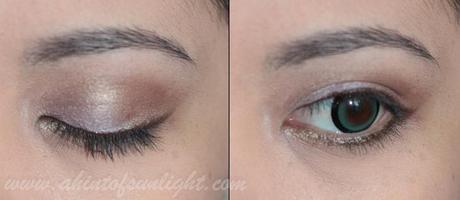 Here I used a mixture of #2 and #4 from my Gosh Smokey Eye Palette in Plum on the lids. I also used the same combination on the outer half of my lower lashline. Then I used a brown eyeshadow (actually the bronzer from my ELF blush and brush duo) at the crease and the outer V. I took a bit of #2 again and gently applied it on the center of my lids.
As you can see, there's still a mild green color showing through.
I then got a brown pencil eyeliner and used it to line my upper lash line and the outer half of my lower lashline. I didn't go for black eyeliner again and I can't even think of a good enough reason why except that I just don't feel like it, or I'm subconsciously still going for that Rapunzel look that is obviously not happening anymore. But Rapunzel did had her lower lashline lined with a brown eyeliner.
With an angled eyeliner brush I then applied green cream eyeshadow from ELF Duo Eye Shadow Cream in Olive on my inner lashline and on the inner part of my eyes to open them up.
Then I used #1 from my Gosh Smokey Eye Palette in Plum to highlight my brow bow.
Finally, I used Gosh Catchy Eyes Mascara on my lashes.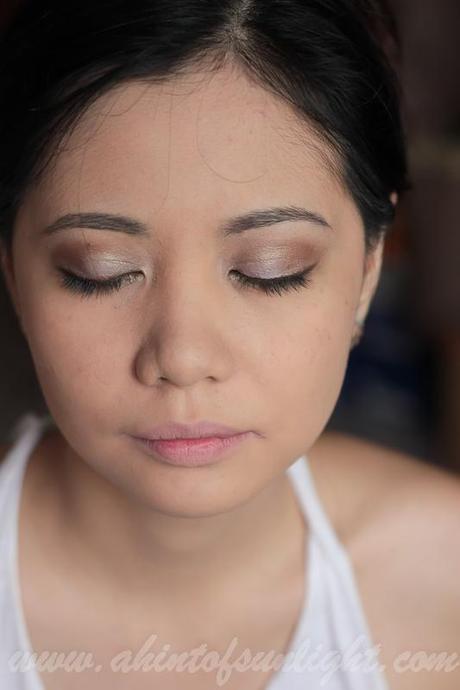 Eye makeup is done!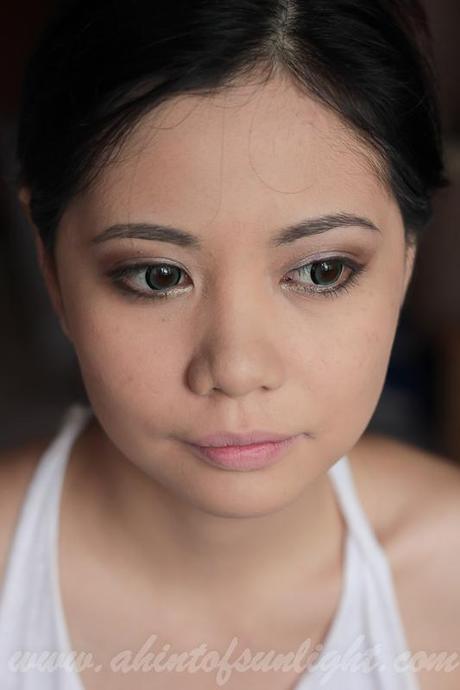 Cheeks and HighlightBecause Rapunzel had a nice peach flush on her cheeks, I used the peach blush from ELF Studio Contouring Blush and Bronzing Powder (St. Lucia) on my cheeks.Then I used #1 from my Gosh Smokey Eye Palette in Plum again to highlight the bridge of my nose and the apples of my cheeks.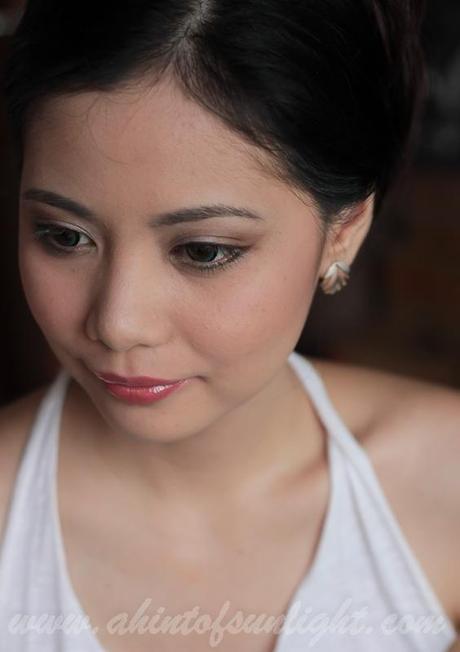 LipsFor my lips, I revived my Sophie Martin in Velvet Nude (which I found at the bottom of my stash) and topped it with Clinique Full Protential Lips Plump and Shine in Soooo Pink. I was going for a soft peachy pink lips but obviously that didn't happen.
I changed into this pink plaid dress that I was hoping to revamp and use in a gothic lolita funshoot. Another lame attempt and I only realized how ridiculous I looked until I transferred the pictures to my laptop. Unfortunately, I don't have the skill to edit out what I'm wearing so please bear with me on this.
So here's the final look: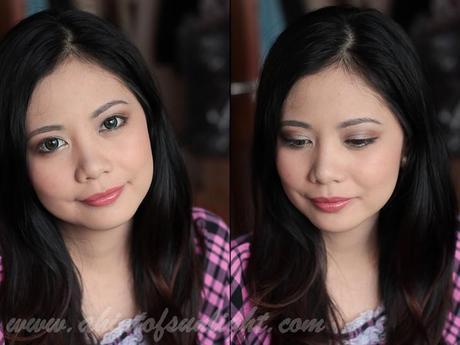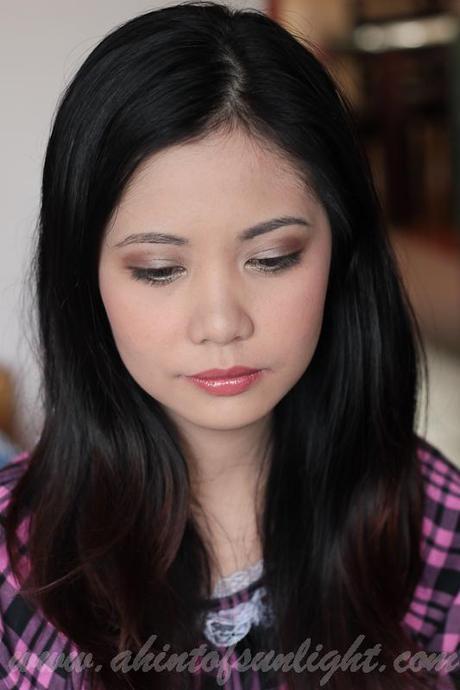 On my face:Kokuryo Summer Cake Foundation in Orange BlushBlush and Bronzing Powder (St. Lucia)Gosh Smokey Eye Palette in Plum(#1 as highlight)
Eyes:ELF Duo Eye Shadow Cream in Olive as BaseGosh Smokey Eye Palette in PlumBlush and Bronzing Powder (St. Lucia)(bronzer as eyeshadow)Ever Bilena Brow Pencil as Brown EyelinerGosh Catchy Eyes Mascara
Lips:Sophie Martin in Velvet Nude Clinique Full Protential Lips Plump and Shine in Soooo Pink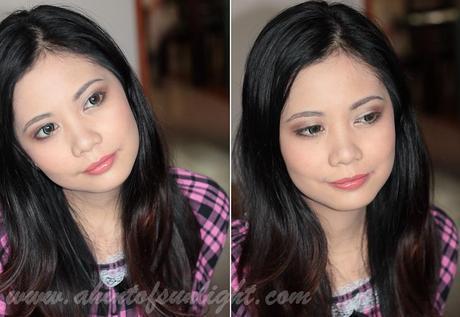 with flash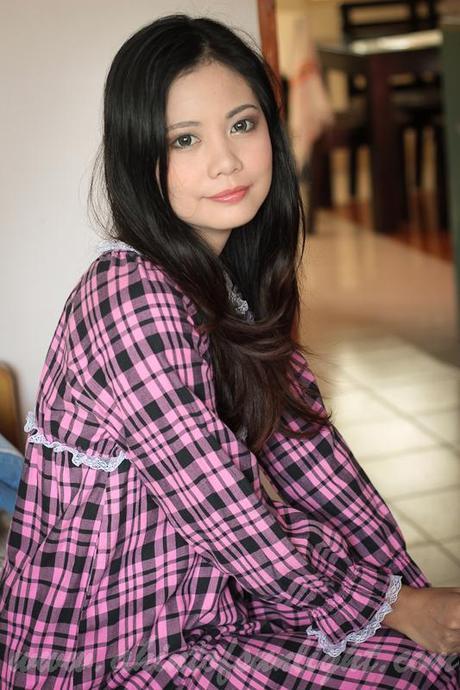 augh. *cringe*i'm gonna die now*
But as you can see from this distance, the green color takes a more likable hue. Boyfie said the eyeshadow made my eyes stand out(or he was just being nice perhaps?).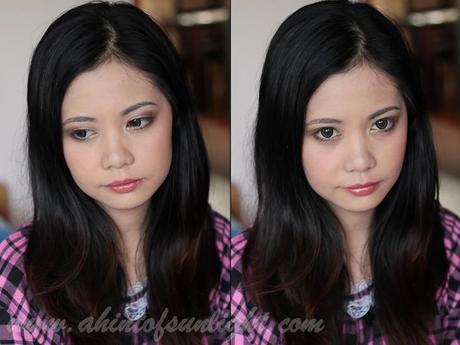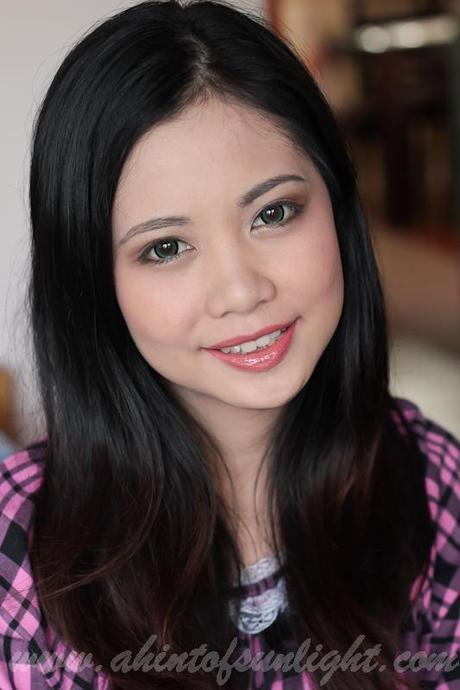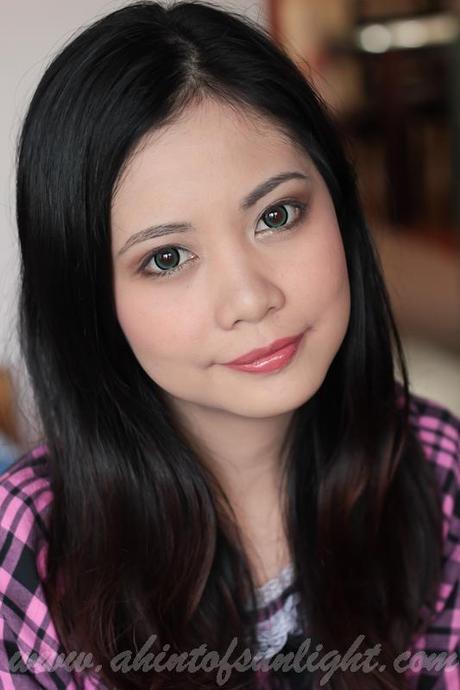 If you like these lenses, you can get them here.
Checkout Loveshoppingholics:website | facebook
Thanks for reading everyone!


facebook | bloglovin | twitter | lookbook | tumblr


Some items in this post were sponsored for review purposes. However these are my honest opinions, as always.