▾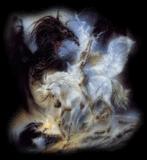 I flutter !
                                 My wings  torn in this struggle !
                                        Still  I face with grace !
                                     Wont retrieve from where I stand ,
                                       nor retrieve from my place !
                                           Am here till I attain
                                                    and
                                 obtain what I deserve to gain !
                                       You have been unfair !
                                Amazingly you love to play crafty games ,
                                       but  somewhere you did fail ,
                           when you thought you would be victorious
                                                    and
                                            could be triumph
                                             could celebrate ,
                                        when I fall  and when I fail  !
                          Am your creation , like you am too obdurate ,
                                   will make you wait for the day ,
                                     when you can celebrate !
                                 Will surprise you with my flutter !
                                  Will make sure  that you do fail ,
                                                    and
                                refrain from troubling your neonate !
                                    My wings torn in this struggle ,
                               still you haven't been able to erase ,
                                 the smile that I adorn on my face !
                                   My flutter in this endeavour ,
                                is due to bring some nice color ,
                                that's away from your envision
                                      nor you can anticipate !
                                Am sure to get away with my faith !
                                    Am sure to change my fate !!
Ccopy uighu(c)alka narula
photo credit photobucket