I love and support almost anything hand-crafted. It shows how artistic a person can be. Imagine what a group of artistic people can produce, a modern style timepiece that's made of wood. Yes, wood. Who would have thought aside from tables, cabinets, comb, boxes, and other household use, a wood can be a material for a watch.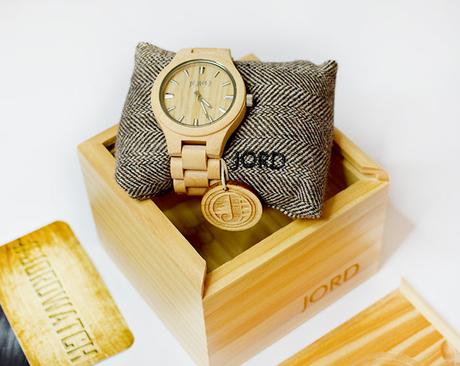 Jord Wood Watch
Fieldcrest Series (Maple) – $120.00
The Jord Fieldcrest series in different models such as Green Sandalwood, Dark Sandalwood, and Zebrawood & Maple. The one that I got is purely made of maple.
Maple (from Jord website)
Maple is found all over the world, but the Hard Maple wood in our watches comes from Northeastern North America. Unlike our other series that utilize the center heartwood of the tree, our Maple watches are made from the outer rings, known as the sapwood. The graining is typically straight with slight waves and has a fine, uniform texture. Maple is fairly easy to work with but care must be taken to not overheat the tools as maple is easily burned.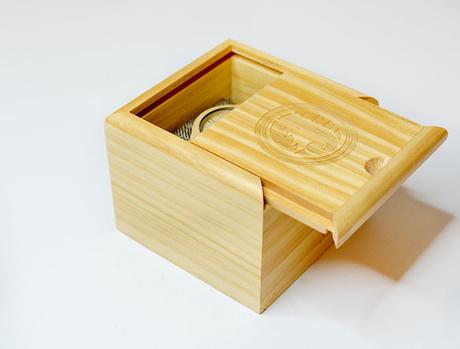 Packaging
It's genius. One of the most beautiful watch packaging I've ever own.
It's made of wood with Jord logo carved on the sliding lid.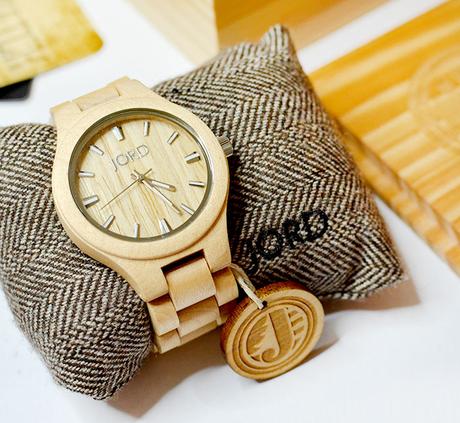 scratch-resistant mineral glass
deployment buckle with push buttons
case width: 39mm
case thickness: 11mm
lug ends: 49mm
band thickness: 20mm
band length: 205mm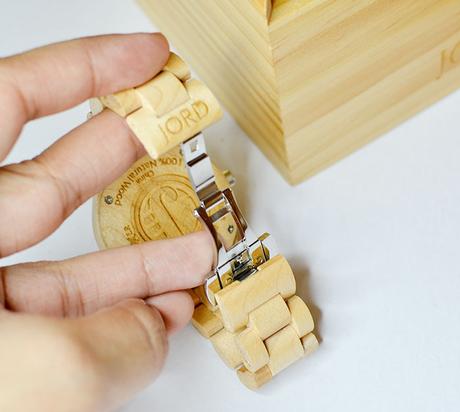 It's very easy to wear and remove with this push button buckles made of stainless steel.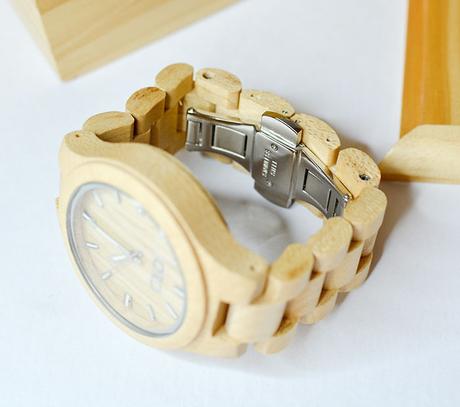 The natural maple is hand finished and pretreated with tung oils. The Fieldcrest is splash-proof but should not be submerged in water (3 ATM). Lemon or orange oil extract is best for cleaning the natural wood. When storing this timepiece, avoid extremely hot, cold, and excessively dry/humid environments.
*I use our guitar cleaner for this watch (lemon oil)*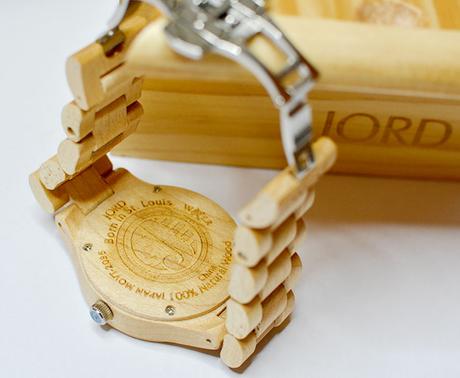 Citizen Miyota 2035
display: hours – minutes – seconds
tuning fork type: quartz crystal
frequency: 32,768 Hz
accuracy: +/- 20 seconds /mo
battery: silver oxide SR626SW (equiv)
drive system: 2-pole stepping motor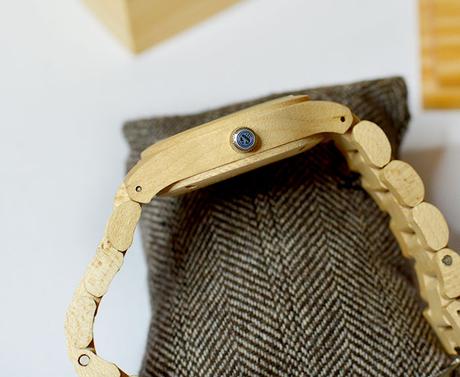 The craftsmanship of Jord watches is perfection. It may sound funny but one of my most favorite part of the watch is the crown. I love that engraved logo on it!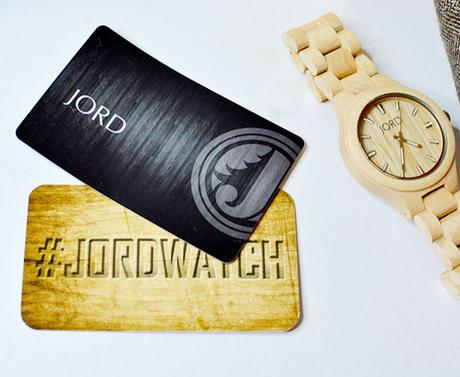 Your Jord Wood Watch comes with a care card and warranty card (1 Year Limited Warranty). Check the website for more information about terms and conditions when it comes to replacement and returns.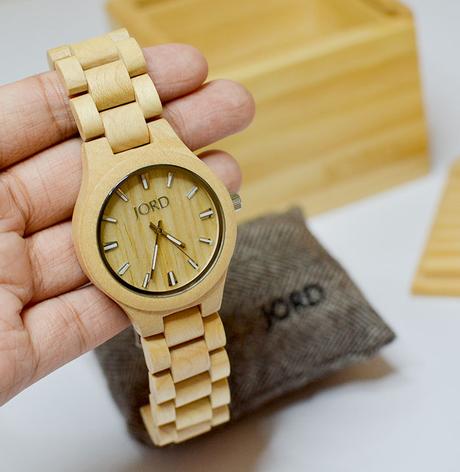 Overall, I love my Jord Wood Watch in Maple. It feels so light and sturdy. The color is versatile, I can pair it with different casual outfits. The model I have doesn't look good in dresses tho, I like it when I'm wearing jeans. For dresses, they have other designs that will look good with formal wear.  If you're going to place your order, you can have them trim the bracelet for you. They have guidelines and form to fill out for this on their website. I had mine adjusted in a local watch repair shop and I only paid P50.00 (approx. $1.20). The lady in the shop was astonished when I showed her the watch. "Great craftsmanship".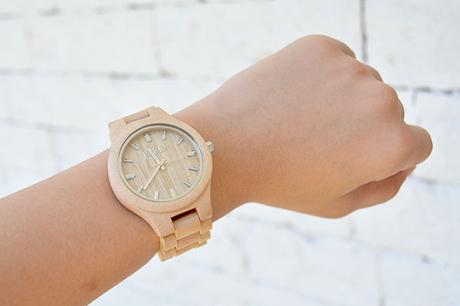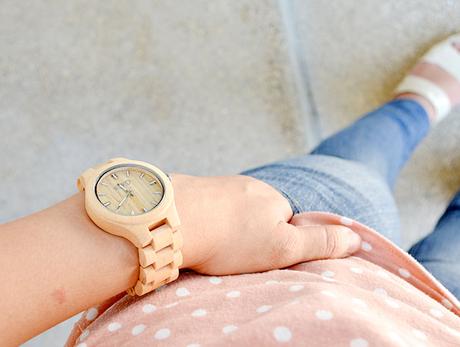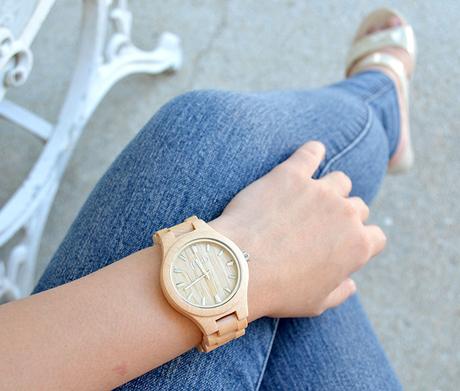 Jord Wood Watches offer FREE SHIPPING Worldwide! I'm thankful I didn't have any trouble getting this in our provincial post office. I only paid P100.00 (before, it's only P50.00), not sure if it's the same with Manila Post Office. Jord Watches are perfect for presents! Since -BER months are fast approaching and you're looking for a nice gift for Christmas, if you have a family or friends who love wearing or collecting wristwatches, 100% they will love this! Jord Wood watches are luxurious, hand crafted, and unique! I'm eyeing on their Sydney Series in Maple and Rosegold.
Visit www.woodwatches.com/ for more details.
---
Disclosure: This watch was sent to me for editorial considerations. I am not paid to write a positive review. All opinions stated in the post are soley my own.