For the past few weeks the twins have been putting the
Fisher-Price First Steps Jumperoo
to the test and I have to say it gets a massive thumbs up. The twins both took to this immediately and were actually queuing up to get into it from the minute it was put together. The great thing with this product is that you not only get a jumper for your baby to bounce in but also a walker which really does encourage and give them the confidence to take their first steps supported.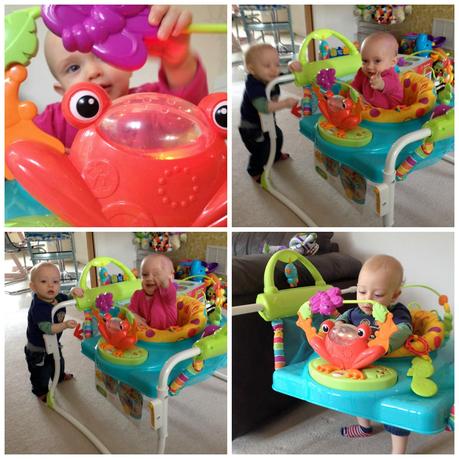 Features
Two great products in one—a jumper and a walker.
Frame easily extends to help baby take her first steps. 
Baby's jumps are rewarded with music, sounds and lights. 
Seat spins 360° for all-around play. 
Sturdy, free-standing steel frame lets baby jump safely. 
3-position height adjust as baby grows. 
Soft spring covers keep little fingers safe. 
Busy toys include a lion mirror, frog roller ball, butterfly bead bar, alligator roller, bat-at birdie & more. 
Removable, machine washable seat pad. 
Requires 2 AA batteries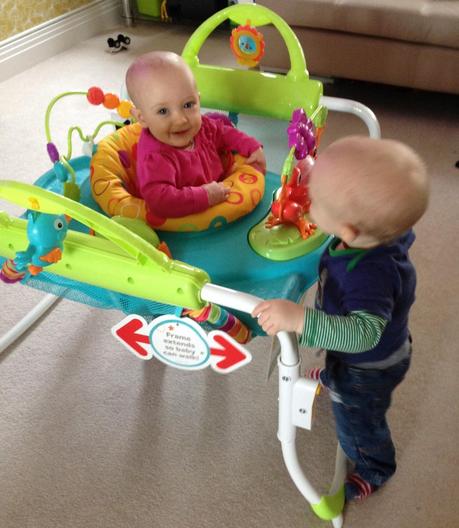 Frame easily extends at the push of a button
Putting it to the Test
When Zoey first started using the First Steps Jumperoo she was developmentally a little bit behind Zachary in that she wasn't really cruising or standing up confidentially for long periods of time. She would happily bounce in the normal Jumperoo and loved being held upright but wasn't really making any attempts to move by herself like her twin brother. It is hard to say whether it was a coincidence or not, but shortly after being in the
First Steps Jumperoo

a few times she kick started into cruising about the place along with suddenly taking an interest in using the more traditional push along walkers that we have and there has been no looking back since. Personally, I think the First Steps Jumperoo gave Zoey the confidence to start doing these things as it was clear in her face how excited she was to be able to walk back and forth in the Jumperoo and there really is no stopping her now. From what I observed watching her in the First Steps Jumperoo, it was like suddenly it clicked with her on how to take those first steps. 
Zachary loves the toys in the First Steps Jumperoo and whizzing about from one to another in the 360° spinning seat. I love the fact that they can keep him entertained long enough for me to do some housework while he uses up so much energy bouncing and laughing it tires him out so it is without doubt a massive win win all round. Often when Zoey goes in the Jumperoo Zachary will stand holding on to the outside of it and they will both play with the toys together which is very cute indeed. Below you will find a video of the twins putting it to the test.
Verdict
I highly recommend the Fisher-Price First Steps Jumperoo as I love the fact that it is more than just a bouncer and it really does grow with your child due to the easily adjustable height settings and physical development from bouncing to walking. It is not only great for your baby's development but it is cleverly designed to minisise storage space with it's extendable walking frame that pops out when it is in use and collapses back in when not (just press the yellow buttons at the front to do so). It is engaging in so many ways with toys, lights and sounds that it is fantastic for keeping babies entertained while helping them to develop and grow both physically and mentally while gaining confidence. It definitely gets this twin Mummy's seal of approval!
*Disclaimer: I received the
Fisher-Price First Steps Jumperoo for free in exchange for a review. All views and opinions are my own and 100% honest.