On May 2, Floyd Mayweather Jr. and Manny Pacquiao go head to head in what is poised to be the fight of the decade. It's sure to be an exciting and inspiring night that celebrates hard work, the human spirit, and the tacit agreement between advertisers and fans that money and sports take higher priority than the safety of women and children!!!!!!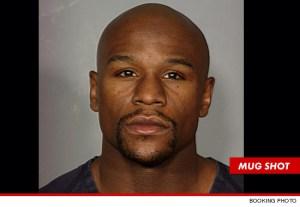 Floyd Mayweather Jr. is a currently undefeated, five division world champion boxer having won 10 world titles. All of those words mean that he is really exceptionally good at beating up other people in his weight class. You know who probably weren't in his weight class? All of his wives he abused!
Mayweather has been accused of 7 instances of physical assault against 5 different women, and in 2012 he was convicted for beating his then and current ex-wife because he suspected her of dating an NBA player. He came into her house and attacked her until their 10 year old child escaped the house and called the police. His ex-wife later said that had it not been for the police, she believes she would have been killed.
His punishment? 2 months in jail and an estimated net worth of 300 million dollars! Tough!
Now, what can you do?
Simple! Boycott the fight!
But, what if you can't boycott the fight? Like if an armed intruder ties you to a chair and holds your eyelids open in front a TV. We've all been there. My advice is to root for Manny. He's never been accused of domestic violence and searching "Manny Pacquaio good guy" returns some pre-tty convincing search results. In fact, in one article his trainer Freddie Roach says Manny is quote, "really against domestic violence."
So now that you know that Floyd Mayweather Jr. is a serial abuser of women and all around poop bucket, I hope you realize that someone like him doesn't deserve to keep on enjoying the fame our society has afforded him. And if you disagree, pick up the phone, call who ever raised you and ask where the beep boop did they go wrong?
Until next time...............
OH, ALSO! Mike Tyson is a convicted rapist, BYEEEEE.