I'm going to share a little quirk about myself.  Now, I'm trusting that after you hear what I'm about to say, you don't think I should be committed or something.  Okay, so here it goes.
There is something about a beautifully wrapped gift that puts me in an immediate trance.  The world around me could be in shambles, but I would have no idea if you just plopped me down in front of some beautiful presents like a little kid.  Scary, I know.  In fact, I've thought about wrapping empty boxes and decorating them with some lavish embellishments just to put around the house and use as holiday décor.  I'm still not sure why I haven't done it yet.  Of course, there is still time!
Anyhow, this year, I was inspired by the many beautiful gift embellishments that I have been seeing online.  And in the process of crafting my very own embellishments, I thought why not design some photo gift tags to accompany them!  Especially considering that this blog of mine has been way overdue for some freebies!
First I thought I'd share some photos of my gifts this year.  This way you could see my customizable photo gift tags in use!  For more information on my gift embellishments including a tutorial on how to make felt pinwheel flowers (the first and last image of the storyboard/collage below), be sure to stay tuned!  I hope to publish something in the very near future.

Supplies needed for your photo gift tags include:
- a color printer,
- 8.5 x 11 inch photo paper,
- scissors or a paper cutter, and
- tape to attach them to your gifts.
I used double sided tape.
Alternate ways to attach them to your gifts would require additional supplies such as:
- a hole puncher and
- yarn.
Also, feel free to get creative!
For instance, layer them on top of decorative paper, and use project scissors to create an assortment of paper edges!
FREE CUSTOMIZABLE PHOTO GIFT TAGS FOR THE HOLIDAYS
(Download yours HERE)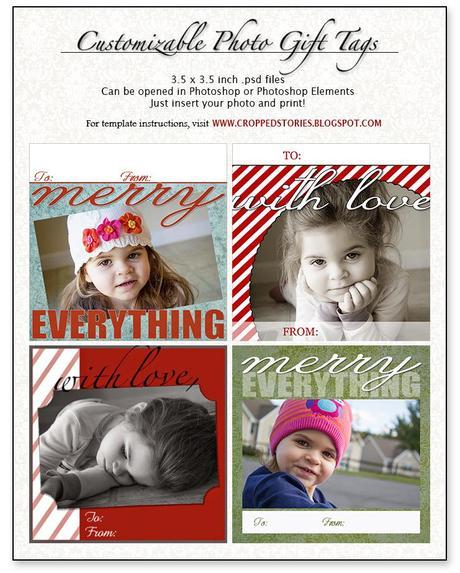 CUSTOMIZABLE PHOTO GIFT TAG TEMPLATE INSTRUCTIONS
As a reminder, my templates are created in Photoshop.  They are 11 x 8.5 inch .psd files and can be opened in both Photoshop and Photoshop Elements.  They are VERY user friendly and don't require much knowledge of the software.  Once you've opened the file which will contain 6 gift tags, you'll want to  locate the layers on the right hand side of your screen.  There should be 6 (each layer representing an individual gift tag and highlighted a different color of the rainbow).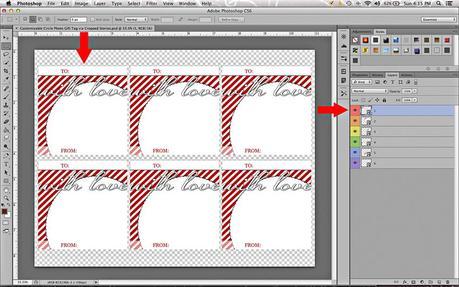 Double click on the thumbnail image (the picture right next to the red eye) to open up the individual gift tag in a different window/tab to customize with your photo.  Once you do this, the following box (below) will appear.  Hit OK.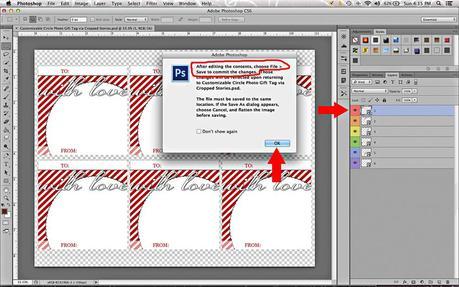 Once you are in the new file, select your PLACE PHOTO HERE layer highlighted in red, and go to File / Place to choose an image from your computer.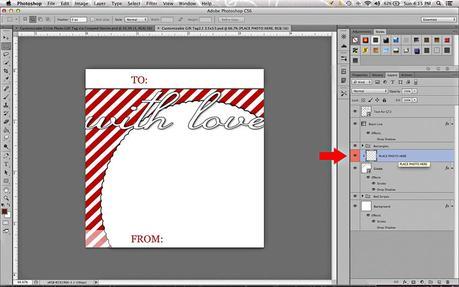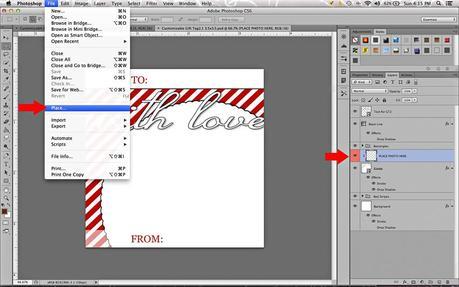 Once your image is chosen, you can resize it easily to fit the frame.  Now go to File / Save.  Once you've saved your changes, find the original file (most likely the tab all the way to the left of your screen).  You should see that the first gift tag now contains your photo.  Once you've done this for all 6 gift tags, go to
File / Save as
and name your file.  You will then choose .jpg under format and make sure the box where it reads
embed color profile
is checked.  Once you hit OK, a new JPEG Options box will appear.  Make sure your quality is set at 12 (which is the maximum) and choose Baseline "Standard" under Format Options.  Click on OK and you should be good to go!    Now you are ready to locate the .jpg file you just created and print.  For best results, I recommend printing using your printer's maximum quality settings.  
Happy Holidays, and I hope you enjoy using your holiday gift tags!
Don't forget to come back later tonight to link up to The PINcentive Blog Hop: Week 14 early!  It'll be live at 11:00PM EST; we hope to see you there!
And if you missed my previous post, Locate an email for a noreply-comment with G+, it's definitely a must read!


Technorati Tags: holiday freebies,printable,customizable photo gift tag,christmas printable,howto,photoshop tutorial,diy,crafts