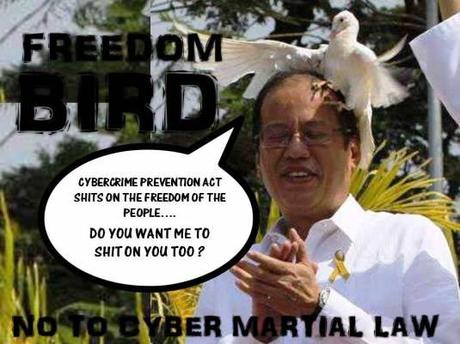 "One by one, senators who voted for the passage of the Cybercrime Prevention Law vow to amend it. What can you say?" – Yahoo Philippines
Literally, I would have to really shout out "Yahoo!"
It's a great day for the people responsible for this ridiculous law are one by one retracting their favor towards the law and vowing to repel its implementation. However, we have yet to hear from the PNoy himself.
Let's look at the definition of libel: "Art. 353. Definition of libel. — A libel is public and malicious imputation of a crime, or of a vice or defect, real or imaginary, or any act, omission, condition, status, or circumstance tending to cause the dishonor, discredit, or contempt of a natural or juridical person, or to blacken the memory of one who is dead."

That is so broad that anyone with a crafty lawyer and the intent to punish an enemy can use that law to jail the latter—or at least, cause said enemy a lot of headaches. You can't even make a funny comment on the Internet about a dead person anymore—the court might decide that it "blackens" that dead dude's memory. – Critical Thinking Filipinos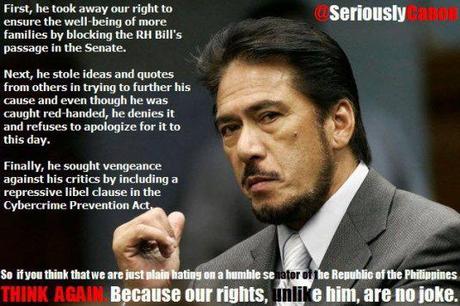 Apparently tired of the criticisms, Senator Vicente "Tito" Sotto III will file a resolution scrapping penalties against libel, both online and in print or broadcast media.
Sotto had said it was the issue of "morality" that forced him to suggest the libel provision. "Moralidad ang issue dito eh kaya nga gusto nating bantayan ang cyberspace kasi yung moralidad ng mga kabataan natin, nababastos na eh, nabababoy na."'
Contrast this with Senator Guingona's vote of no, partially because he feels government should not be legislating morality.
'"Gusto nila magpa-file naman ako ng bill, alisin na natin ang libel para pwede ko na rin silang murahin (If they want, I will file a bill to remove libel so I can also engage them in mudslinging)," Sotto said in an interview over radio on Wednesday.
…
"Hindi na decriminalizing, removing. Magda-draft ako in the next few days (We will no longer decriminalize libel, we will remove it altogether. I will make a draft in the next few days)," he said.'
This slideshow requires JavaScript.
Censorship is ignorance. The internet is a virtual world. Censoring any aspect of it is like censoring the dreams during our sleep. Crime committed using the internet, like all crimes, happens because the fundamental structure of a society is broken and the government who runs them are ineffective and the officials ignorant. Implement our existing laws before censoring the Internet, when and if our government can faithfully give the basic services such as FREE MEDICAL CARE, a SOLID EDUCATION SYSTEM, SECURITY OF TENURE AND ABOLITION OF THE CONTRACTUAL EMPLOYEE STATUS among many other sectors in our society that is broken.