Somany Ceramics understands the fast rising demand for smart bathrooms especially in urban and among growing affluent Indians. That brings French Collection by Somany Ceramics in order to build smart bathrooms. In fact, this significant increase in such requirements from consumers signifies a move towards energy conservation. And at the same time, there is a need to maintain high standards of hygiene.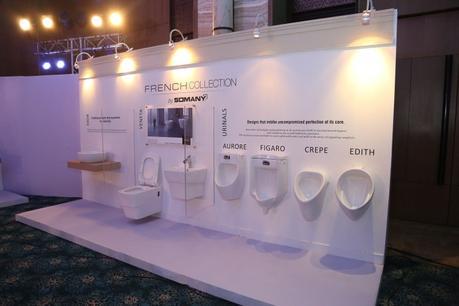 Now, let us talk a little about the French Collection by Somany Ceramics. The French Collection is a right mix of luxury, technology, design, quality, and comfort. It is a smart product line fetching inspiration from the unique elements of French heritage. That too while taking design aesthetics into cognizance thus making it a truly world-class product line. The French collection has more than 28 products, ranging from water closets, urinals to wash basins. In fact, these fall under 11 different series, namely Jazz, Dior and Ace amongst others. As a matter of fact, each element of the series follows a particular theme. And each theme is with different patterns of technology integration as follows:
Stronger dual flush mechanism 5 meters long fully customized remote control Warm wind drying
Wash-down system Soft close mechanism for automatic opening & closing of lid Nightlight
User defined energy save Smart seat rim with temperature control Warm rear & bidet wash
Seated sensors Larger washing area Sanitizer and deodorizer
Minimal touch points Minimum pressure points Automatic flushing
The most prestigious series of the Somany French Collection is the "Ace" series. It has the first high IQ toilet by Somany Ceramics. And, in fact, the innovative design is to ensure there are minimum pressure points so as to enhance overall comfort.
French Collection by Somany Ceramics
Abhishek Somany, MD, Somany Ceramics Limited was present at the launch. He rightly says, "The launch of this collection reiterates our promise of bringing the most fascinating and technologically advanced products for our valued customers in India. The addition of the new collection will strengthen our product portfolio and will continue to help us expand our consumer base." He further adds, "The smart bathroom and toilet trend is here to stay as consumers get more environment and health conscious, and this collection caters to this growing segment. We are confident that the French collection will be a resounding success as it has been created keeping in mind the modern contemporary housing needs of consumers. With this launch, we hope to lead the smart toilet industry in India and aim to be among the Top 3 players over the next two years."