Collectabiles are huge with kids these days, it's hard to miss how big Shopkins are amongst girls and the good news is that there is now a very cool, well more aptly described as zany and gross version of collectibles with attitude targeted at boys (but girls will love too) called The Grossery Gang. The Grossery Gang Mushy Slushy playset is a fun way to play with the collectables.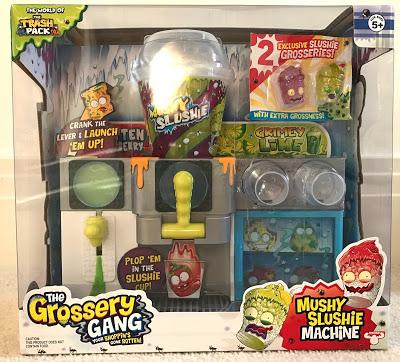 Who are the Grossery Gang?
The Grossery Gang of collectables hang out in Cheap Town, a once bustling urban Metropolis which due to the building of a mega motorway system to Sales Town they have been forgotten and pretty much transformed into a ghost town with no customers stopping by. As a result all the products in the Yucky Mart have passed their expiration dates and are now festering and putrid and has lead to them creating their own brand of filthy fun. There are over 150 characters to collect across six different gangs to collect where you will find products such as Rotten Egg, Fungus Fries, Mushy Slushy and Yuck Yogurt. Yep, they are disgusting but just the kind of thing that will appeal to boys.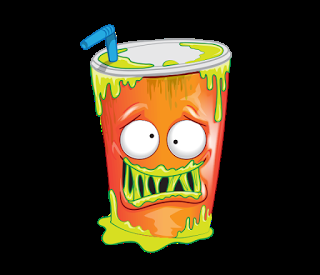 Mushy Slushy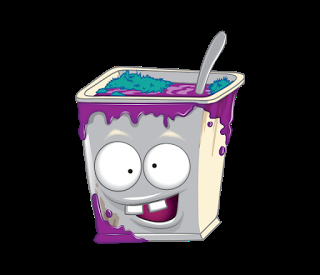 Yuck Yoghurt
The Grossery Gang Mushy Slushy Playset
The Mushy Slushy Playset comes with two exclusive characters and is just the place to play with and display the Grossery Gang. The options of play are endless and crazy and perfect once you have built up your collection. You can crank up the lever to launch your chosen Grossery characters into the Slushie cup and pour yourself the yuckiest, grossest mix you can invent - think cruddy Chip, Shoccoli, Snot 'n' Pepper and so on.. Yum! You can then store your figures in the display or throw them into the fridge.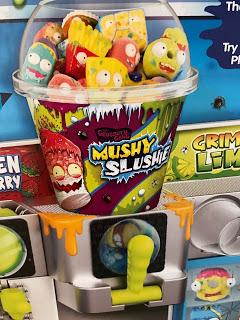 Our Verdict
All three of my kids, Ben, Zoey and Zachary love playing with the Mushy Slushy Playset and the combinations and concoctions they have been coming up with are nothing short of gross. The boys are delighted that they have a boy style collectable now like the Shopkins Zoey loves. They are desperate to get hold of some of the special edition stocky sweets and ultra-rare mouldy veg now so it's safe to say they have become big fans. Their friends have been impressed with the gross, craziness of the Grossery Gang too and I definitely feel we have become responsible for introducing the collectables to them. 
Where to Buy
The Grossery Gang range from
Flair Plc
 includes the Mushy Slushy Playset (RRP £14.99), Yucky Mart Playset (RRP £19.99), Surprise Bags (RRP £2.49) and more.
* Disclaimer: I received the Grossery Gang Mushy Slushy Playset in exchange for a review. All views and opinions are my own and unbiased.