Camping with kids is a whole different experience, especially when your little tribe consists of a four year old and one year old twins. There are lots of things that make the experience more enjoyable and less stress, the big one being the tent you choose. The important factors for me are ease of set up, comfort, space and warmth, not forgetting the all important ease of dismantling at the end of your trip. The POD Tent Maxi is a perfect choice. It is so well designed, it definitely is in a league of it's own when it comes to tents.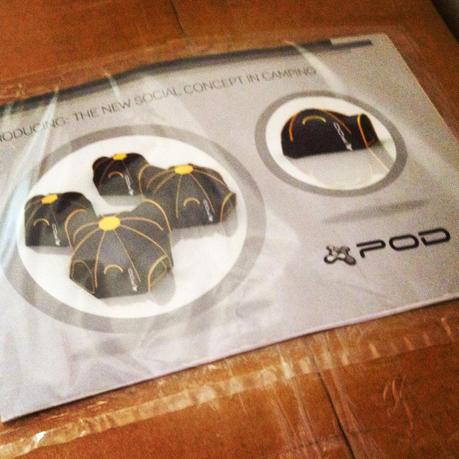 Assembly
Before we went camping we watched the POD Tent's instructional video on how to erect the tent which made it look almost too easy.
I have to admit I had my doubts that it could actually be that straightforward but it pretty much was a case of unwrapping the tent, lying it flat, straightening out and assembling all eight posts, threading them into the center fingered hub, one person holding it up inside while the other popped the posts in the ground and then securing all the guide ropes before fitting the interior sleeping cell.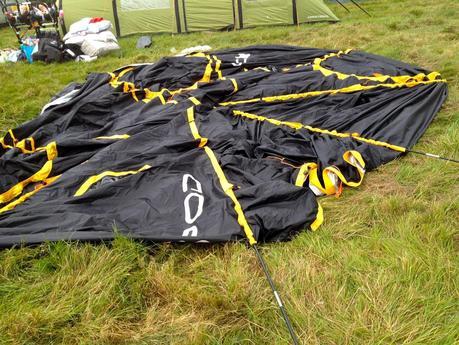 Assembling the POD Tent Maxi
It's the kind of thing that I reckon once you've done once, becomes quicker next time. The site claims, "in fact 2 people can easily erect this tent within 10 – 15 minutes", it took us a bit longer but not considerably so and we did have three kids to juggle while doing so.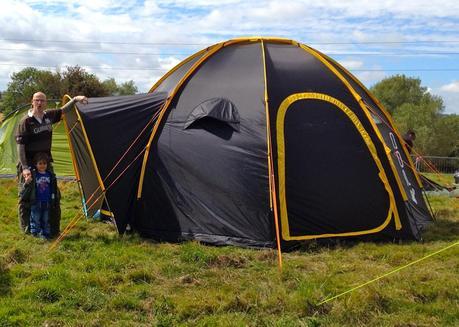 Awesome-est tent ever! Chris is 6ft 4" which puts how high it is in context
Taking the tent down at the end seemed even easier which, let's face it after camping, is just what you want when you are eager to head home especially when you have three impatient children watching you. We were really impressed with the design and how cleverly and easy everything fitted together.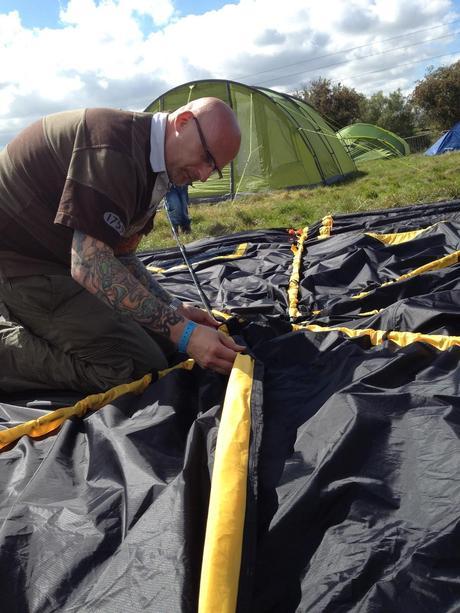 Time to dismantle the POD
The POD in Use
One thing is for sure, if you are looking for a tent that makes a statement and stands out from the rest, look no further than the POD tent. It stands above all other tents and it's black and yellow colours make a very welcome change in a sea of boring blue and green tents.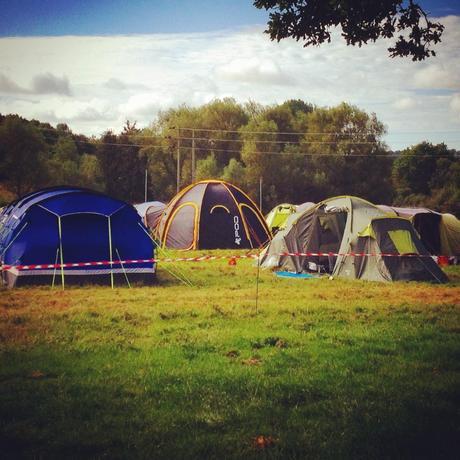 The space inside is fantastic, the outer POD is a huge 5 meters in diameter and 2.7 meters to the top and will sleep eight people in an open communal living arrangement or you also have the option to add the internal cell or sleeping pods which separates it into two bedrooms and a living space. This makes for a very practical and enjoyable camping experience especially if you have young kids that you want to put to bed early or require naps while still allowing you to sit, relax, chat and even enjoy a drink or two in the living area.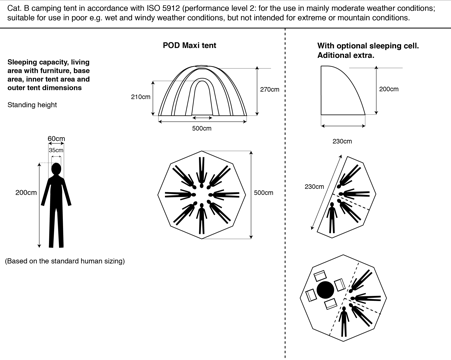 We really loved the sense of space, it makes for a much more comfortable and enjoyable experience especially if some of your party are tall, my 6ft 4" husband had no problem standing up in it with plenty of headroom which was a first for when it came to camping in a tent.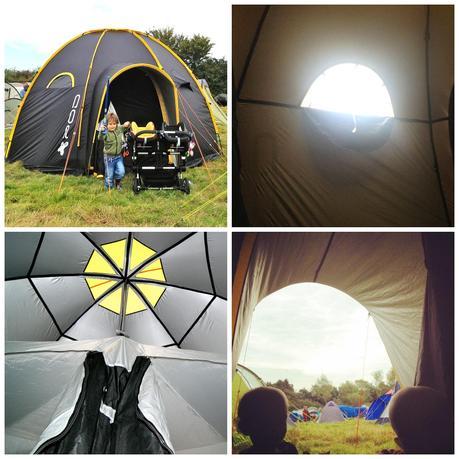 TL - our beast of a double buggy even fit through the door; TR - loving the windows; BL - Inner cell hanging from center; BR - the twins loved the view from inside
I loved the fact the inner cell even had details like pouches to store shoes or valuables you don't want to lose like mobile phones, torches, wallets etc. The windows were also a lovely feature and the inner netted door came in really handy to stop the twins from escaping while still allowing light. There was also plenty ventilation to stop it from getting too stuffy which happens all too often when you have a number of people together in one tent.
The POD Maxi tent has all the features that are on my tent wish list such as in-built groundsheet to keep creepy crawlies and bugs to a minimum, vents, windows and a great feeling of inner space and light which makes camping far more enjoyable.
Social Camping Experience
The very cool thing about the POD tent is that it allows your tent to grow and become a social hub through the option to interconnect and add POD Tunnels and POD Tent Minis or even another Maxi - how cool is that for camping with large extended families and friends? It allows you to have the best of both worlds, a shared social space and a separate private quiet zone. A refreshing fun approach to camping for families, festival goers and groups of friends.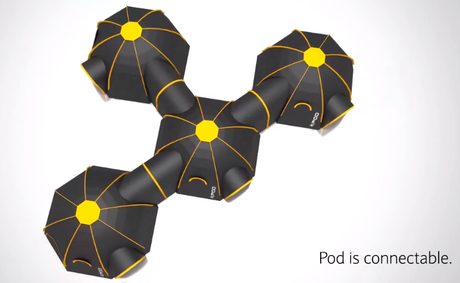 Our Verdict
The POD Tent Maxi is by far the best tent I have come across. It made for a very enjoyable family camping experience. I would not hesitate to recommend it to anyone wanting to invest in a tent that can accommodate a family or group. We were really impressed with the quality, design and experience we had while using it. If you are thinking of buying a tent head over to the
POD Tent
site to check them out for yourself - you won't be disappointed.