Let's admit, living a healthy lifestyle in the Philippines is not that easy. I was about to subscribe to a mobile app before, it gives daily healthy meal prep and recipe but when I browse the ingredients, they are hard to find in supermarkets. Good thing there are two nearby branches of Healthy Options when I was in Cavite. One in Festival Mall and the other is in Alabang Town Center which I frequently visit. Now that I moved to Manila, I have more options with what branch to visit. When I have events in Makati, I pass by either Greenbelt 5 or Glorietta 2. I can also easily go to their branches in Shang or Megamall!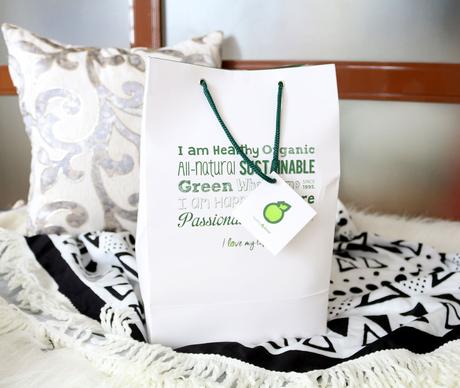 Now I want to share with you guys my recent Healthy Options Haul and my personal experience with the products. Normally the things I buy from Healthy Options are mints! My favorites are VerMints and Newman's Own (Peppermint flavor).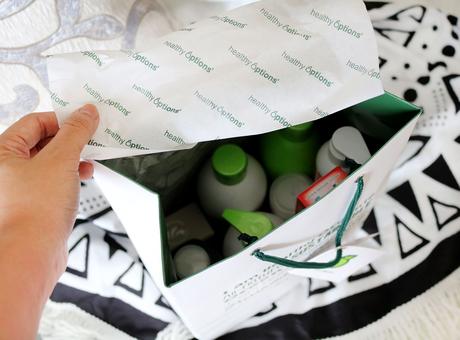 I've tried some of their basic essentials that are also their best sellers.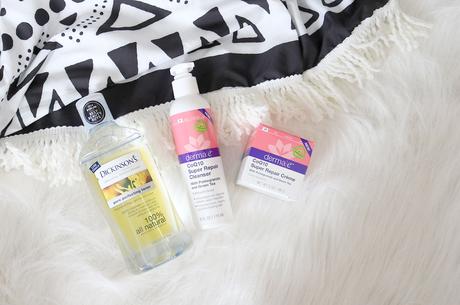 Dickinsons's Original Witch Hazel Pore Perfecting Toner
"This pore perfecting toner refreshes skin & refines pores, removing excess oil, dirt, & makeup residue without overdrying. It's 100% natural formula contains no added fragrance or dyes. Our exclusive blend of witch hazel plant extracts creates its signature botanical scent and make it gentle enough for even the most sensitive skin every day."
I first heard about this product from my co-makeup artists. I was asking what's the best toner to use for my makeup clients and almost all of them recommended this product. I use this toner in the morning and I feel so refreshed and clean. It also helps me prep my skin before I apply makeup. I have the biggest bottle (473ml) but you can buy the small one if you want to test it first.
Derma e CoQ10 Super Repair Cleanser with Pomegranate and Green Tea
"...is sulfate-free, antioxidant-rich formula that lathers away dirt, oil, makeup, and impurities for fresh, healthy, younger looking skin."
CoQ10 reenergizes dull, aging skin exposed to free radicals
Pomegranate and Green Tea quench skin with potent antioxidants
Sulfate-free
I've been using this cleanser for more than a month now and I'm loving it! It feels so gentle and cleanses the skin without ripping off natural oils from the face. I also love the active ingredients in this product. Recommended for all skin types.
Cruelty-free , Gluten-free , Wind Energy (Certificates) , GMO-free , Recyclable
Derma e CoQ10 Super Repair Creme with Pomegranate and Green Tea
"...is an antioxidant-rich anti-aging moisturizer that shields skin against daily elements for a more vibrant, youthful looking glow."
CoQ10 supports healthy elasticity and firmer-looking skin
Pomegranate and Green Tea antioxidants replenish environmentally stressed skin
After the Dickinson's toner, I apply the CoQ10 Super Repair Creme moisturizer. It instantly moisturizes the skin. You may feel that it's thick and heavy at first but as you lather it onto the skin, it gets absorbed easily and doesn't feel sticky and greasy. My only problem with this is that it doesn't have SPF so I have to put sunblock on top of this moisturizer.
Cruelty-free , Gluten-free , Wind Energy (Certificates) , GMO-free , Recyclable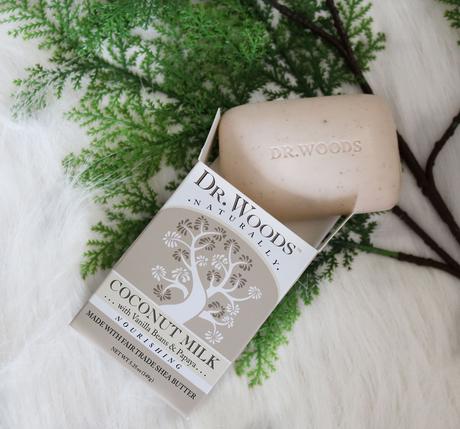 Dr. Woods Coconut Milk with Vanilla Beans & Papaya
This is one of my most favorite soaps ever! It feels like I'm lathering Shea Butter on my body. Imagine the combination of coconut milk, vanilla, papaya, and shea butter... the scent is so relaxing and makes me enjoy my time in the shower. It leaves my skin super soft, smooth, and hydrated. Despite the ingredients, this soap doesn't melt easily. I'm still using this until now and I have about 3 inches long, half an inch thick of soap left.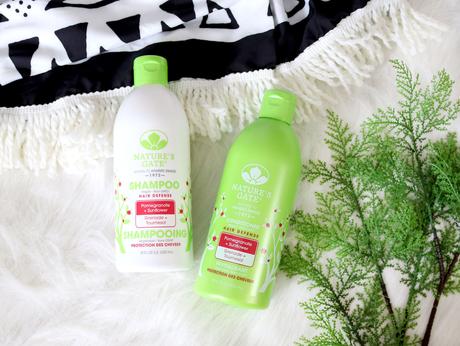 Nature's Gate Hair Defense Shampoo
"...gently cleanses hair with a unique blend of Pomegranate, Sunflower Seed Extract, and Vitamin E. Ideal for damaged color treated hair."
This shampoo, despite being free from chemicals present in normal shampoos that you can find in the market, lathers pretty good on my hair and scalp. Just make sure your hair is wet, get a generous amount of the product on your palm, and massage it gently on the scalp and hair from roots to tips.
Nature's Gate Hair Defense Conditioner
"...nourishes hair with a mindful blend of conditioning botanicals."
After shampooing my hair with Nature's Gate Hair Defense Shampoo, I squeeze out excess water from the hair and apply this conditioner. I make sure that everything is covered. I also like using my Denman comb to spread the product evenly on every hair strands. My hair smells so good after! However, I find it not too moisturizing. Maybe because it's made of all-natural ingredients. So what I do is after using the conditioner, I apply my favorite hair mask or hair spa product.
Both products are:
Vegan, Non GMO, Paraben-free, Gluten-free, Soy Free, Cruelty-free,
NO - Sodim Lauryl/Laureth/Coco Sulfates, Phthalates, Butylene Glycol, Artificial colors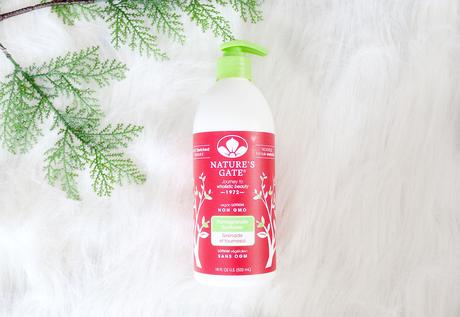 Nature's Gate Pomegranate Sunflower Vegan Lotion
"...moisturizes skin with a gentle blend of Pomegranate, Sunflower Petals and Red Tea. At Nature's Gate, we believe it's not only essential what you put in your body but what you put on it as well."
This lotion smells so good and very.... very moisturizing. I apply the lotion all over my body then I put more on areas that has dry patches like my legs, knees, and elbows. It gets absorbed so easily by the skin so I put a lot of product and I think it's a good sign rather than the product just lies on top of the skin which I experience with some body lotions I've tried.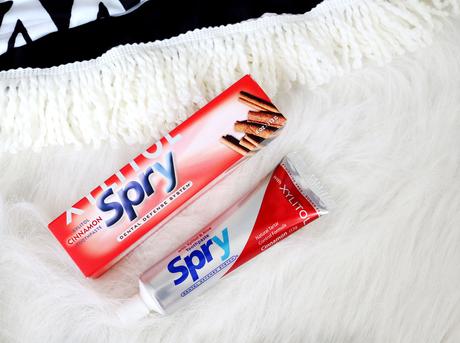 Xylitol Cinnamon Toothpaste (Spry Dental Defense System)
Clinically Proven, All Natural Xylitol, Tooth Friendly, Tartar Control Formula
Xylitol is popular ingredient in oral care product to prevent tooth decay. It acts against decay-causing bacteria in saliva. I'm a fan of cinnamon flavored food and it's my first time to encounter a toothpaste with cinnamon flavor. At first I'm uncomfortable with the taste but I get used to it. I concentrate on areas where I get faster tartar build-up because of wearing retainers everyday.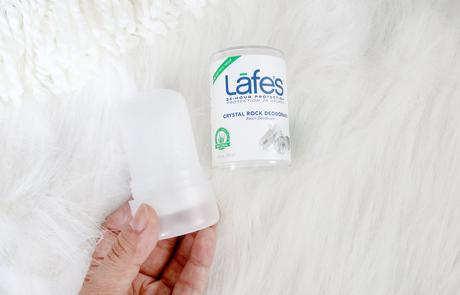 Lafes Crystal Rock Deodorant
I'm very picky when it comes to deodorant. I don't use one unless I'll be doing extreme activities or I know I'll sweat big time. I like this product because it doesn't feel sticky when applied. No stains on my clothes too! The only thing tho is, you must carefully apply this product because since it's solid and can hurt your underarms especially our skin in our UA is sensitive and delicate.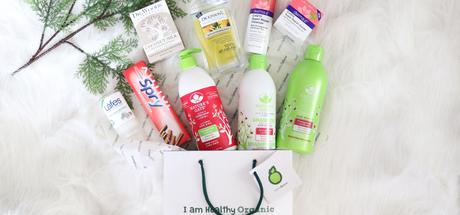 That's all guys for my mini Healthy Options Haul and products review. It took me time to publish this post because I really want to test everything first. So far my most favorite product is Dickinson's Toner, of course! Then the Derma E CoQ10 Super Repair Cleanser and Dr. Woods soap. What makes me happy with shopping at Healthy Options is that you don't feel guilty buying their products. Not only that they are good for you and your health, effective, made from natural ingredients, most are vegan and cruelty-free but they also don't harm the environment.
I forgot to mention above, I also buy my almond and rice milk from their store too and some hard to find ingredients for a healthy meal. Let me know your favorite Healthy Options products so I can check them out on my next visit!