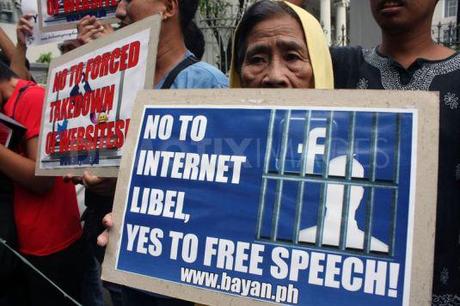 What if when we check on FB tomorrow, we see a new type of notification,"You have one (1) new warrant of arrest."
Here are some humorous and logical way to bypass or get around the very controversial Cybercrime Prevention Act of the Philippines.
Admittedly, I would want to hack into government websites, as what Anonymous is doing right now, but I won't confirm my participation online due to the threat of going to jail and being branded a criminal. So I would rather do it "anonymously" to get away with it.
Heck! the online law is worst than the regular "libel" crime.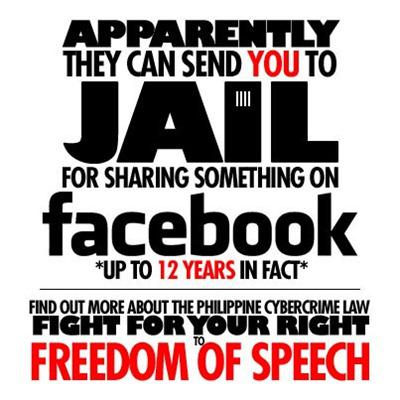 So I wrote a new article █████████ the flawed █████████ 'law' created by our █████████ 'legislators' and 'representatives' on █████████.com. When will it go public? I don't know because the Internet no longer means █████████ of expression, whether or not we speak the █████████ about the █████████ or not.
Just imagine if your Facebook update looked like this because you dared to █████████ and 'challenge' the █████████.
Welcome to the new █████████, people. Tell the █████████ and you will be █████████, whether you have █████████ on your side or not.
Hey!….did I just get my words blocked out?!
Fear the Cybercrime Prevention Act!
credits: Jason Cruz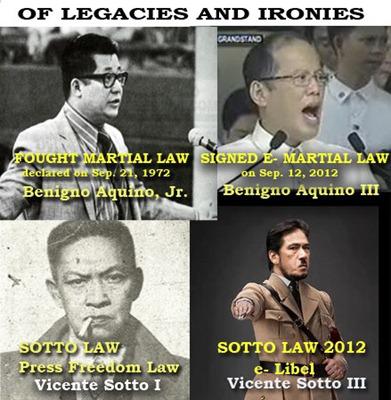 Things that the Cybercrime Act should cover:
1. Vanity shots. Bawal mag-upload ng 3 albums worth of photos na puro fez mo lang! Feel kitang i-report! Nag-headband lang 75 photos agad dapat..
2. After-jerjer cuddling photos. Wag mag-upload ng pics nyo ng jowa mo kung saan obvious na wala kayong saplot! Hindi handa ang sambayanan sa bedsheets niyong madumi. Sumulat kayo kay Xerex at magtanong kung kelan sya magkakaroon ng website.
3. Mga mahilig makipag-away in English na karumal-dumal ang grammar.. "i'm can never jealous of a slut like you..your such a trying hard!!"
4. TMI (Too Much Information) Attack – "ang lakas ng regla ko today..", "haizt maghapon akong nagtatae sakit na ng pwet ko.."
5. Emo 24/7 – "guys ang sakit may mahal na siyang iba..", "fb friends gusto ko na mamatay..", "haizz miss ko na siya pero di ko sasabihin kung sino", "guys umiiyak ako ngayon (insert photo)"
6. EoWH pFouH kUyAh uzTah pFouH jAn jEjEjE aCoh pFouh aUz aMan wAzuP pFouH NuH pFouH 3p nYoh JAn tAwA muCh jEjEjE —> RECLUSION PERPETUA
"One man's ego was bruised and every Filipino has to suffer."
-Anonymous
Source: Facebook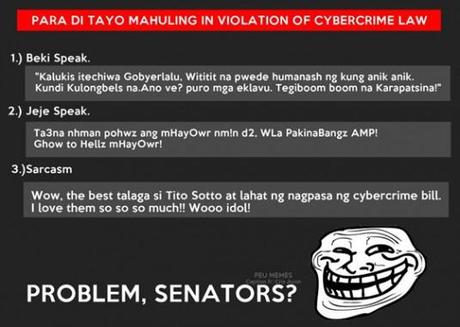 Cybercrime Law Loopholes for Bloggers
If you don't want to be accused of online libel, don't fret. Despite the Cybercrime Law being signed and enacted in the Philippines, there are things you can do to ensure you don't break the law while still practicing your basic rights to freedom of speech and expression.
You can't go to jail for libel if you are a minor. In other words, if you happen to be a minor who happens to be an opinionated blogger, then don't worry; you won't be put in jail for 12 years. I wonder, how many bloggers will make fake accounts on Twitter and Facebook using 12-year-old personas?
To avoid libel, try using irony in your blogs. But I would like to clarify before I go on. As much as Alanis Morissette's song entitled "Ironic" was such a big hit, it was not the correct interpretation of irony. Irony is when what you say is the exact opposite of what you mean. For instance, if you tell your enemy he is the best person in the world, you are being ironic. To make sure you don't break the libel provision of the Cybercrime Law, say the exact opposite of your sentiments. Hey, nobody can sue you for libel if your actual words are flowery and positive. Compliments, whether meant or not, are never libelous.
To avoid libel, remember that the same statements considered libelous online are not necessarily libelous when published in print or shown on TV. For instance, making a complaint against a politician or a police officer – if made online – might be considered libelous. But we see many of our impoverished brothers and sisters making complaints against corrupt officials on television. Hey, have you noticed they're not being charged for libel? And I wonder, if you post that video on YouTube then share it on Facebook or Twitter, could it be something the law will not consider as libel? Imagine the legal inconsistency if the Cybcercrime Law considers you – the person who shared the video – a criminal IF the law does not consider the complainant on television as a criminal as well. Ah, the Cybercrime Law is so vague… and maybe you can use that to make sure you remain a law-abiding citizen, regardless of whether or not you agree with the law.
Ask honest questions instead of making conclusions. Don't say a politician is corrupt. Instead, ask if the evidence is enough to get him sued for corruption. For instance, as a blogger, I would like to ask, is the Cybercrime Law really unconstitutional? Is it a law that violates our right to freedom of speech? Is it something that will get the Philippines penalized by the United Nations? Hey, I'm just asking. There's no libel here, yes?
Censor your own words. You can't be sued for libel if you don't say anything that can incriminate you. Let me show you an example: "I think the Cybercrime Law is

*censored*

. It makes Filipinos look

*censored*

. I believe the politicians who are behind it are pure

*censored*

and deserve to go to

*censored*

." After all, you can go to jail for what you say – not for what you DON'T say.
***Disclaimer: follow the above tips at your own risk. It's best to consult a lawyer before dancing on political glass shards.
Source: http://www.stefdelacruz.com/2012/10/cybercrime-law-loopholes-for-bloggers.html