Human Nature Sunflower Beauty Oil 
I finally finished the small bottle after months of religiously using this on my hands, feet, under eyes, dark spots, scars, pits.. everywhere!
In my opinion, this is one product that every beauty junkie should have, unless you can afford the more expensive stuff of course.
There's been a lot of rave about using beauty oil lately and I'm just so happy that Human Heart Nature offers a cheaper alternative to the more pricey brands.
Claims:Our premium and best-selling Sunflower Beauty Oil is 100% Natural and packed with vitamins A, D & E that help moisturize and nourish your skin to give it that healthy glow -- without any harmful chemicals. It's so effective and so versatile, the uses are endless! What kind of miracles, you ask? Well for starters it…
1. Softens and lightens underarms2. Lightens dark under eye circles 3. Lightens dark spots and pimple marks 4. Under eye moisturizer 5. Prevents and diminishes the appearance of stretch marks 6. Softens feet soles, knees and elbows 7. Removes stubborn makeup 8. Overall body moisturizer 9. Moisturizes dry hair ends 10. Softens the cuticles 11. De-frizzes hair 12. Adds shine to dull hair 13. Relieves itching and inflammation caused by insect bites 14. Nourishes and conditions eyelashes 15. Lightens dark lips 16. Soothes skin after shaving 17. Relieves itchy scalp 18. Soothes skin damaged by sunburn 19. Smoothens skin from shaving 20. Helps soothe rashes 21. Helps heal skin infections 22. Hydrates dry patches 23. Helps lighten lesions and scars. 


from 

Human Heart Nature website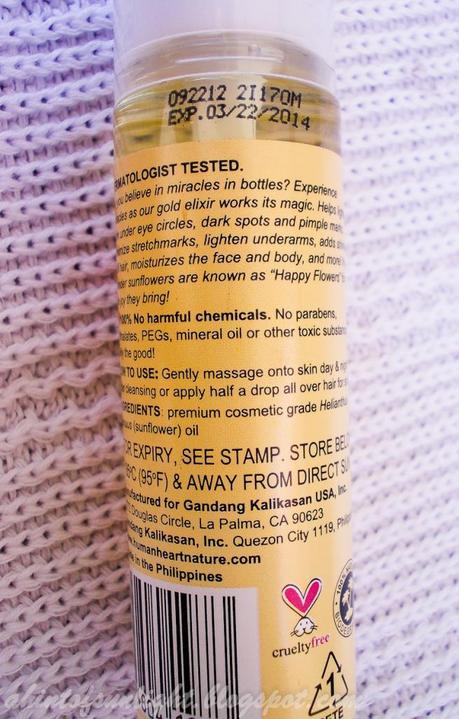 Human Heart Nature is all about paraben-free and natural products. You can read more about them here.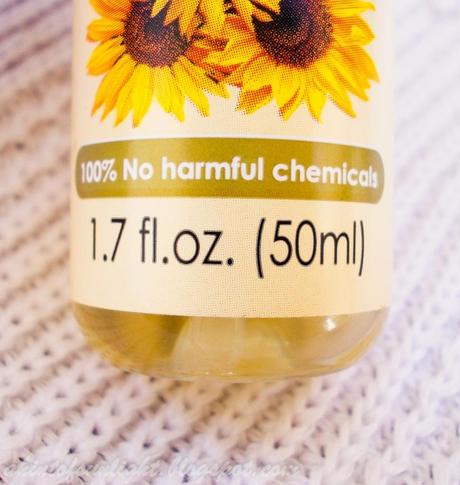 As for me, I've used Human Nature Sunflower Beauty Oil  for the following:
Softening and lightening underarmsMy everyday deodorant these days is Human Nature Sunflower Beauty Oil mixed with tawas (alum). I also apply a drop for each pit everyday and I've seen significant difference only after a few weeks!
for a more thorough review on this, check out this review.
 Lightening dark spots and pimple marksThe first time I got this(early October, 2012), I started applying it on some pimple marks that I got last July, 2012. Normally my pimple marks only fades completely after 8 months or so. But after using Human Nature Sunflower Beauty Oil on the ones I got on July, the marks were already gone by the end of October. I was pleasantly surprised! It took more time for the more recent pimple marks to disappear though, but I can attest that this product really works for me on this aspect.
These days I'm too lazy targeting the various pimple marks on my face so I apply a thin layer of this beauty oil on my entire face instead right after applying toner while my skin is still slightly wet. I avoid doing this on humid nights though and especially this summer.
Under Eye MoisturizerI apply this before applying Pure Beauty Youth Restore Eye Cream. As I think the eye cream has been already helping me with my under eye circles, I didn't notice any significant change. But you can read this post to see how Human Nature Sunflower Beauty Oil helped Angel with her dark circles.
Despite the lack of results, I still continue to use this around my eyes as sunflower oil contains antioxidants and thus has anti-aging properties.
Exfoliating my lipsEven if it claims to lighten dark lips, I don't like the idea of letting this stay on my lips too long. It's too wet and just doesn't stay. So instead, I make my own lip scrub with it by mixing it with brown sugar. I like what it does to my lips!
Make-up RemoverFor me, it can't remove waterproof mascara completely. But it can remove gel-liners and liquid eyeliners. I usually massage this all over my face before finally washing off everything with my favorite cleanser.
Getting Rid of Sticky Wax ResidueAfter waxing my legs and arms, there's always a bit of wax residue left that soap alone can't get rid of.
Foot and Hand moisturizerAt the end of the day, after my night skin care routine, and before going to bed, I apply this on my hands and my feet. Then I give myself a mini-foot massage, it's my favorite ritual of the night!
At P129.75 for the 100ml bottle, it's very affordable! 
However, I avoid using this on my hairMost of the time, it just leaves my hair feeling greasy even if I only apply this on the ends.
Likes:Multi-purposeCheap
Dislikes:Difficult to findSticks to clothes, a bit hard to wash off
For the price and for its many uses, it easily gets a 5/5 rating.
I strongly recommend this and will definitely repurchase!
In fact, I already got the big bottle!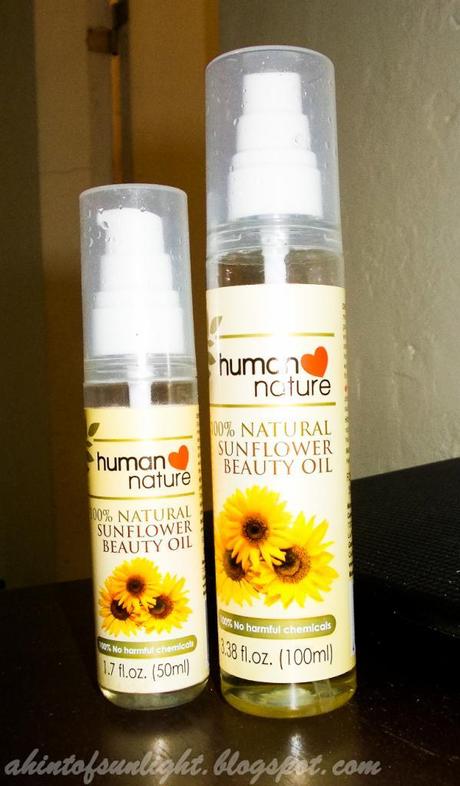 Have you tried this product?
What do you think about using "beauty oil"?