iLuv Drawing Monsters iPad app is such a fantastic idea for an app and a great way to help kids how to learn to draw monsters. It is the fourth app in the 'iLuv Drawing' series by MyVijan LLC which teach children how to draw various things from monsters, dinosaurs and people using an easy to follow step-by-step approach which is similar to Get Squiggling on cBeebies. There are twenty different monsters to choose from which vary in complexity and type from alien monsers godzilla and those of the three headed variety so it is sure to appeal to any kids like mine who love monsters.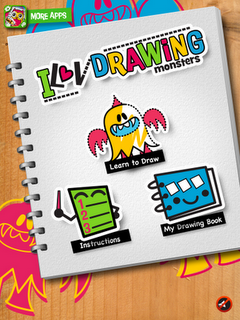 Three options to choose from
When you load the app you can select from Learn to Draw, a step-by-step guide on how to draw monsters; Instructions, which explains how to use the app and My Drawing Book where your completed pictures can be stored. If you select Learn to Draw you are presented with a selection of monsters to choose from. Once selected, an outline appears which you trace over. When you are happy with your tracing you select the arrow in the top right hand corner to move to the next step until your monster is completed. You have the option to undo, redo or erase your lines at any stage by selecting the eraser which is at the bottom of the screen. You also have the option to select different colours by selecting the crayon where you can set both the color and thickness of the lines required or use autofill. When the outline is complete additional options appear along the bottom which include the ability to change background and add various stickers such as hats, bows, lightening bolts and a variety of messages from "Happy Birthday" to "I Love You" so you could turn it into an e-card. Once your drawing is completed you can Save to Drawing Book, Save to Photo, Email or Print your masterpiece.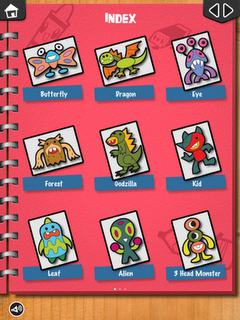 Lots of monsters to choose from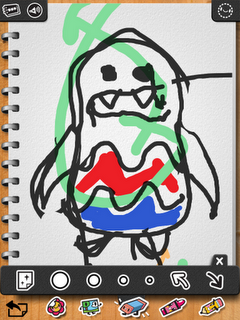 Ben's first attempt
Ben, two and three quarter years, did better than I thought when it came to tracing the lines once I showed him what to do. He added a few extra lines which we were able to undo really easily and together we had a lot of fun creating our monster. The app is not just great for teaching how to draw monsters but is also fantastic for developing fine motor skills in young children. I like the building block approach to drawing that this app takes and I can definitely see the value in following this approach as it transfers across to physical drawing with crayons on paper too. It is also good for teaching children how to follow instructions, the instructions are given in a clear manner and are narrated in a pleasant friendly voice.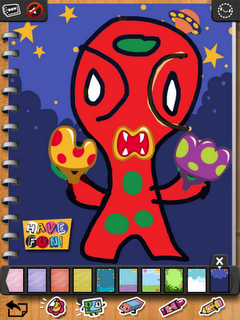 Select different backgrounds & stickers
iLuv Drawing Monsters is available to download from the AppStore costing £1.49 and is compatible with the iPad. I can highly recommend the iLuv Drawing series of apps, they are great for boosting creativity and confidence in young kids learning to draw.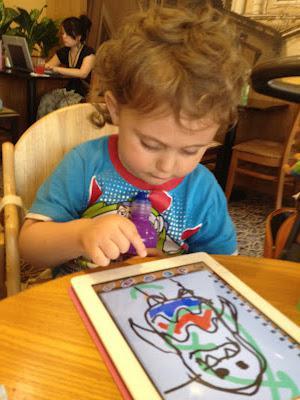 Ben busy drawing his monster masterpiece